This is going to be part of a running series of reviews I will be doing as I throw cash at the internet to get cool stuff. I can't quite remember how I stumbled across Loot Crate but I believe in a night of geeky madness I signed up to not 1 but 2 mystery box style companies that catered to geeks. Loot Crate was one of them and the first to arrive. I have to say it was well worth the money.
What are they
Basically Loot Crates are a treasure trove of geeky goodness for those who choose to subscribe (Looters). For a very reasonable price subscribers get sent a mystery box full of 6-8 hand picked items that are secret until delivered. These items include gear, snacks, toys, hardware, art, and other goodies from emerging geek and gaming companies.
The company only launched last July but have already gained a lot of notoriety in the geek and gaming community. I didn't even blink at ordering from them because this is literally a steal. The video below gives a better overview of the company and what they offer.
Shipping
According to their site Loot Crates are shipped out once a month, starting from the 20th unless otherwise specified.
Signups to the crates are taken until 9pm PT on the 19th (it's a U.S company). If you signup after 9PM PT on the 19th, your first crate will come in the following month.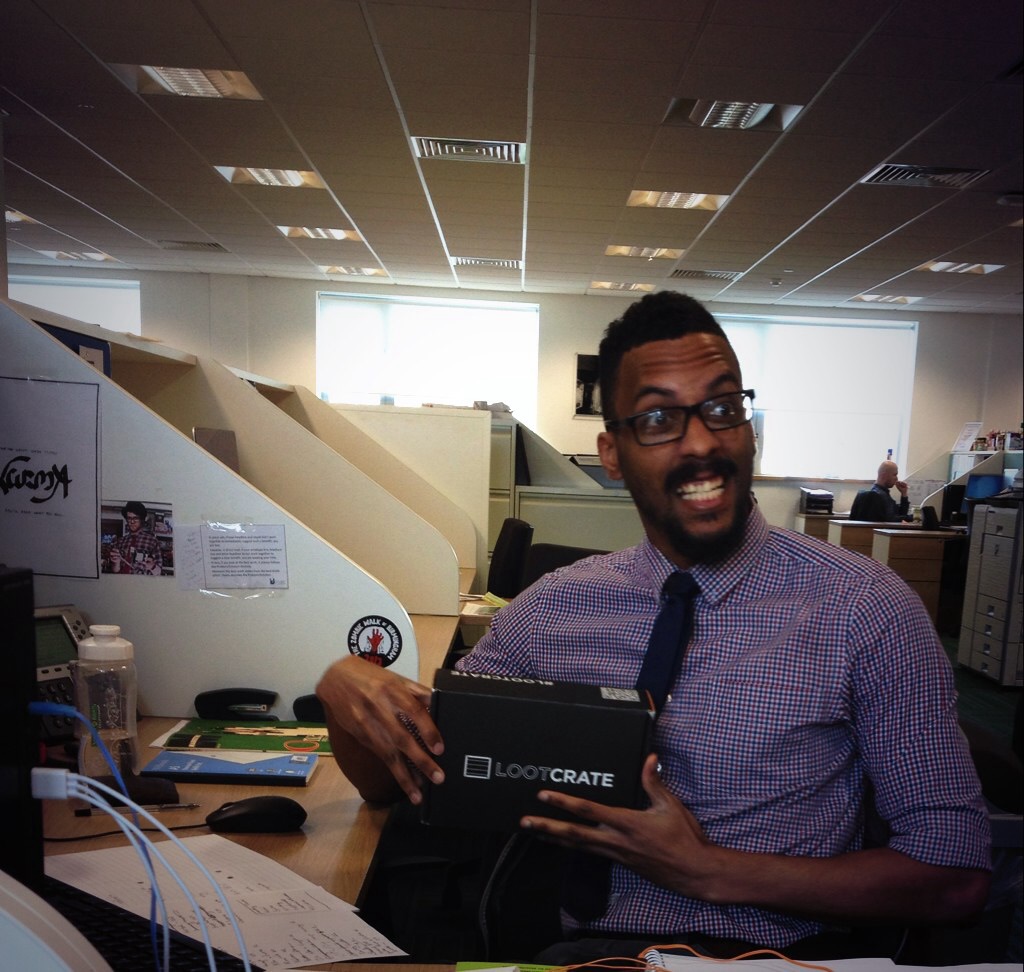 I got hold of my Loot Crate 2 days after it shipped which is pretty good considering that I live in the UK. I think my getting it so soon from when they say it's scheduled it to be shipped may have partly been down to me ordering so early and some logistical genius on their part based on the tracking email. This shows they thought about how long it would take for overseas orders would take to arrive which is awesome and something companies rarely do effectively.
What Loot I got
The theme for this month was Dragons and promised something from Game of Thrones (I think this is how I stumbled across it) so I just had to have it. As promised there were 8 items plus a little book with information about dragons and a list of all the products you got (so you can be sure nothing went missing) with information about them and who produced them. This little book really pulls it all together for me and really compelled me to write a review about the crate.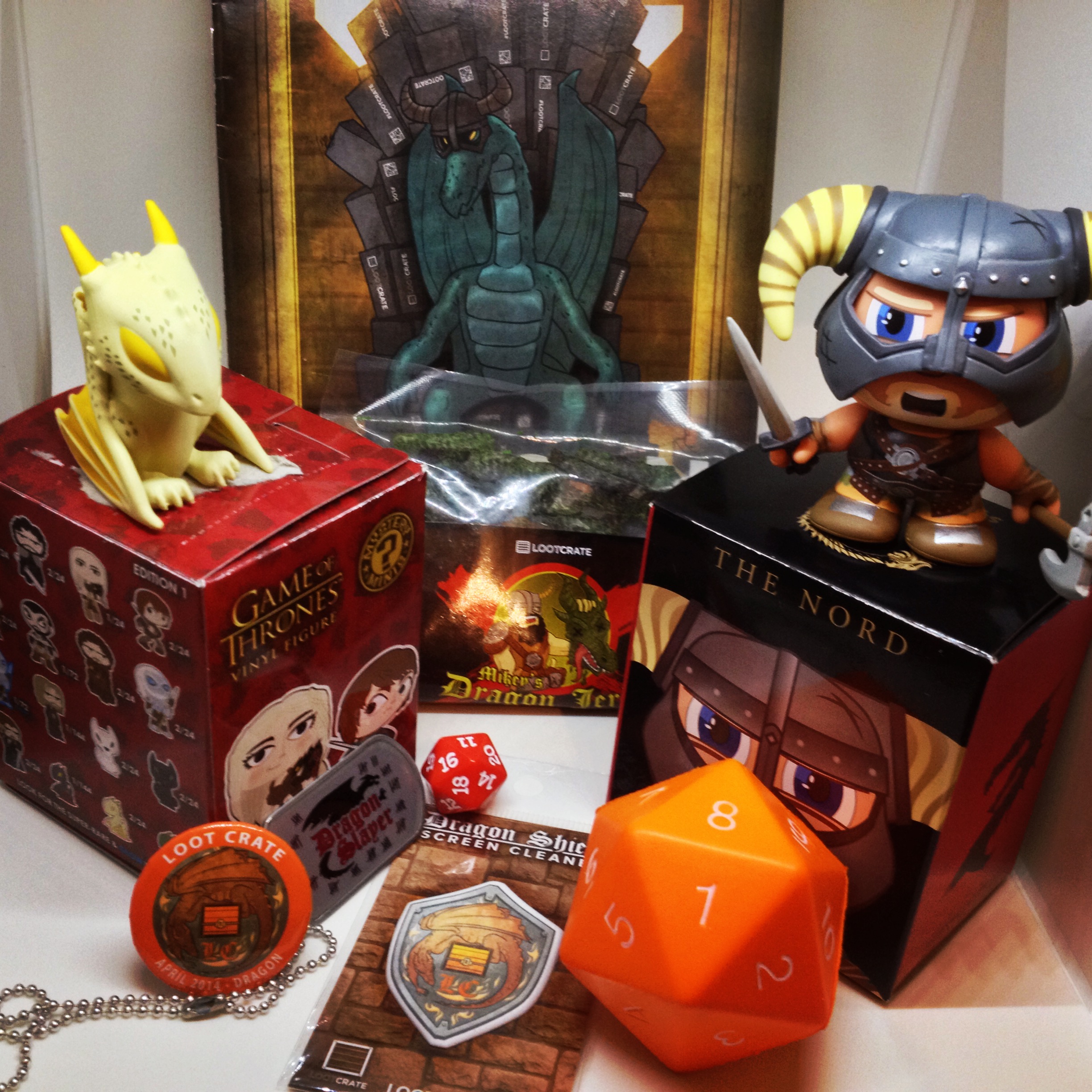 Above is a picture of all the products I got in this months loot crate and what a haul it was!
First what I didn't like. Sorry I have to say that as intriguing as the Dragon Jerky was it just wasn't for me. Sorry guys but it tasted more like liver than regular jerky. I tried to play it off as it being the "dragon" but my work colleagues agreed it just didn't taste quite right. Back to the drawing board with this one guys.
I did however like just about everything else included in the crate. My favourites would firstly have to be the Game of Thrones Mystery Mini by Funko and HBO which was like extra mystery added to the crate as you didn't know what you got until you opened it. As you saw I got a dragon which was pretty cool and expertly made. I would really have loved a white walker though. Just saying.
My true favourite though has to be the Elder Scrolls Online Exclusive Figure by Symbiote Studios & Bethesda which is surprising as I don't even play Skyrim (not that I wouldn't if I had time). This was a figure made exclusively for Looters and they did a top notch job. The Nord sits at the top of my desk at work looking over my work ready to slay any foxes, dragons or trespassers with a swing of his mighty axe or sword (he has both!!). Seriously this little guy is so cool. His helmet is removable, his head and arms can move and he has weapons that can be taken out of his hands. This alone would have made ordering the Loot Crate worth it but I got all those other things too.
Next months crate
Next months Loot Crate theme is still yet to be revealed but if it's anything like the one I got this month I'm sure to be in for a nice surprise near the end of the month. As I said I will be making this a regular thing so as soon as I can I will be making a six month subscription so I can get a constant stream of geeky goodies.
May's crate theme is set to be revealed the first week of May so geeks and gamers can start salivating at the prospect of the loot they'll be getting that month.
---
I almost forgot to mention every month they also have a special Mega Crate that looters have a chance of winning.
This months includes a Gaems Vanguard Personal Gaming Environment, Astro Gaming Scout Backpack, Astro Gaming A50 Headset, Steel Series Scope Eyewear from Gunnar Optiks and the complete set of Funko Game of Thrones Legacy Figurines. These are pretty pricey items and have a value of $1000, which is approximately £600. I like my chances.
---
That's the end of my review of April's Loot Crate. Overall an awesome mystery box that caters to geeks and gamers. It's my first so it will always have that special place in my heart but I will enjoy exploring what else is out there while I wait for my next one and my next one and my next one...
Worth every penny. Or should I say cent?
Find Loot Crate at:
https://www.lootcrate.com
https://www.facebook.com/LootCrate
https://twitter.com/lootcrate
---
This time I won't end with my usual of a gif that aptly sums up the post instead I'll share with you this video produced by Loot Crate themselves and has even gone a little viral!
Thank me later.
---
If you want to get in touch contact me
Also is you want to keep up with all my latest posts and musing there's a load of widgets at the top of the page for my Twitter, Facebook and other social channels!
Leave a comment below! I love feedback...unless it's bad.
P.S.
Don't forget to share this if you like it!