Christmas boxes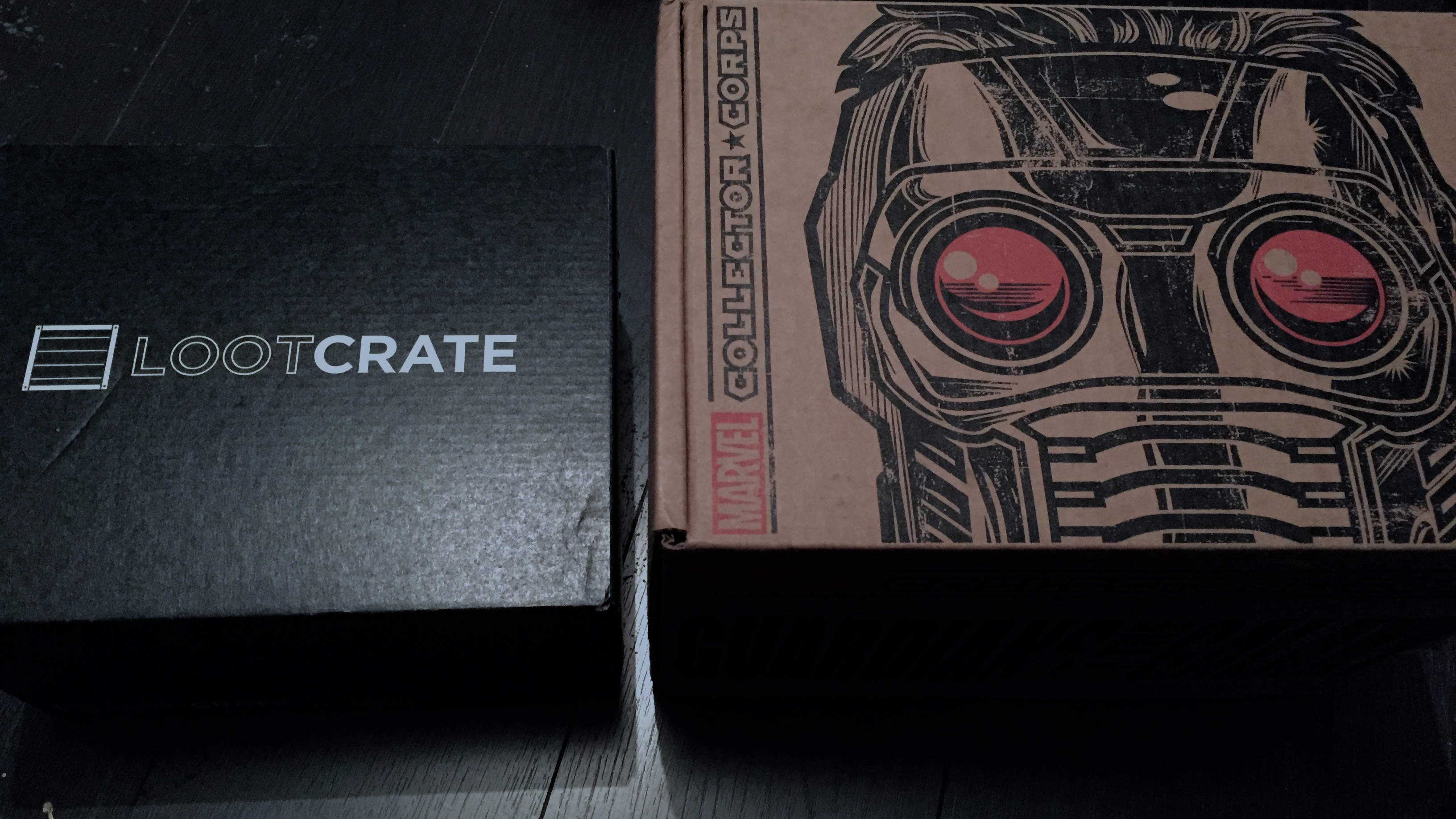 Two weeks ago I posted about ZBOX's The Force themed box. Apparently my Collector Corps and my Loot Crate should have come the week after just before Christmas but my postman failed to get in to my flat block to deliver it or even tell me they were waiting for me.
So I kind of missed out on them as a gift to myself but on the plus side today was like Christmas all over again!
So I've decided to compare the two as the themes are very similar with Loot Crate doing a Galaxy theme and Collector Corps doing a Guardians of the Galaxy theme.
Collector Corps
Keeping in style with the previous boxes the Collector Corps Guardians box has a key character on the front in the form of Star Lord and inside some frames from one of the comics. This is as always very eye-catching and really pops as a box.
The contents inside they decided to switch up a little bit which was a very welcome surprise and is something I have previously commented on in my reviews so I'm guessing that others have also had the same thoughts.
They had the usual badge, pin and exclusive comic, however this time instead of the usual POP we got some new stuff.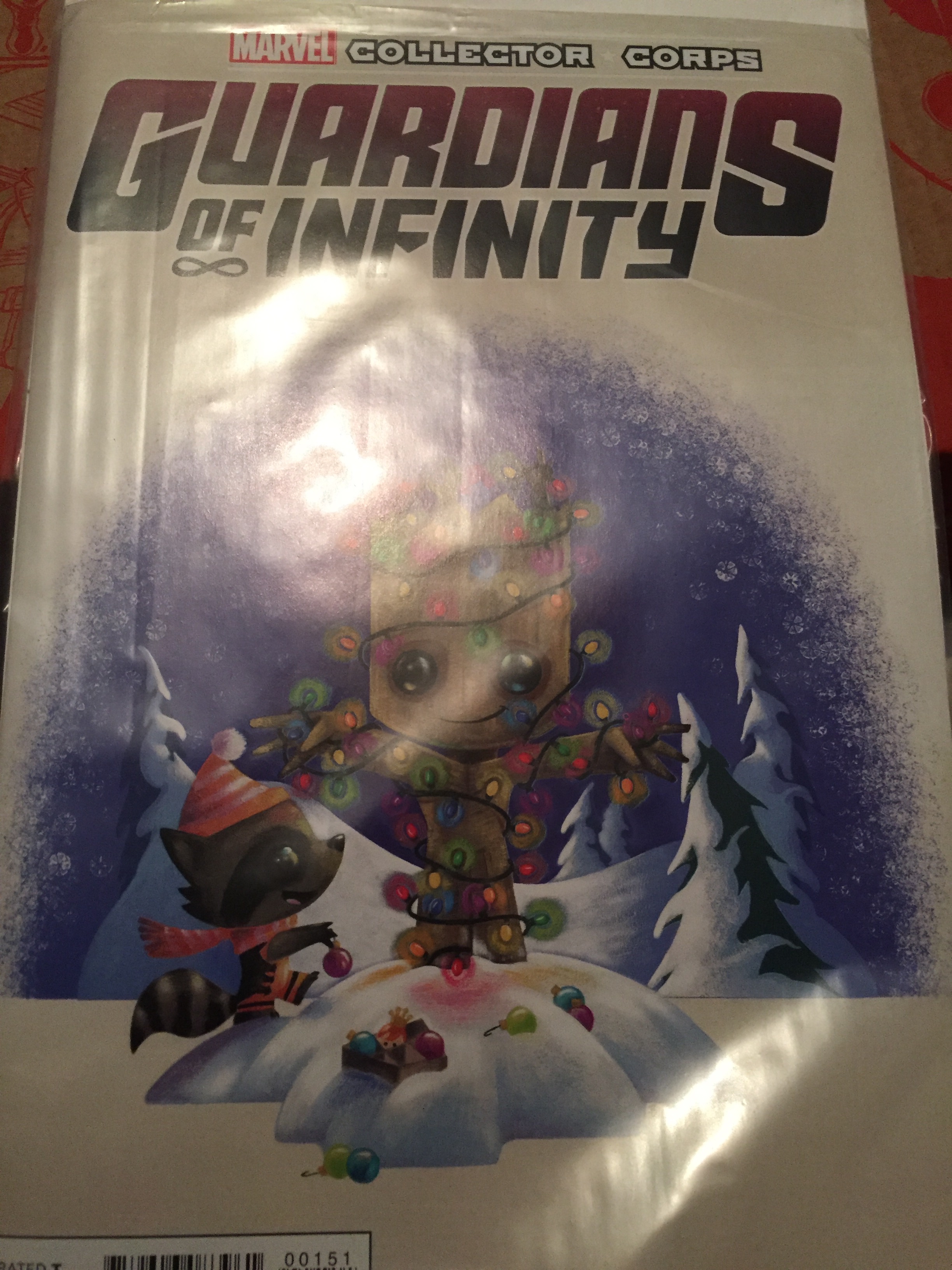 First a Guardians of the Galaxy scarf which isn't really my colour but I'm sure I could make it work. Then we have a mug with none other than Starlord's mug on it! And finally probably the best thing of all which would have been really useful for Christmas...Groot and Rocket baubles.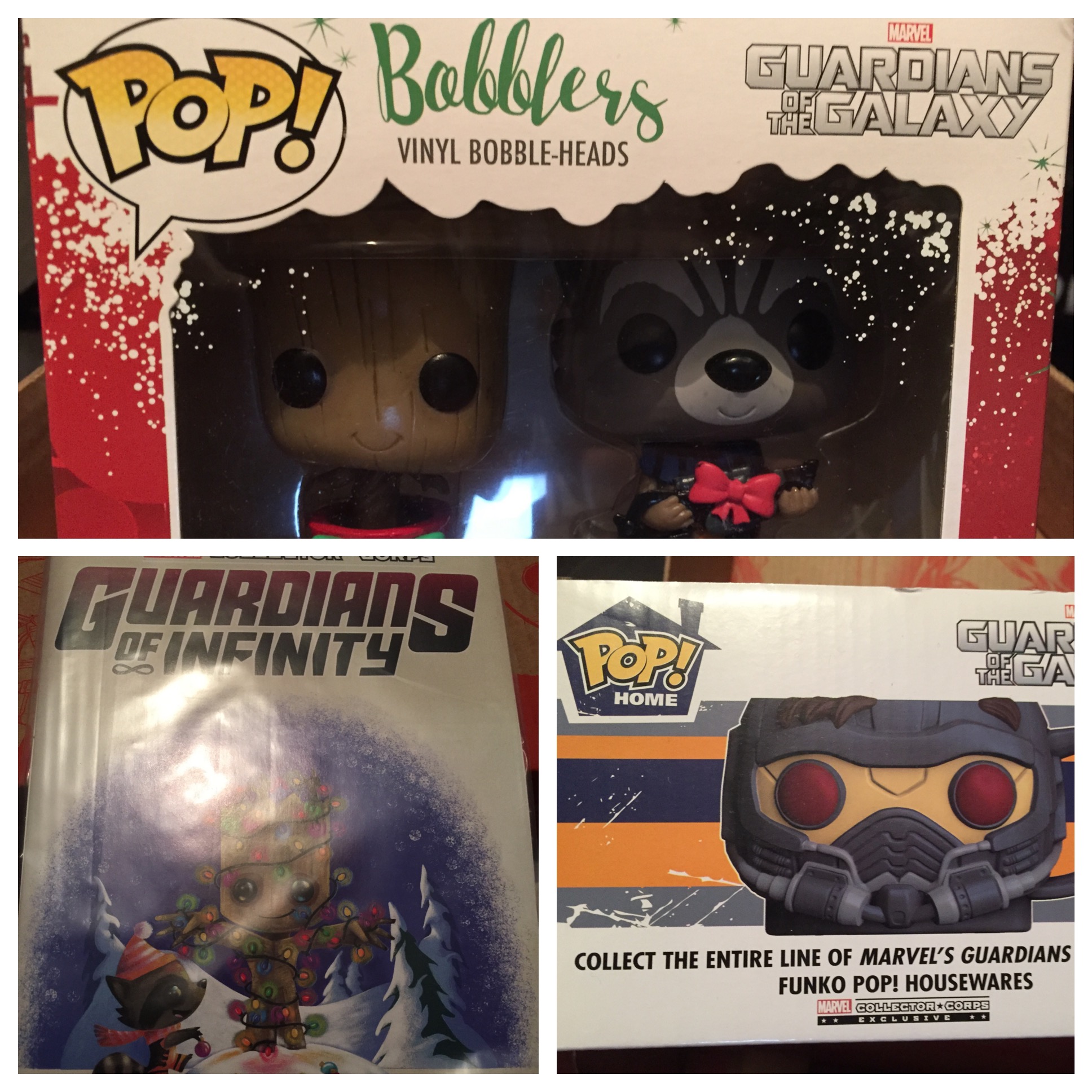 All in all a solid selection of items.
Loot Crate
Then we come to Loot Crate which in comparison to the physical size of Collector Corps looked a lot smaller but packed a helluva lot of loot into that tiny crate.
This month's theme as said was a Galaxy one which drew from various franchises including Halo, Star Wars and Galaxy Quest. The inside of the crate and magazine cover are always something I look forward to seeing, however this time I found them a little bland in comparison to previous crates which was a little disappointing but I was pleasantly surprised by what was inside them.
First the magazine which included a review of this years loot. This was pretty cool to see as it showed off all the favourites from previous crates and had the surprise news that every crate from now on would include a t-shirt which is awesome as that is already well worth the money. The magazine also included an interview with Halo 5: Guardians executive producer Chris Lee, and while I'm not a Halo fan (yeah I said it) it was pretty interesting to read.
But while it was an interesting read I had to pull my eyes away for what I really wanted.
The loot.
As said this crate was smaller than the Collector Corps box however it packed in it some awesome gear from Galaxy Quest, Star Wars and Halo.
The standout pieces however were an exclusive ugly holiday sweater tshirt from designer Drew Wise, a Halo 5 ammo tin box (I'm storing stuff in that bad boy) and the exclusive Star Wars Han Solo Bobble head funko.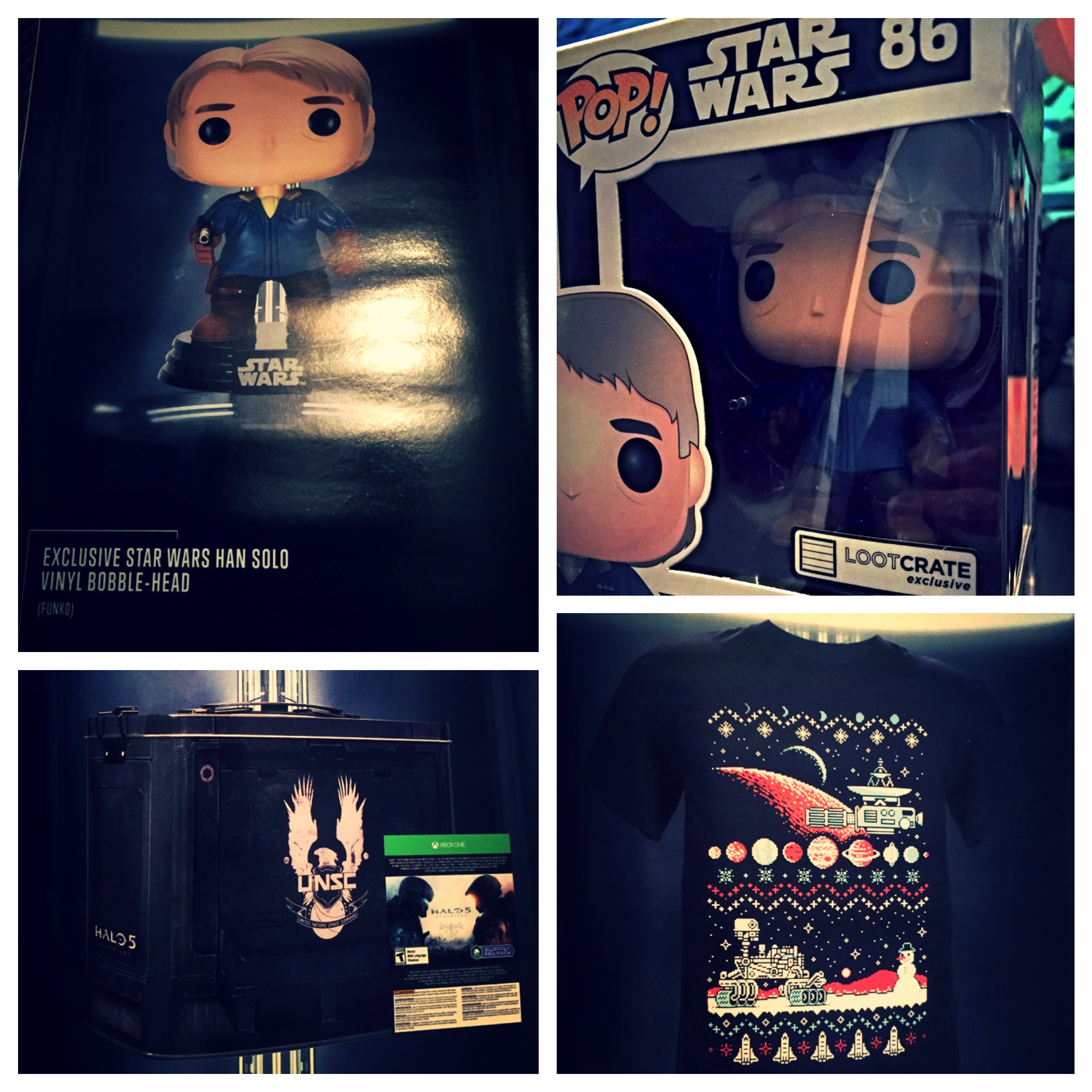 ---
So overall I think it's fair to say that while Collector Corps gave a good show this month it does not beat a Han Solo bobble head that's exclusive to Loot Crate and ties in with the launch of the latest Star Wars film.
It's a no brainer.
Loot crate wins.
---
If you want to get in touch contact me
Also is you want to keep up with all my latest posts and musing there's a load of widgets at the top of the page for my Twitter, Facebook and other social channels!
Leave a comment below! I love feedback...unless it's bad.
P.S.
Don't forget to share this if you like it!