Flatpack Film Festival 2015 Preview Party
For those who missed my brief coverage of Flatpack last year it's a festival which takes over venues across Birmingham every March. Drawing in people from far and wide with a mixture of films, performances, contraptions and surprises, and has been described as "magnificently eclectic" (Time Out), "joyously inventive" (the Guardian) and "the UK's most creatively curated film festival" (the Independent).
I went last year as a little bit of an experiment as I had only just heard about it and I immediately fell in love with it. Now entering it's 9th year as a festival the latest one looks to be a treat.
The kind of work they put on depends upon the project, but recurring themes include animation, music, artists' film, archive discoveries, offbeat shorts for kids and live cinema. They're firm believers in creating a sense of occasion, exploring the fertile territory where film bumps up against other artforms, and showing people things they might not otherwise have seen.
This year as they have for the past few years they had a preview party which gave a special few an opportunity to see what the festival had to offer this year. A bit of a taster session and an opportunity to meet and mingle with some of those who would be exhibiting at Flatpack this year.
The Preview Party
The event was held down Hackney at the Hackney Picturehouse which is a quite nice and spacious venue. However before going I actually didn't know this and also had no one to go with but me being me decided why not. So with not much of a clue of what I would be seeing there and who would actually be going I sorted out travel and accomodation not far from the Hackney venue.
Upon reaching the event I realised I was first which didn't really help my nerves in any way. In fact as they were still setting up pretty much I was left to wander a little bit as I waited for the bar to open for me to get some liquid courage (GUINESS). One drink down I paroused the literature provided aka the brochure as well as the programme for the night while waiting for the event to kick off properly.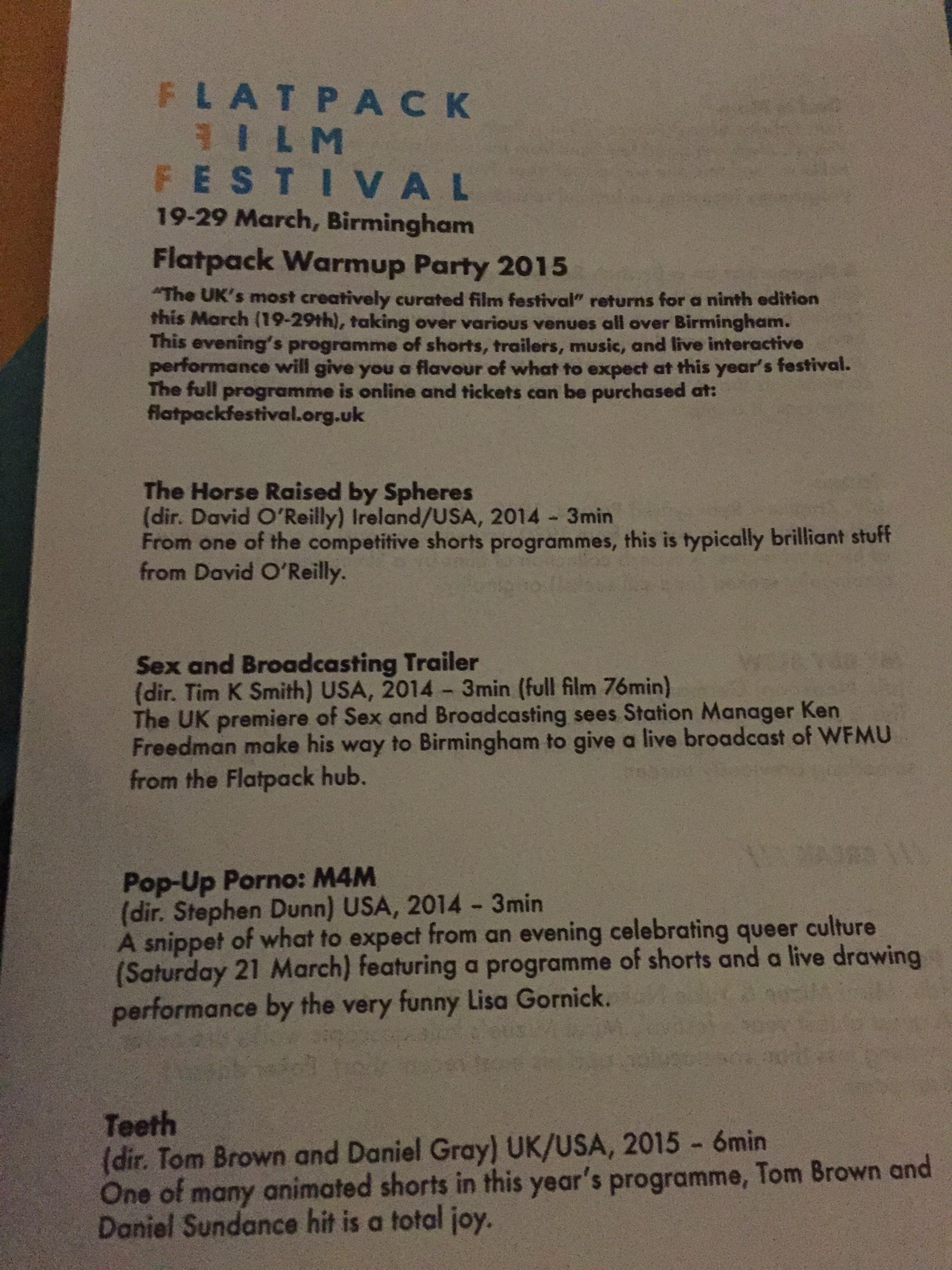 However it wasn't long before the alcohol kicked in I relaxed and started to introduce myself to some people and had a look at Sellotape Cinema's creative machines that were creating paintings using robots and images on the wall using projectors of their own creation.
Sellotape Cinema are artists Stephen Snell and Steven Chamberlain. Sellotape Cinema creates film worked directly onto sticky tape and played through a specially adapted projector. This medium lends itself to processes usually associated with experimental film, montage, direct to film techniques, as well as media specific techniques, notably 'flayed paper'. The duo also create 'drawing drums', sonic machines that draw and produce sound. Chamberlain works under the name Cyclomation creating pedal powered psycho-geographic animations. Snell has previously worked with Polarfoam and Slutslice on live physical visual manipulations.

Both Steven and Stephen were very open to questions, and while not their day jobs as University lecturers they were nonetheless very informative about this artistic pursuit of theirs that produced some quite unique pieces of art and in the case of the projected artwork, helps to keep dying techniques alive.
By this time the event had filled out and was ready to begin with a selection of shorts and trailers including pieces for adult and kid alike (there were no kids in attendance thank god...that would have been awkward).
There 18 pieces in total shown so it was a bit of a long stint that thankfully had breaks in between. I won't go through all 18 however I did have 4 or 5 that stood out as favourites for me. This isn't to say that the rest weren't as good more that I need to eat at some point tonight so I want to finish writing this post. It's been a while since I wrote a long one...
The Horse raised by Spheres
This was a David O'Riley piece that was simply brilliant to watch and as one to start the show it was absolutely the right choice for me personally as it summed up how I felt as I came into the room alone. I recommend everyone to watch this short, not for the animation but for the amazing narration as you will be in stitches without a doubt.
https://www.youtube.com/watch?v=W6RgotgnHz4
Pop-up Porno: M4M
I don't think anyone really stopped smiling or laughing throughout the entire show but for me this was one of the nights stand out pieces. I'll never look at dick pics the same way again. Wait no that's not right. I meant I'll never look at dick pics again? I'm not going to get this right...
This short is part of a series done Stephen Dunn which you can find out about on Variety, however on Saturday 21st it will be part of an evening celebrating queer culture. If everything is as funny and thought provoking as this I don't know how I can say no.
Dad in Mum
The name explains the short from Fabrice Bracq. Focusing on the story of two little girls up when they shouldn't be this short is unbearably funny and you can't help but connecting with it.
World of tomorrow
Don Hertzfeldt brought us back to earth and lifted us right back with an emotional journey in this stick man man short where a girl is taken to the future by her future self. It makes sense...honest.
This was actually the English premiere of it and the fact that I'm writing about it isn't because of that it's because it's profoundly thought provoking with it's simplicity.
He's the Best
This short looks at one woman's routine of self care and should be watched by all men as well as women. It's raw, intimate but not sexualised in the least. Men will leave with an education, women will leave with questions about their own routine.
---
There were lot's of other shorts and trailers but these are the ones that stood out for me and ones you should check out at Flatpack if you get a chance and if not just generally because they are all amazing.
Interview
Finally I was also lucky enough to grab some time with two of the guys behind Flatpack and hold a little interview.
Director: Ian Francis
Ian has clocked up fifteen years putting on film events in Birmingham and beyond, and co-founded Flatpack with partner Pip McKnight in 2006. He also writes for publications including Sight and Sound and Little White Lies.


Programmer: Sam Groves
Sam has produced a range of film events under the banner of KINO 10, and like Selina has been Flatpacking since 2009.

You can watch the interview with Ian and Sam below:
If by some miracle you've stuck around and read this beast of a blog post and even watched the interview then I'd say you're probably really interested in Flatpack and I would implore you to buy tickets to at least one of this festivals events.
Find tickes and a list of the events on their site http://flatpackfestival.org.uk
19 – 29 MARCH 2015 - ALL OVER BIRMINGHAM
---
If you want to get in touch contact me
Also is you want to keep up with all my latest posts and musing there's a load of widgets at the top of the page for my Twitter, Facebook and other social channels!
Leave a comment below! I love feedback...unless it's bad.
P.S.
Don't forget to share this if you like it!