Jim Hensons Creature Shop Challenge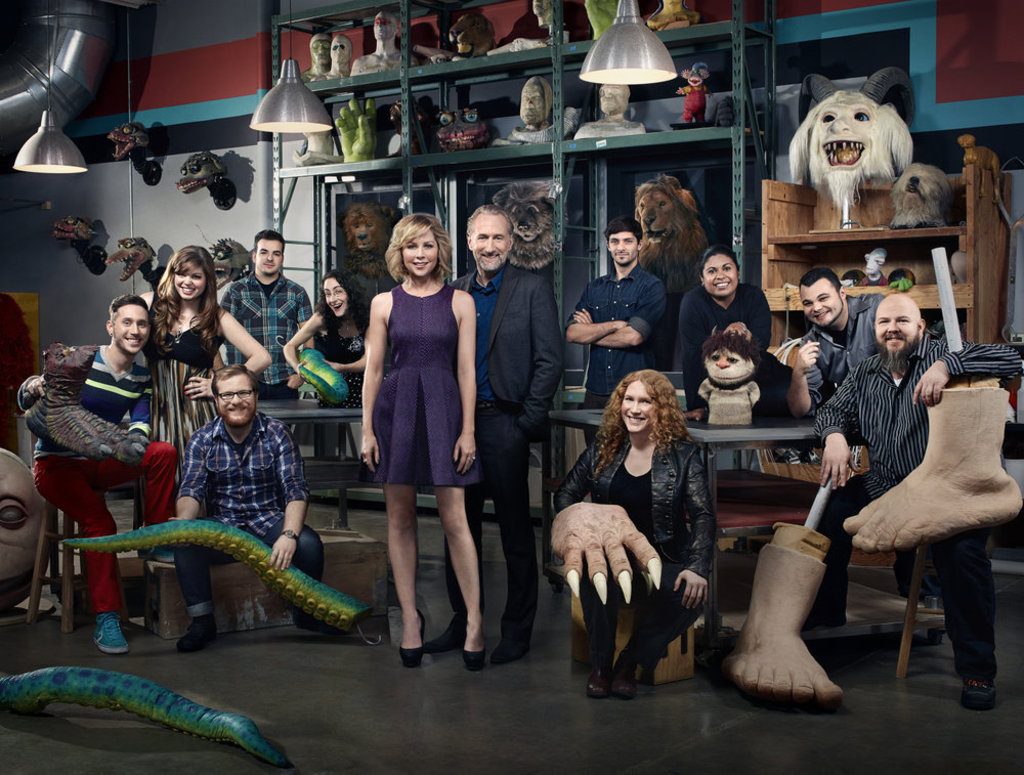 It's never too early to start planning your Halloween costume in my opinion. If you want something that is going to look awesome and not like an over priced piece of trash you got from the store you should always make your own even if it takes a year.
I kind of fell in love with Halloween late in life through the many fancy dress opportunities at university and probably as a result of never having had Halloween as a kid in Barbados.
However, now that I'm out of uni there are less opportunities to mess about creating costumes so I started going all out at my work Halloween costume competitions.
My first year with the company I work at, I decided to do the Undead Nightmare zombie. This took 4-5 hours to do in the morning before work with no prior practise putting on the make up and very little planning. I did some very quick weathering of the shirt using coffee, water and my dryer. I shuffled to work with it all on scaring a few drivers in the process.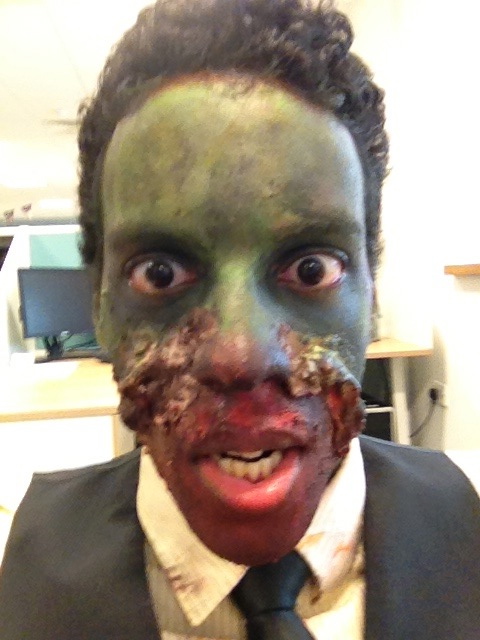 Unfortunately I didn't win a prize that year which I put down to my face falling apart 4 times during the day as a result of the lights and office conditions. Also an idiot with no idea on popular culture due to poor judging. See me sulking below in the background behind one of the winners and the only ones I would conceed had a good costume.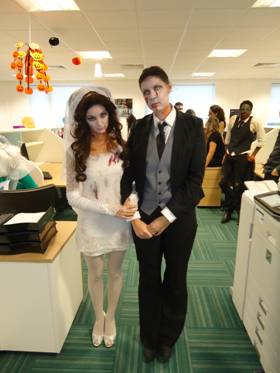 In my second year with the company I actually won the Halloween contest with my Mars Attacks costume and more precisely the creepy ass mask I constructed over a month in my free time. I'll probably
do a post about how I went about doing this when I've decided what I will be doing this year.
After that rather long intro about my love of costumes and my previous attempts I will get into what this post is really about; the new SyFy show Jim Henson's Creature Shop Challenge and why you should be watching it.
Jim Henson
For those of you who don't know, Jim Henson was an American puppeteer, artist, cartoonist, inventor, screenwriter, actor, film director and producer who was best known as the creator of the Muppets.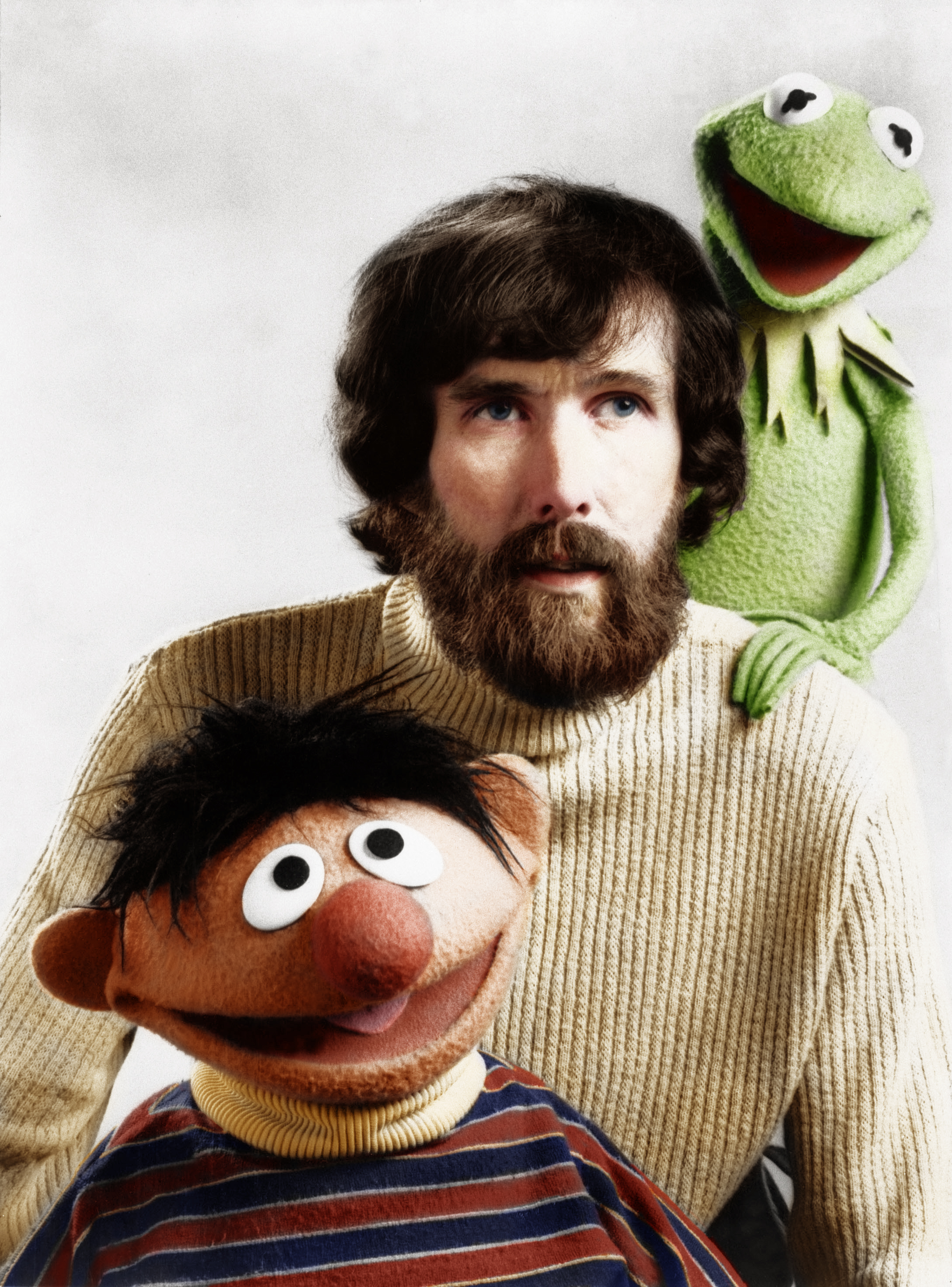 While he was alive he also managed to found The Jim Henson Company, the Jim Henson Foundation, and Jim Henson's Creature Shop which were all centred around his love of entertainment and puppetry.
It is through Jim Henson's creature shop that many, many characters and creatures we fell in love with over our childhood came to life. I'm talking about creatures like the Teenage Mutant Ninja Turtles, the Dinosaurs (I loved them), the lifelike animals in Babe and even the characters in Farscape (although that last one probably isn't so much for kids).
Most recently the workshop was behind the animatronic suits and designs for the creatures seen in the amazing Where the Wild Things Are.
Today, the skilled and dedicated team at Jim Henson's Creature Shop continues to follow its founders' lead with ground-breaking innovation, evolving with the effects industry by implementing practical puppet and animatronic techniques when appropriate while embracing the potential of digital effects.
via Jim Henson's Creature Shop
This a company that holds people with truly amazing imaginations that have inspired generations with their creations and it all started with the vision of their founder Jim Henson.
Creature Shop Challenge
The creature shop challenge carries with it the legacy that the late great Jim Henson left behind.
The series is a competition between ten aspiring creature creators as they try to out-imagine each other in challenges ranging from the creation of mechanical characters to whimsical beasts.
The prize for winning is worth up to $100,000 including the opportunity of a contract working at the world-renowned Jim Henson's Creature Shop.
Judges include:
*Brian Henson, Chairman of The Jim Henson Company and the Creature Shop.

*Beth Hathaway (a Creature Fabricator who has worked on such projects as Jurassic Park, The Walking Dead and Edward Scissorhands) 

*Kirk R. Thatcher (a Creature Designer with credits such as Return of the Jedi, Gremlins and E.T.)

Meanwhile Gigi Edgley, (who you might recognise from Farscape), will serve as host. Mentors include a number of world renowned creature creators and long time (decades long) Creature Shop artists.
So far from the first episode I can already see that this is going to be an inspiring series to watch and not something I would usually include in my schedule. If I were to compare it to another show, Face Off or Scrapheap Challenge would come to mind. However the difference here is that the competitors have a multitude of excellent materials ready for them to use (instead of hunting them down as in Scrapheap).
The series for me has started to reveal the fascinating process behind creature building. From initial design to sculpting, fabricating (my favourite new word from the series) and mechanization.
The on-set performances at the end of every episode is the true test of the creations. The contestants are given tight time constraints that would not usually happen with this work but it gives us and more importantly the judges an idea of who can work well under pressure as well as what level of work they can produce.
One of the number one reasons I am likely to keep watching is that the judges have a much more encouraging attitude than what you see on the Simon Cowell-esque shows.
My hope is that this show gives birth to new talent on and off the show as people are inspired by what they see on the show. This is probably more of a show for those interested in how creatures come to life, how to create costumes or in the mechanics behind them.
Luckily I am one of those people. Already from the first show I've started generating ideas for my next costume and can't wait for the next episode.
---
I hope you enjoyed this latest post. I promise there probably will be something special on my next post.
As always I will end with something that sums up my thoughts when I realised how much this show could inspire me.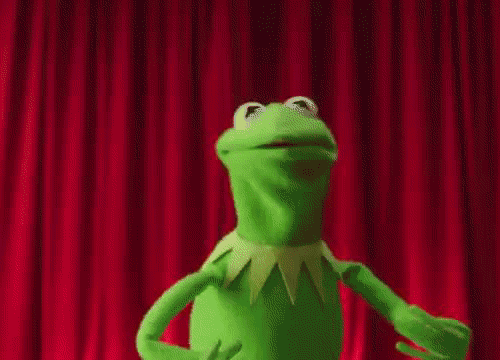 ---
If you want to get in touch contact me
Also is you want to keep up with all my latest posts and musing there's a load of widgets at the top of the page for my Twitter, Facebook and other social channels!
Leave a comment below! I love feedback...unless it's bad.
P.S.
Don't forget to share this if you like it!