LFCC: Hulkbuster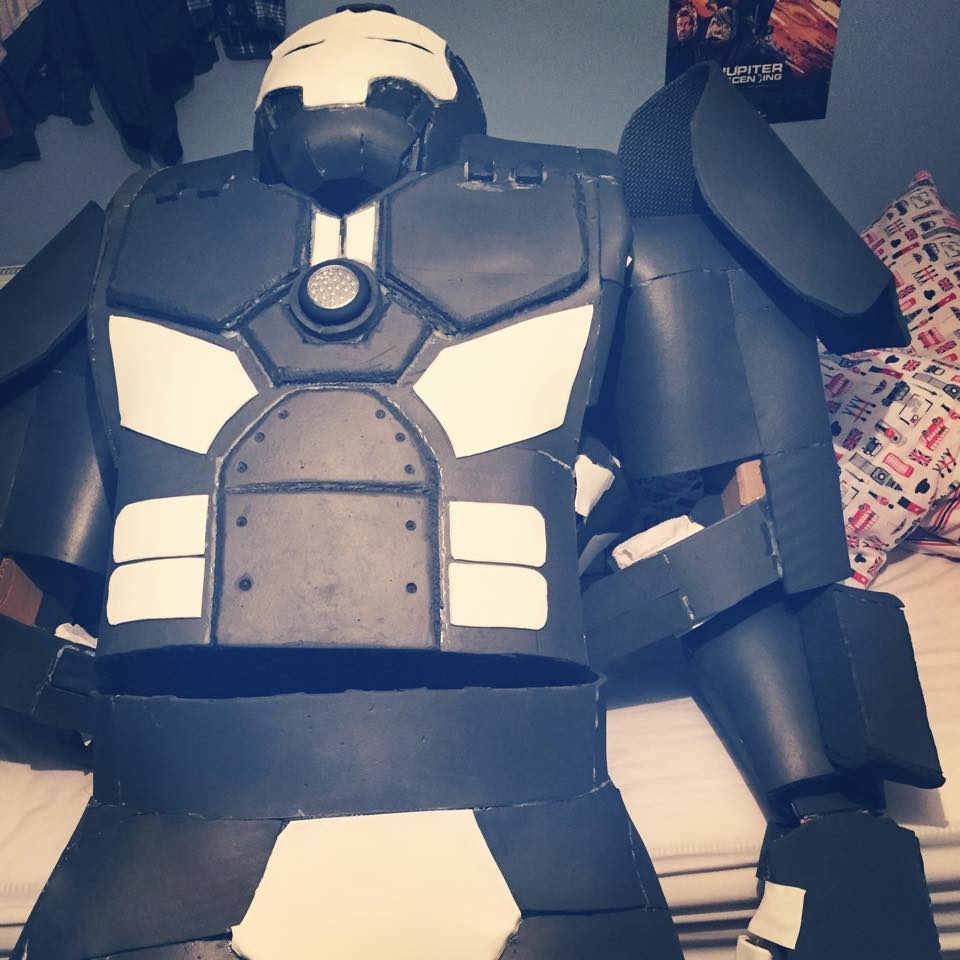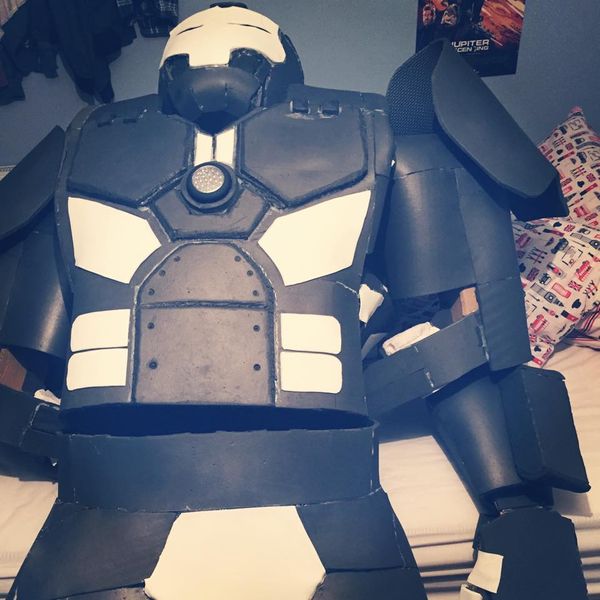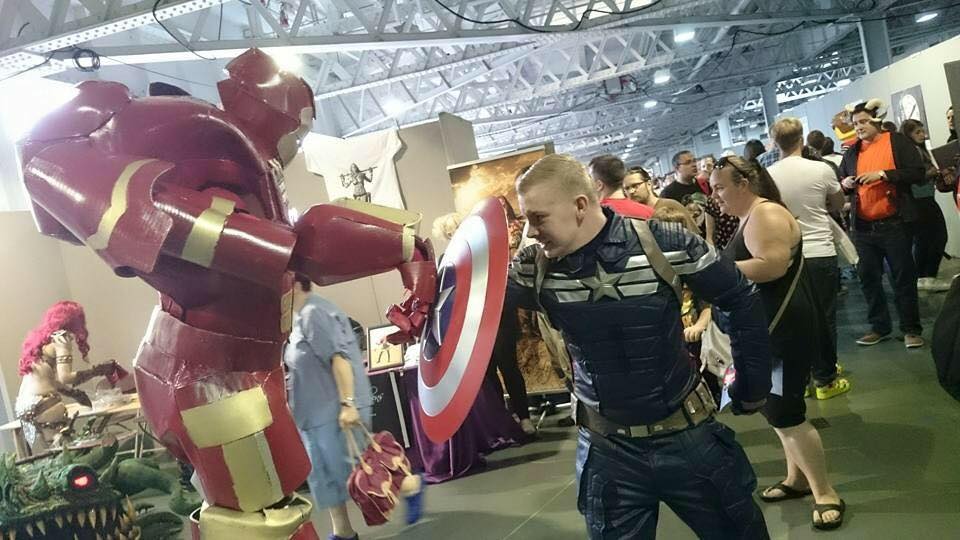 So after a 2 month (almost 3 month) hiatus while I rushed to create my Hulkbuster for London Film and Comic Con (LFCC) I'm back! So what better to start back with than a post about LFCC and how I got on with my grand ambition of creating a Hulkbuster.
Making the Hulkbuster
Originally I planned to start making the Hulkbuster from January until July which would give me just enough time to make it perfect. That did not happen...
I started in May and just about finished to a standard that I was happy to take out into the world.
Made primarily from cardboard and foam matts the finished cosplay was a massive 8 feet tall. As I'm not some sort of giant this means I was on stilts for this cosplay. Knowing from the start that I wanted it to be that big - as I could see no way to change the design without redesigning it massively - I decided to build from the ground up...literally.
I got hold of the stilts and built a frame for the foot around them. This was made out of card with foam layered on top. I made sure I could walk in the stilts before moving on to the next section of the legs. As the weeks went on because of the scale of the project I don't think anyone was more worried than I was with how much needed to be done and how big it was looking to be at the end.
I persevered.
Quickly weeks turned into months and I created a torso and waist. Over time I had created the majority of what I would need but time was what I needed as I only finished building by the final weekend before the con.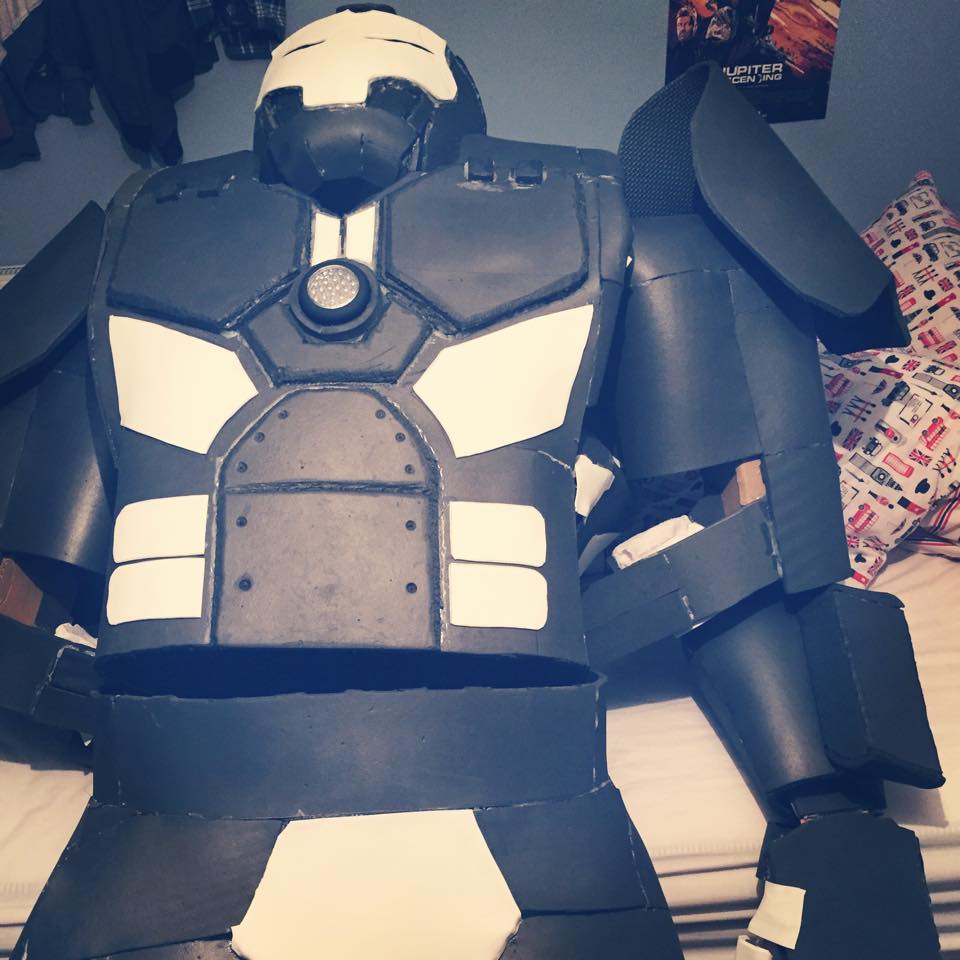 I was pretty pleased about the way it was looking but very aware that it needed to be primed and painted in the space of 4 days. Somehow I got it all done which you can see on my cosplay page.
https://www.facebook.com/tvtrevcosplay
The only real problem I had (of many) was that after 2+ months building I hadn't tried it all on together...until the morning of the con before traveling there with the 8 foot monster that it was. It all pretty much worked together as I hoped. Up until that point I just held the faith that my design for all the separate pieces would work together and they did. Words can't describe how happy I was that it worked.
LFCC
Words also can't describe how much I could see what didn't work. This was never more apparent than when I got helped into the suit the first time and after I saw the pictures that people took at LFCC. There were so many issues I could see but that thing about being your worst critic holds true. Still people loved it and crowded around to take pictures (I could only find a handful of those taken).
The convention itself was amazing, as always it was crowded as hell but it turns out wearing and carrying a giant costume while going through crowds parts them pretty quickly...once they get over the shock and awe.
Managed to get queue jumped to the front of the SyFy Cam area which was literally one of the best feelings ever as they wanted to get me on camera along with a quickly put together group of Avengers.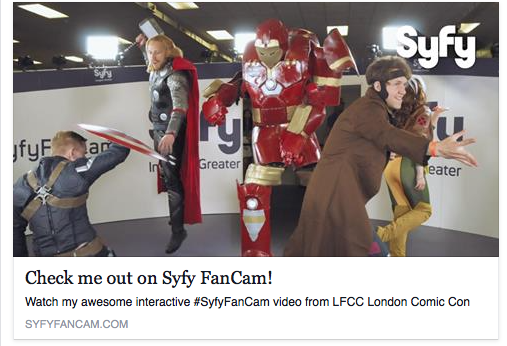 Because of this however my friends and I missed out on the marvel photoshoot. Swings and roundabouts as you have to take the good with the bad and take opportunities when they present themselves.
Sneaky Zebra
That's exactly what I did when my friends spotted Nick from Sneaky Zebra roaming the halls while I was taking a break from the suit. I took a chance and asked if he'd like to shoot my cosplay and he did!
After shooting and looking at the amazing cosplays that were around on the weekend I highly doubted that I would feature in the video but finding out I did has without a doubt made my day. Check it out below.
https://www.youtube.com/watch?v=2bhB64som2g
If you like it share it and watch their other videos because they are awesome and full of great cosplays!
Masquerade
Speaking of great cosplay the masquerade this year featured lots of amazing talent this year as always including Izzy Cosplay who's Lady Siff was flawlessly made. I encourage you all to check out her work.
https://www.facebook.com/izzycosplay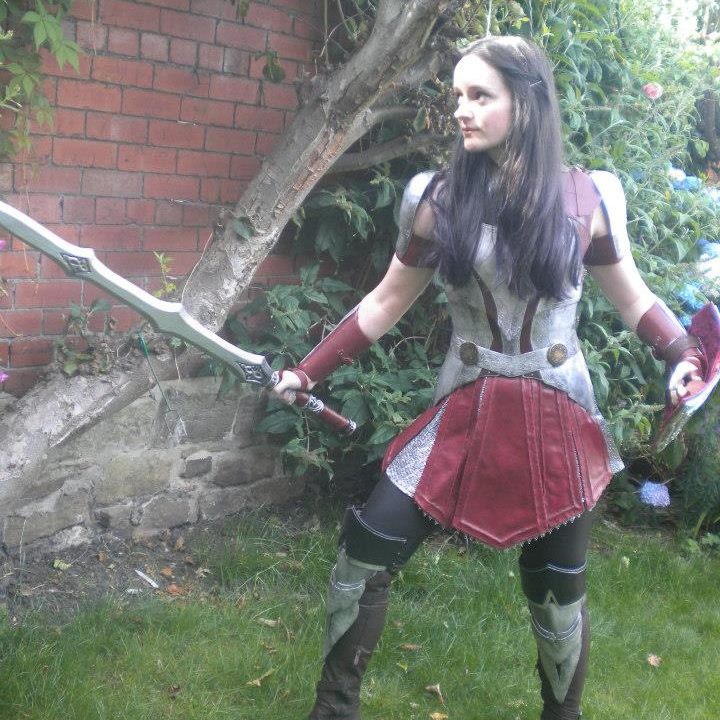 I was on first during the masquerade and that's when disaster struck...I fell flat on my face in front a few hundred people. Being strapped into stilts it all went in slow motion but being in a massive foam giant had its advantage in that I wasn't injured.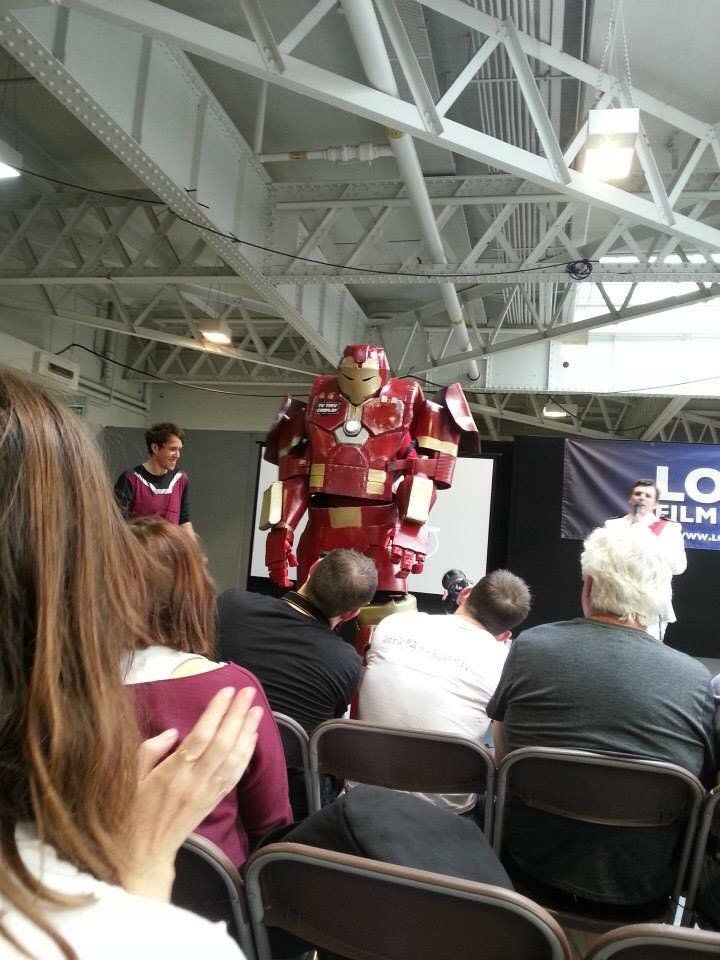 With a little help from my friends who had been helping me all day I got to my feet a little like Bambi and managed to salvage what little pride I had left at the time and wobble off the stage.
I'll be honest it could have been worse but at the same time I wouldn't change a thing because that's literally my bottom. I can't do any worse (I can...I really can).
---
But that was pretty much my LFCC Hulkbuster journey. There's lots I want to improve on it and lots I've learnt because of it. Travelling there was fun...don't listen to London Midland about waiting to book your train tickets if your giant cosplay isn't finished, just book it (have faith you'll be allowed on).
I had fun. On to the next cosplay!
If you can help get me to 100 likes on my cosplay page that would be amazing (small goals).
https://www.facebook.com/tvtrevcosplay << LIKE IT
---
I'll be back blogging 2+ posts a week for the forseeable future. I've missed it so much.
---
If you want to get in touch contact me
Also is you want to keep up with all my latest posts and musing there's a load of widgets at the top of the page for my Twitter, Facebook and other social channels!
Leave a comment below! I love feedback...unless it's bad.
P.S.
Don't forget to share this if you like it!