MCM London VS MCM Birmingham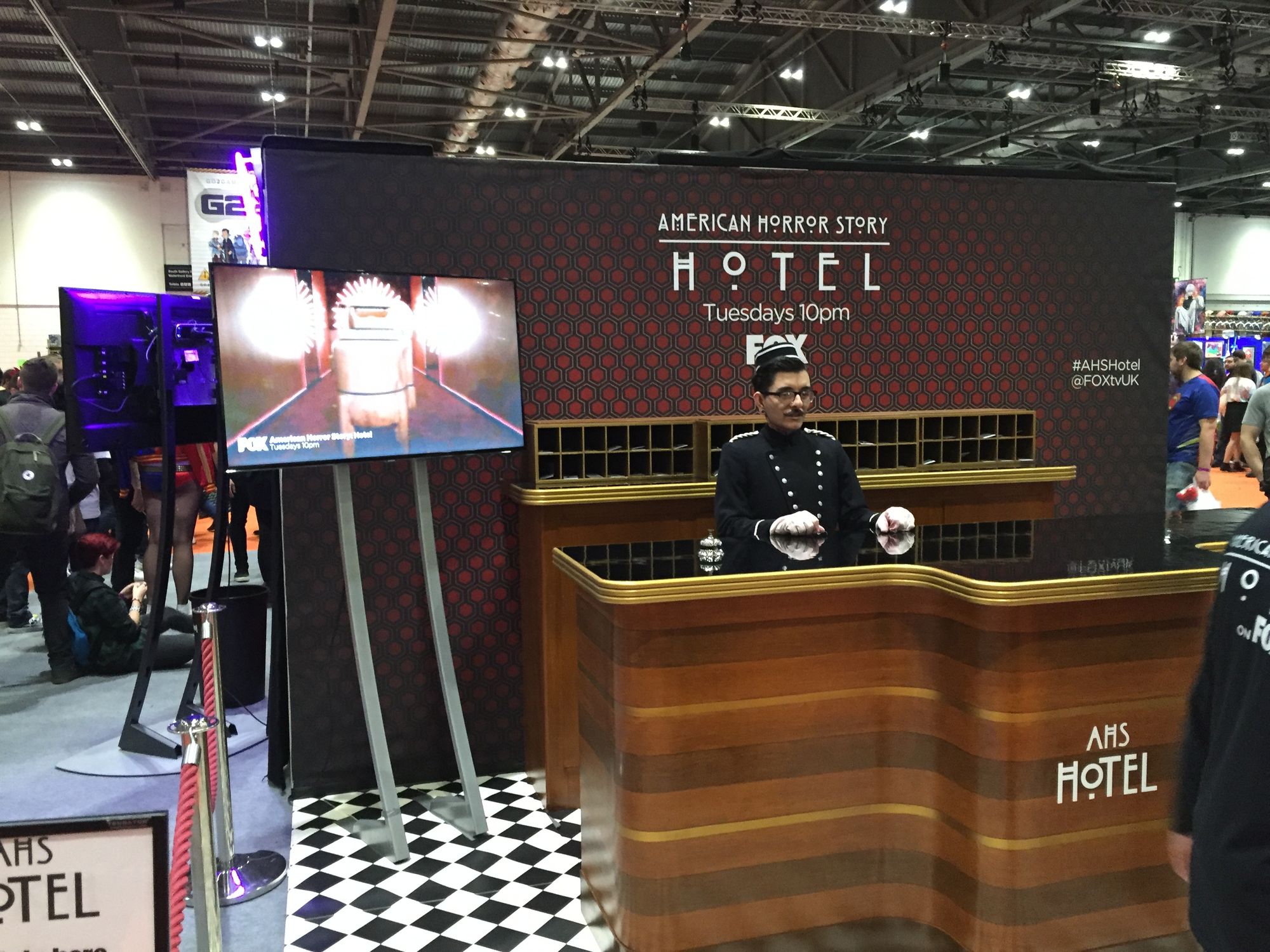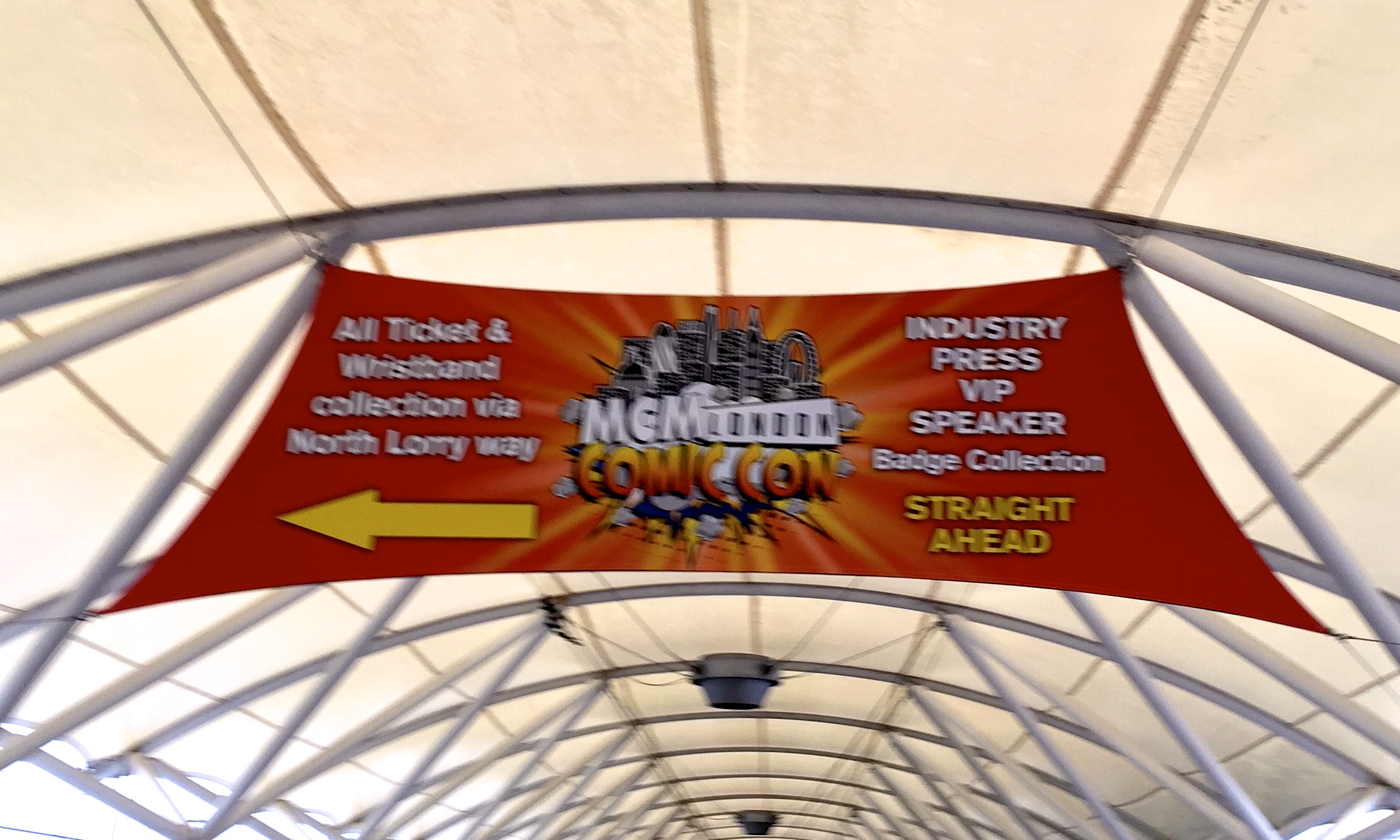 So recently I've had the opportunity to go to both MCM London and MCM Birmingham. Both were eye-opening experiences considering I've been to more than a few conventions at this point.
My trip to MCM London was the first time I had ever been to the London convention and I was immediately struck by the sheer size of it in comparison to Birmingham's. There was considerably more vendors, artists, stages and space for cosplayers.
This was the first time my friend had ever been to a convention and he was immediately struck by the one thing most people notice with a convention...crowds. However as a result of the size of the convention hall and the spacing of the stands these crowds were not as bad as I've seen them to be in other conventions.
The best thing about MCM London however other than the usual attractions of cosplayers, merchandise and artists was the addition of stands dedicated to promoting popular television shows which was both a surprise and a delight. This was the first time I've seen a piece of theatre like this at a UK convention and honestly thought it was something that only happened at US conventions. The shows being promoted were American Horror Story and AMC's The Walking Dead. AHS was promoting it's new hotel series with a recreation of the lobby desk complete with a slightly creepy bell boy. While I don't currently watch the show (It creeps me out and I have no one to watch it with...) I still enjoyed the spectacle of the stand. The Walking Dead stand/display was another level however, a caged group of walkers stumbling around that you could take a picture with (if you dared) and these guys stayed in character 90% of the time I was watching them which was a while.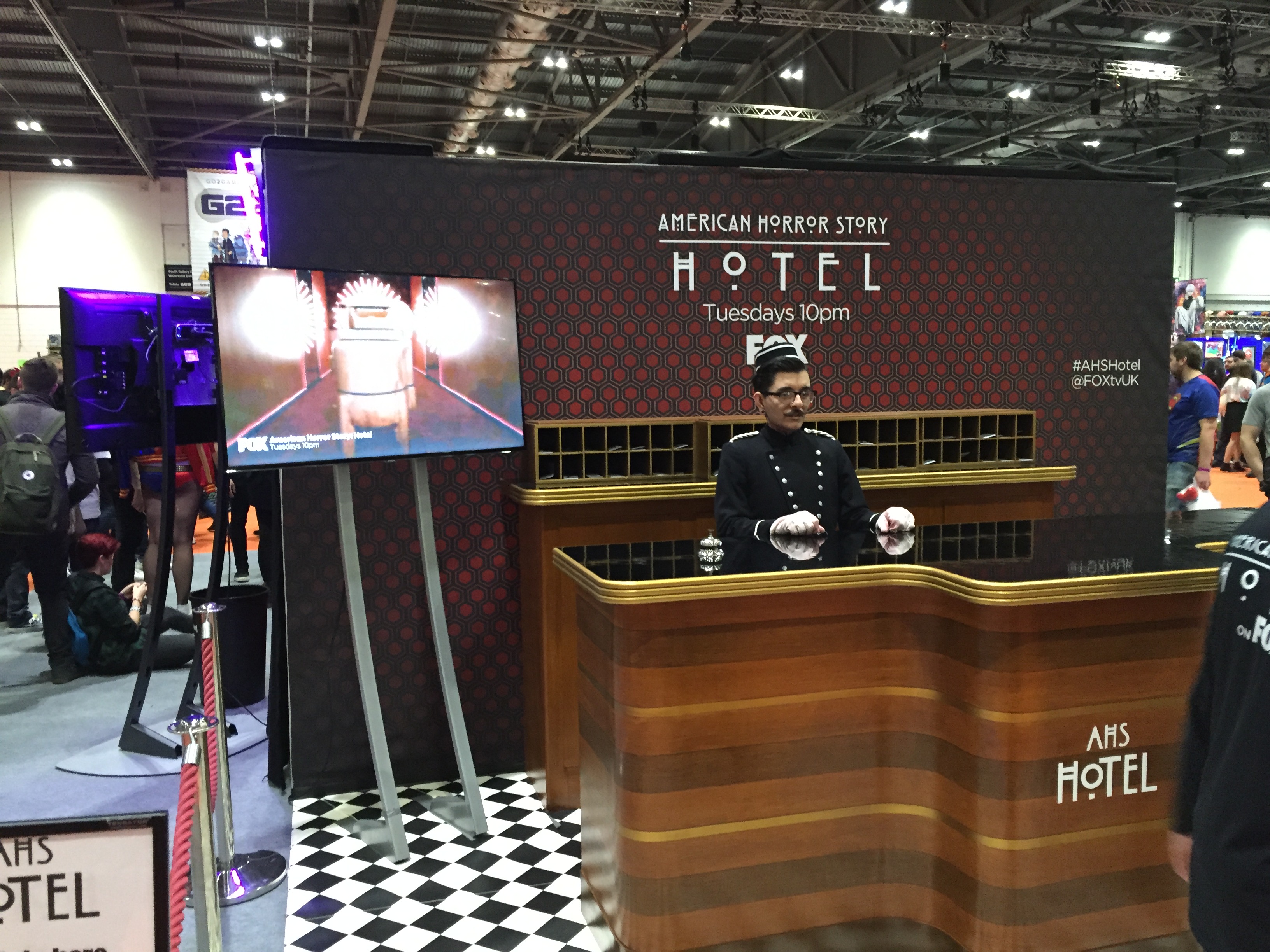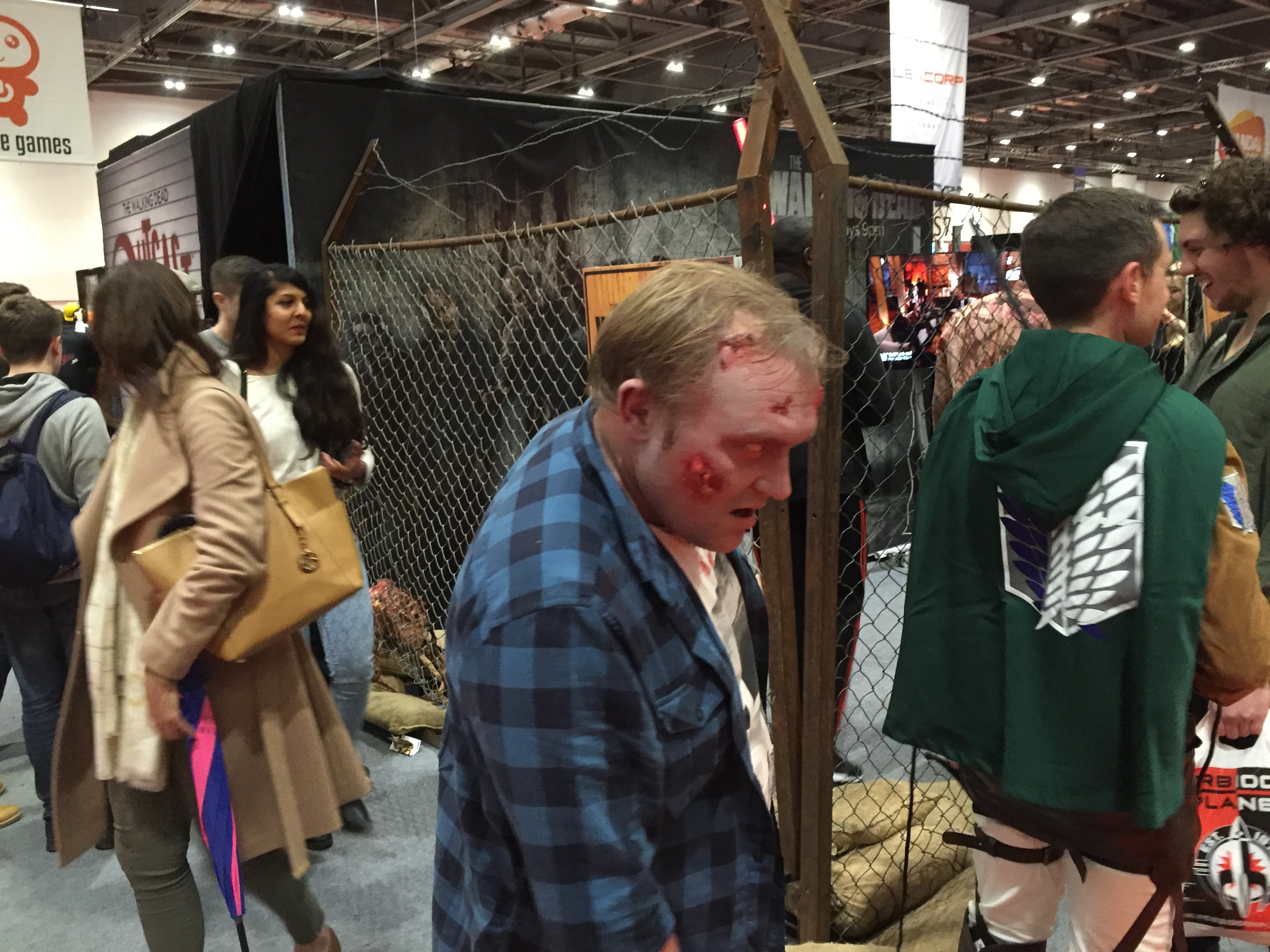 These were just a few of the things that made MCM London a joy to go to.
On a whim after Halloween I decided to take my Mike Wazowski to MCM Birmingham as a last hurrah for the costume. I originally planned to go with a friend so I had a handler while in costume but this did not happen and I ended up going alone.
After a fun, freezing cold train journey of weird looks, lots of questions and awkwardly getting through crowds with the costume I arrived at the NEC. I gave my extra ticket to another con goer who hadn't been able to buy their ticket in time and didn't fancy their chances getting a ticket on the day, waiting in the holding pen of people that was the line to buy tickets.
Even though I had a ticket getting in was not as easy a task as I thought it would be, lines were chaotic and the NEC staff were not very helpful due to confusion over which line was which. This did not help con-goers arriving and joining the first line they saw which was the wrong one for most. When we got to the right line we found it to be a looping trio of lines which was moving at a slow but steady rate which was more than could be said about the first line I was in for 5 minutes at a practical standstill.
Once through the chaos however and in the convention everything was okay. I made my way to the cosplay desk dropped off my costume and gave the convention a quick loop to see it for an hour out of costume so I could get a lay of the land. In comparison to London the Birmingham convention was much smaller but just as manouverable. There was nothing like the Walking Dead or AHS stands from London but there were some interesting selection of vendors and artists as well as the usual movie cars that appear at conventions. For me however this convention was all about the cosplay and I tried to take as many pictures as possible before getting into my own.
While it was completely possible for me to get dressed as Mike on my own I was unable to check how finished it looked being inside it so was reliant on the help of helpful cosplayers to straighten my sleeves and get my mask on straight so I could see and so that it wouldn't slip off. I cannot thank these kind strangers enough for that as it allowed me to wander around the convention without a handler only bumping into one or five people due to a lack of peripheral vision. What I could have used a handler for was when I got bullied by kids who thought it would be funny to tap on my costume to have me turn to find no one...wait no if I had a handler they'd still allow that to happen. In all honesty one of the best bits about being dressed as Dan Luvisi's horrific version of Mike Wazowski was that I could scare and delight both kids and adults with it. Whether I get to see any of these pictures remains to be seen however it was fun.
Once I'd had my fun for a few hours however I had to start making my way home. Knowing that I lacked the room at home to store Mike and didn't really fancy carrying him on the sure to be packed train I made the decision to leave Mike for someone to adopt. Whether this happened is a mystery to me but I truly hope he did get adopted. A kid almost took him while I was setting him up but got talked out of it by a sensible adult. The fact that he wanted it is enough for me...at least one person was tempted.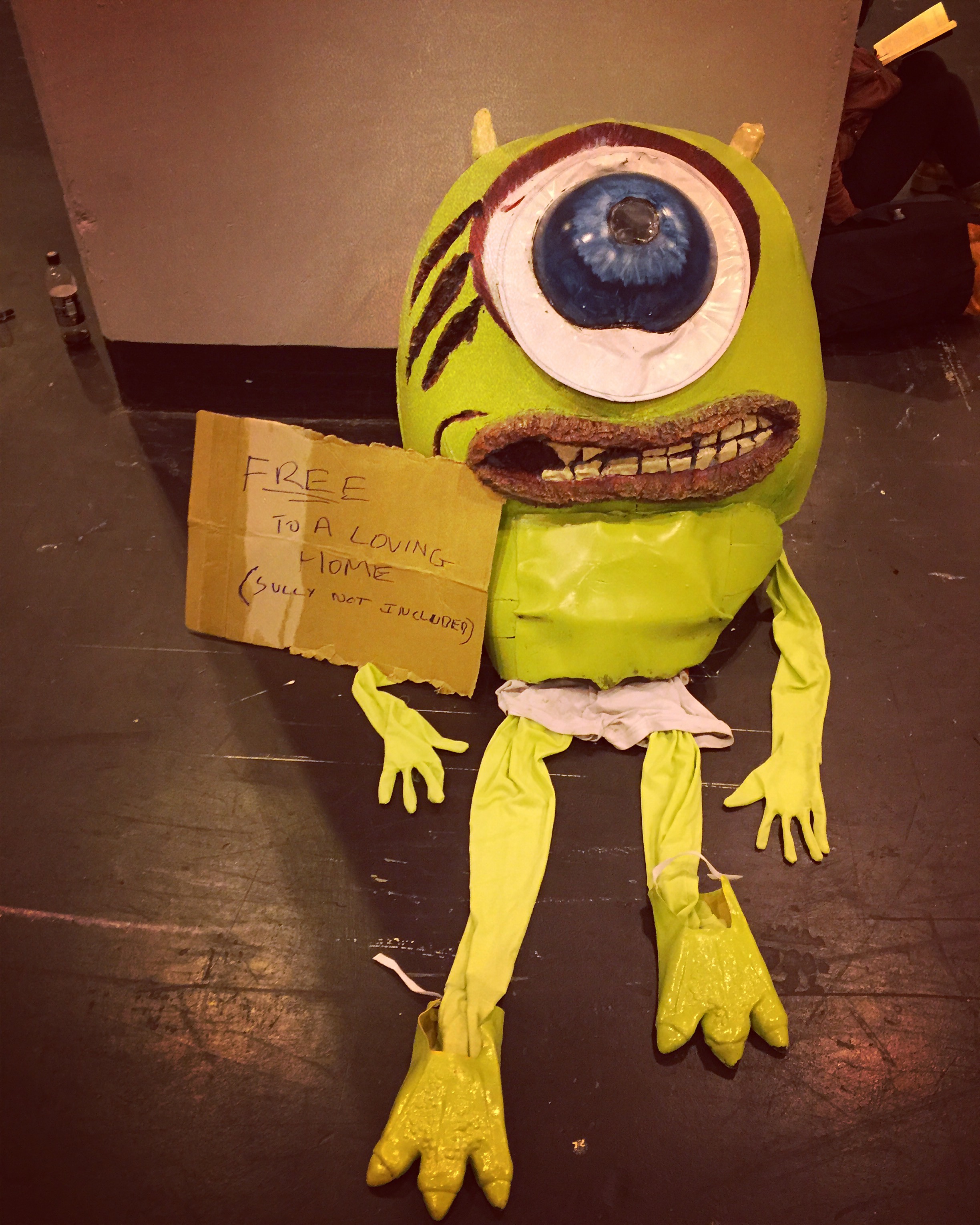 So two different experiences between London and Birmingham, both great but if I had to choose one to go to again it would have to be London for the sheer choice of vendors, talks etc. However bigger is not always better, and I have to say that the crowds in Birmingham were definitely the better of the two in my opinion.
---
If you want to get in touch contact me
Also is you want to keep up with all my latest posts and musing there's a load of widgets at the top of the page for my Twitter, Facebook and other social channels!
Leave a comment below! I love feedback...unless it's bad.
P.S.
Don't forget to share this if you like it!