The Growing World of Custom Toys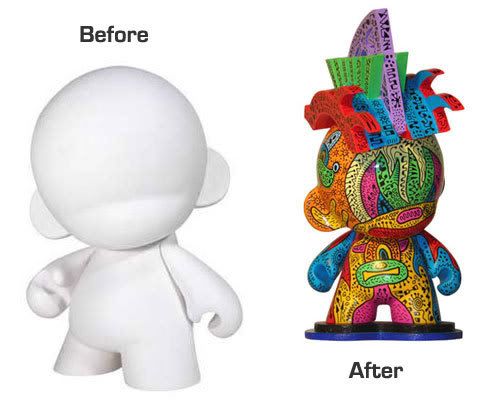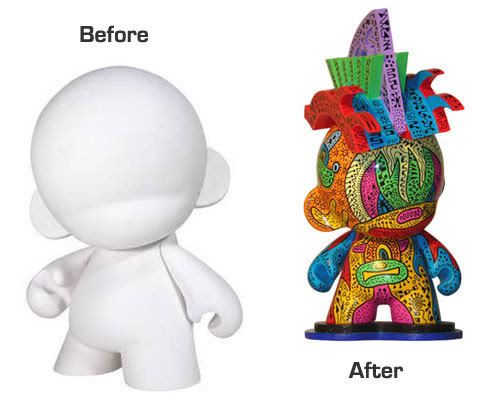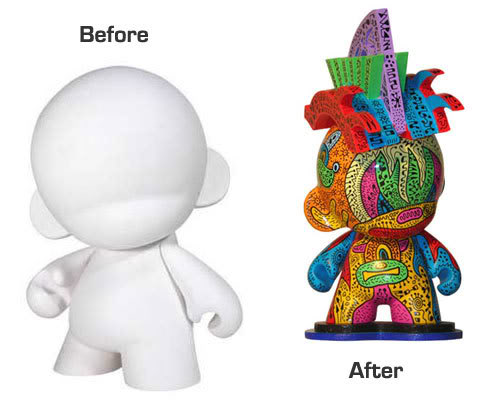 Designer or Custom toys have been around for a while and honestly I'm not really sure how I came across this world (I've only been aware of it for a few years now) but from my perspective it's just recently started to grow with conventions and Funko POP's becoming something that people - geeks and non-geeks alike - have started to become interested in.
Jason Freeny
Jason Freeny a custom toy maker well known in the custom toy industry for his anatomical structures and is someone who came from a sculpting & toy background. He's done some amazing figures doing anatomical cutaways showing what he imagines would be underneath popular characters skin.
Tested.com have luckily done an interview with him recently going into his process a little and how he got into it.
Find more of Jason's work at his website: http://www.moistproduction.com/
Over the years much like blogging I have played with the idea of making my own custom toy and a few months ago I finally took the plunge and ordered myself a base figure that I could work from after finding the custom toys made from them freaking awesome!
Plastic Cell
The base that I'm going to use is called a White Cell from a group of brothers in the United States who combined their passions for sculpting, painting and designing to create Plastic Cell.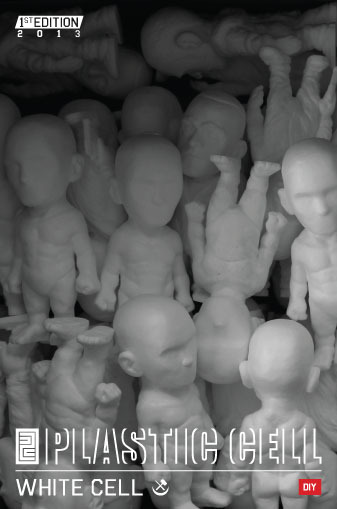 They started Plastic Cell with the goal of providing collectors with Premium high quality limited run and one off sculptures.  With Plastic Cell we are able to use our passion for sculpting, painting, and designing to create a unique and inspiring product. Because each piece of our limited run sculpture is painstakingly hand-painted with acrylic using a variety of techniques, no two piece will ever look exactly alike.  There are no machine involved in the making of our sculptures.  The molds are hand made with silcone rubber and hand casted with durable urethane plastic. Technology and social media has definitely helped us promote our work but the handcrafted aspect is what set us apart from the rest.

via Plastic Cell
I think I ran across them over the spring/summer when I was looking at Breaking Bad art on instagram and spotted a picture of one of their pieces in my feed. I loved it!
It turns out I'm not the only one as their figures have been making their way around the internet more and more as people start to take more of an interest in custom toys.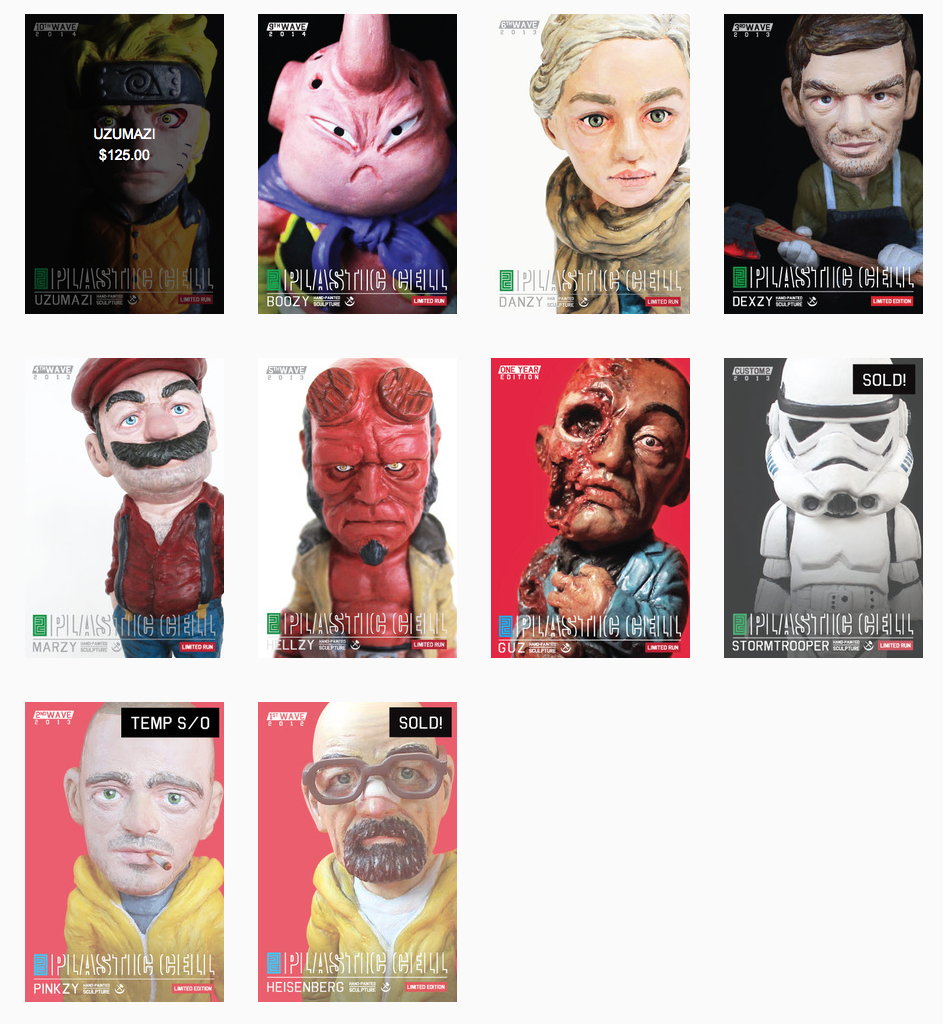 And so I jumped into the rabbit hole and looked for more of the pieces they and other creators had made. It didn't take me long to find the progress pictures that people posted for how to they went about making their pieces and I started to wonder if I would be able to do pieces like that too. I started interacting with the artists and finding out what I would need, making a list of what I would need. It didn't start to become a reality until I spotted that a new batch of White Cell's would be coming out over the summer. I snapped one up as soon as they came out.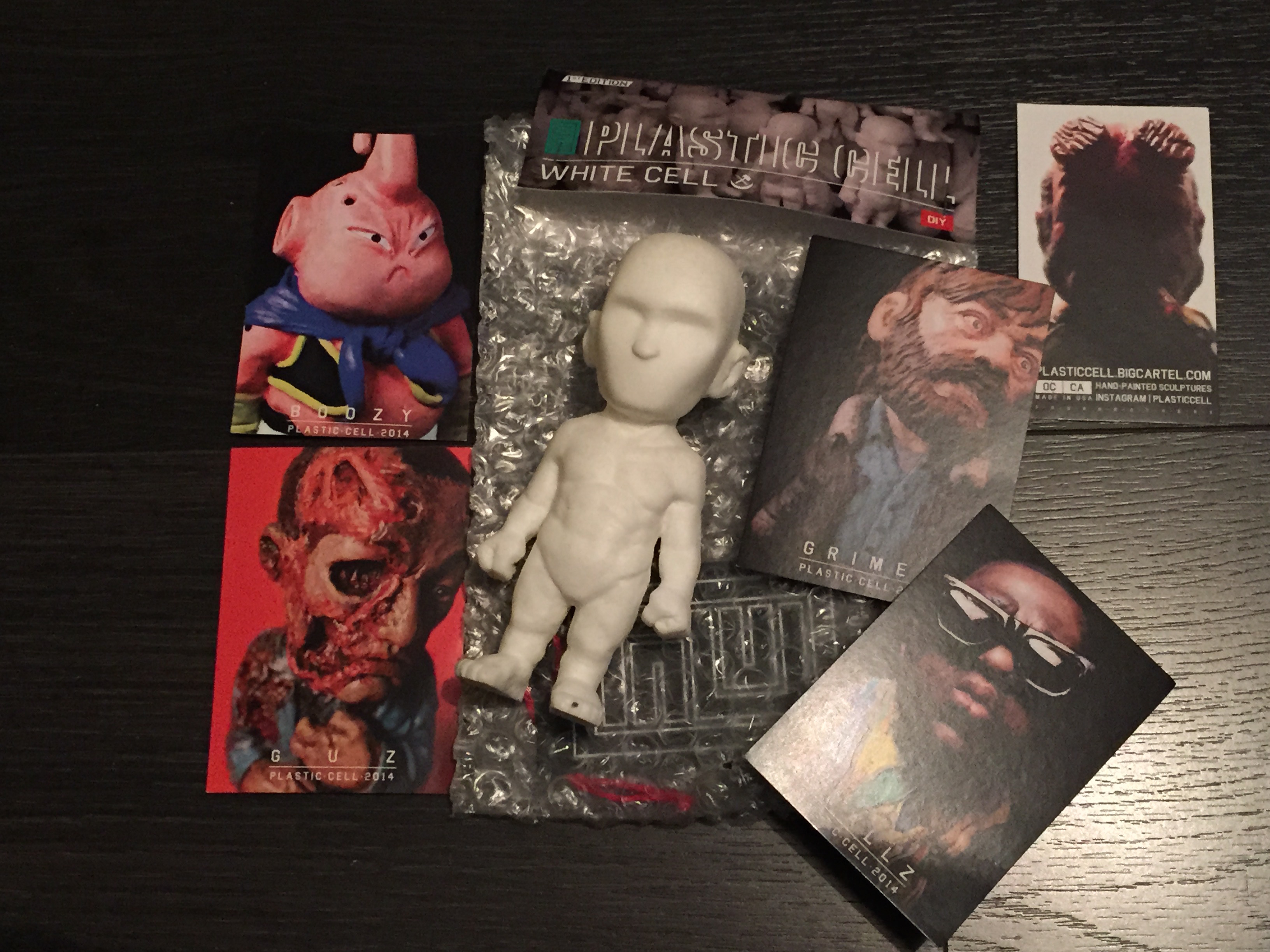 Then I started to gather the other materials I would need to make something...anything out of it. Wanting it to be achievable, but still cool I looked at characters that hadn't been done yet and decided on one.
So currently I am in the process of putting together a design for how that character will come together on the White Cell and what I will need to do to the White Cell before I start playing with the clay.
I need to chop it's head off...
My thinking is this has the possibility of not ending well so I thought I would document it before the figure becomes more mutilated than intended.
Wish me luck!
---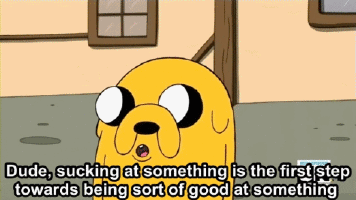 I really hope I don't suck at this...
---
If you want to get in touch contact me
Also is you want to keep up with all my latest posts and musing there's a load of widgets at the top of the page for my Twitter, Facebook and other social channels!
Leave a comment below! I love feedback...unless it's bad.
P.S.
Don't forget to share this if you like it!