A Scintillating Synaesthetic Supper + Chilacas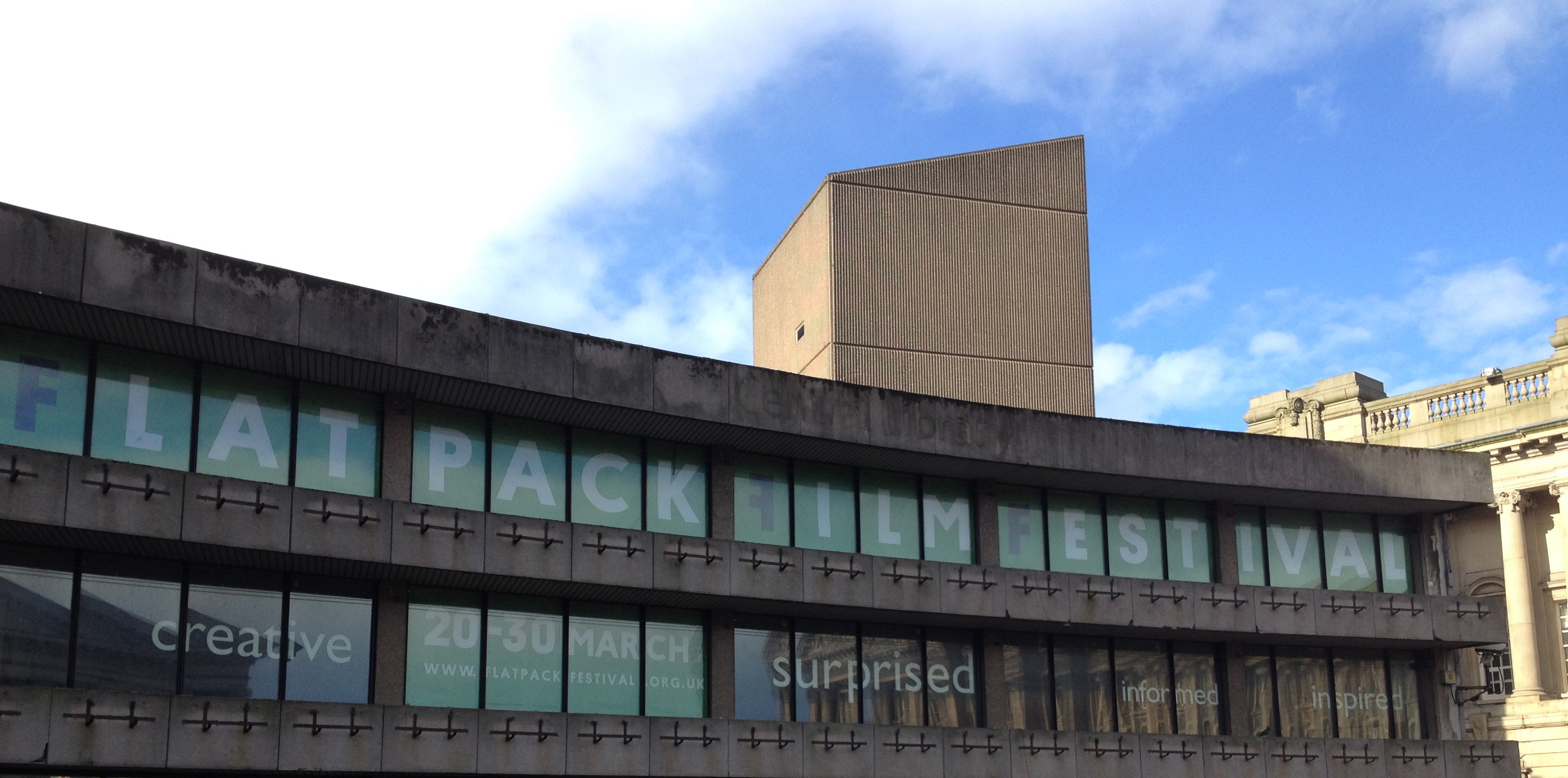 As you probably know from reading my previous post I spent the weekend in Birmingham where an amazing event called the Flatpack Film Festival is occurring 20-30 March.
As I was spending the whole day there for the event and I love food I thought I would combine the two. Luckily all the events my friend and I were visiting were conveniently located near to or at local eateries such as the PiKA PiKA workshop which was located at the 6/8 Kafe that had some amazing Red Velvet cake. Seriously I could eat that everyday.
However by the end of the PiKA PiKA workshop I was feeling ready for two things; food and another event. As luck would have it we could combine the two with "A Scintillating Synaesthetic Supper".
A Scintillating Synaesthetic Supper
This was a truly unique experience if ever there was one. If you've ever wondered what colour tasted like or the sound it might make or even ever truly immersed yourself in what you consumed then this event would have been for you. It certainly was for me.
When we went to the event I truly did not know what to expect and it also didn't look like we would be able to get tickets for it! However luck was on our side and two spaces freed up just in time. It was only £10 to take part and I have to say it was worth it just for unique experience much less the meal.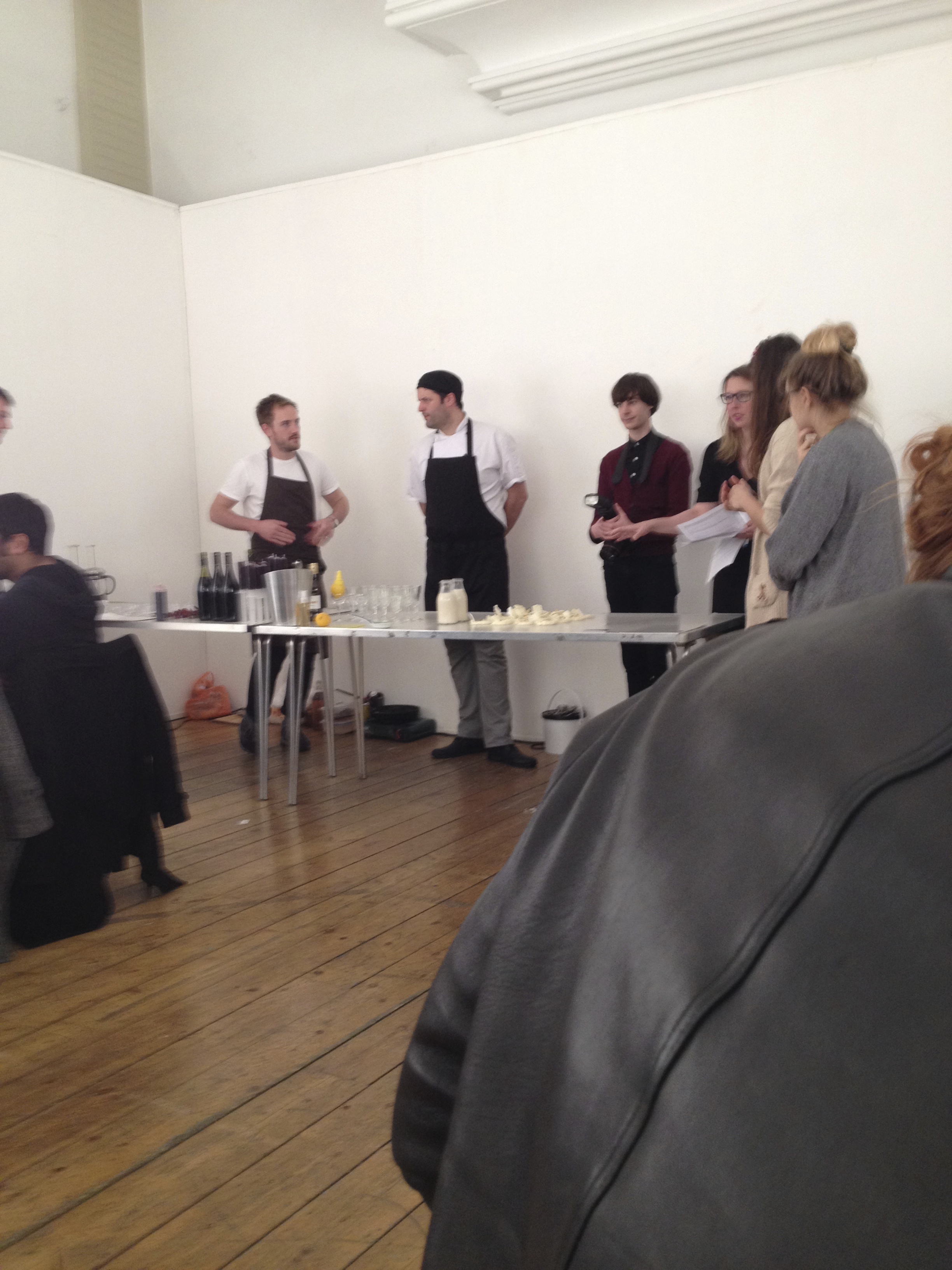 Food artists Companis were the genius creative minds behind this thoroughly multi-sensory experience of a meal.
They were inspired by the Structural approach to filmmaking, and the neural phenomenon of synaesthesia.
I wasn't aware that it was only a tasting menu but I'm glad that I didn't realise as I would have missed out on something special. This tasting menu allowed you to see, taste, and hear colour as it was being made. You could feel the anticipation in the air as everyone waited for what the next course would bring.
The meal went through 6 colours which all had different sounds, textures, placements on the projector (oh yes there were projectors!), differnt ways to serve/eat and of course different tastes.
White
The first colour they started us off with was white. No one had a clue what was being served up until it was served but (luckily) we were all brave enough to go forth into the unknown. It was part of the experience!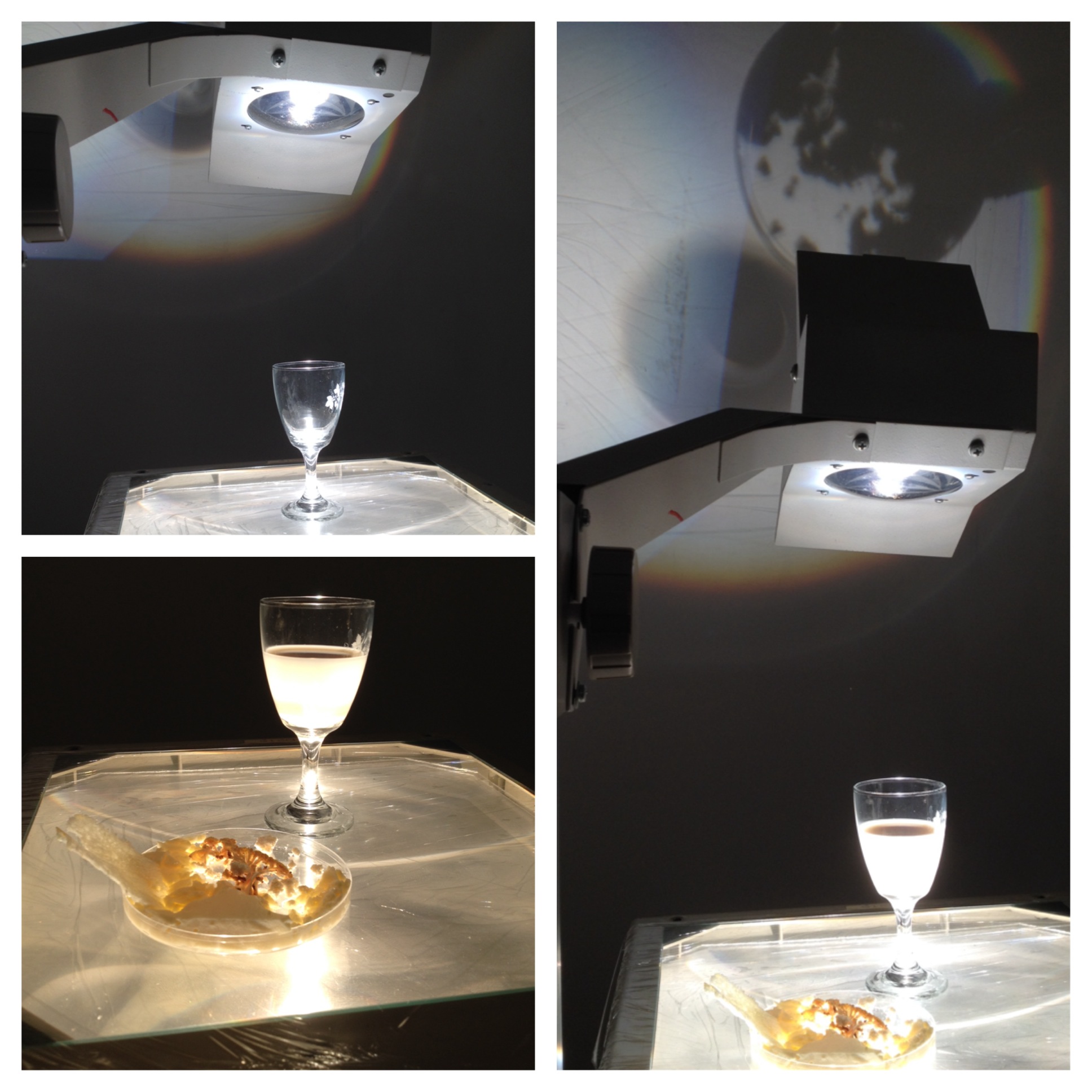 From what I can remember (and I may need correcting) there was cauliflower and 2 other items in the petri dish which made for an interesting mix of soft, crunchy and in-between. This was washed down with an almond milk which all surprisingly went really well together (you wouldn't think it looking at it). They were served as shown in the picture above creating an interesting pattern on the walls with the projector. All the while sound that I could only describe as "white noise" was blaring out of the speakers.
Then came yellow...
Yellow
We hated yellow. If ever there was a colour to detest it would be yellow. It's dry and has a sharp, shocking taste.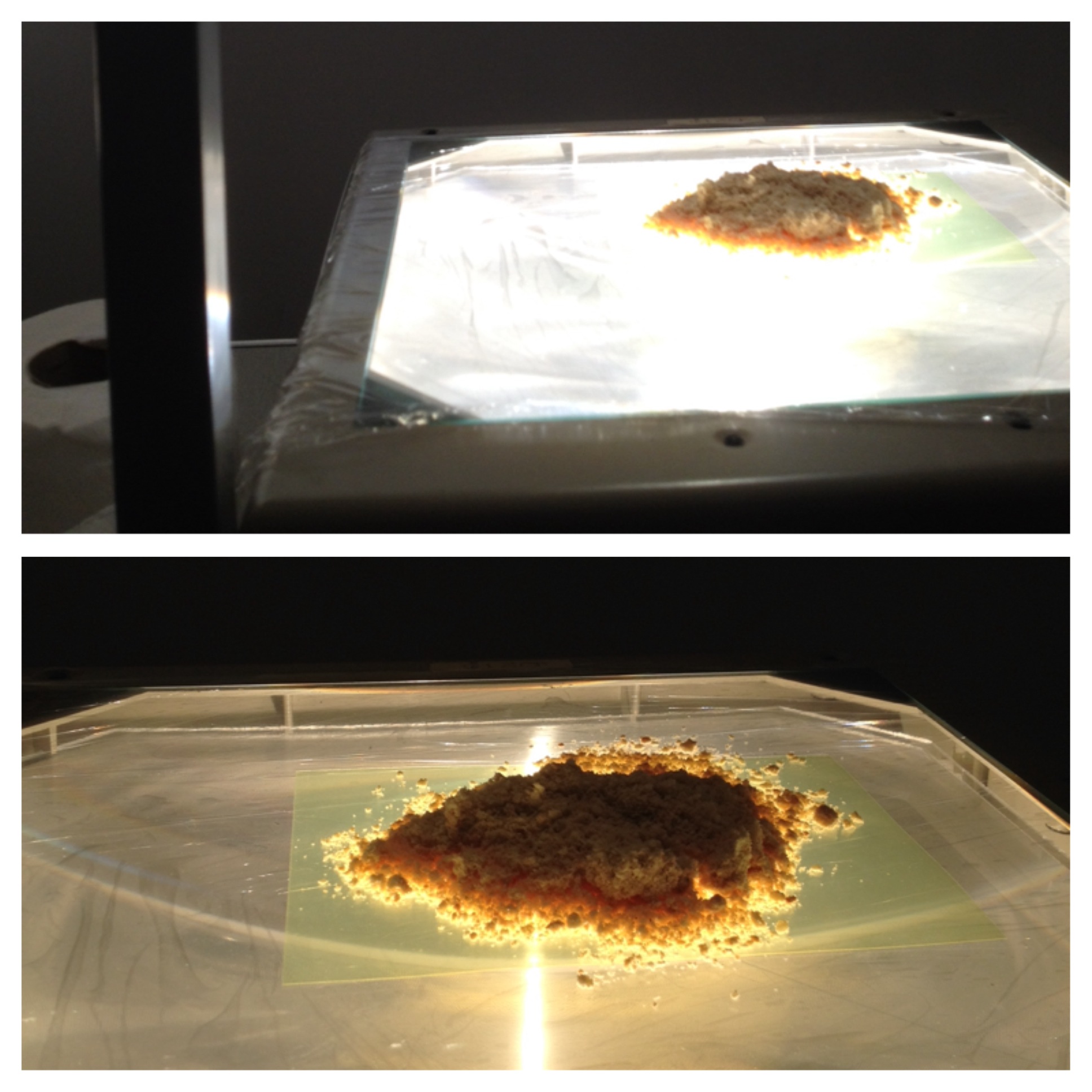 Served on a plastic sheet/square this was a combination of (at a guess) the driest crackers known to man!
We were told to have as much as we could in one go. I got about 3/5 of the mound into my mouth/all over me as I sputtered.
I don't remember what type of music was being played but I do remember having two things squirted in my mouth as we tried to swallow with the quickly disappearing saliva in our mouths. The liquids were lemon juice and (I believe) white wine.
It was so dry.
Green
Thankfully the soothing tones of green were next and with it came something to quench our thirst.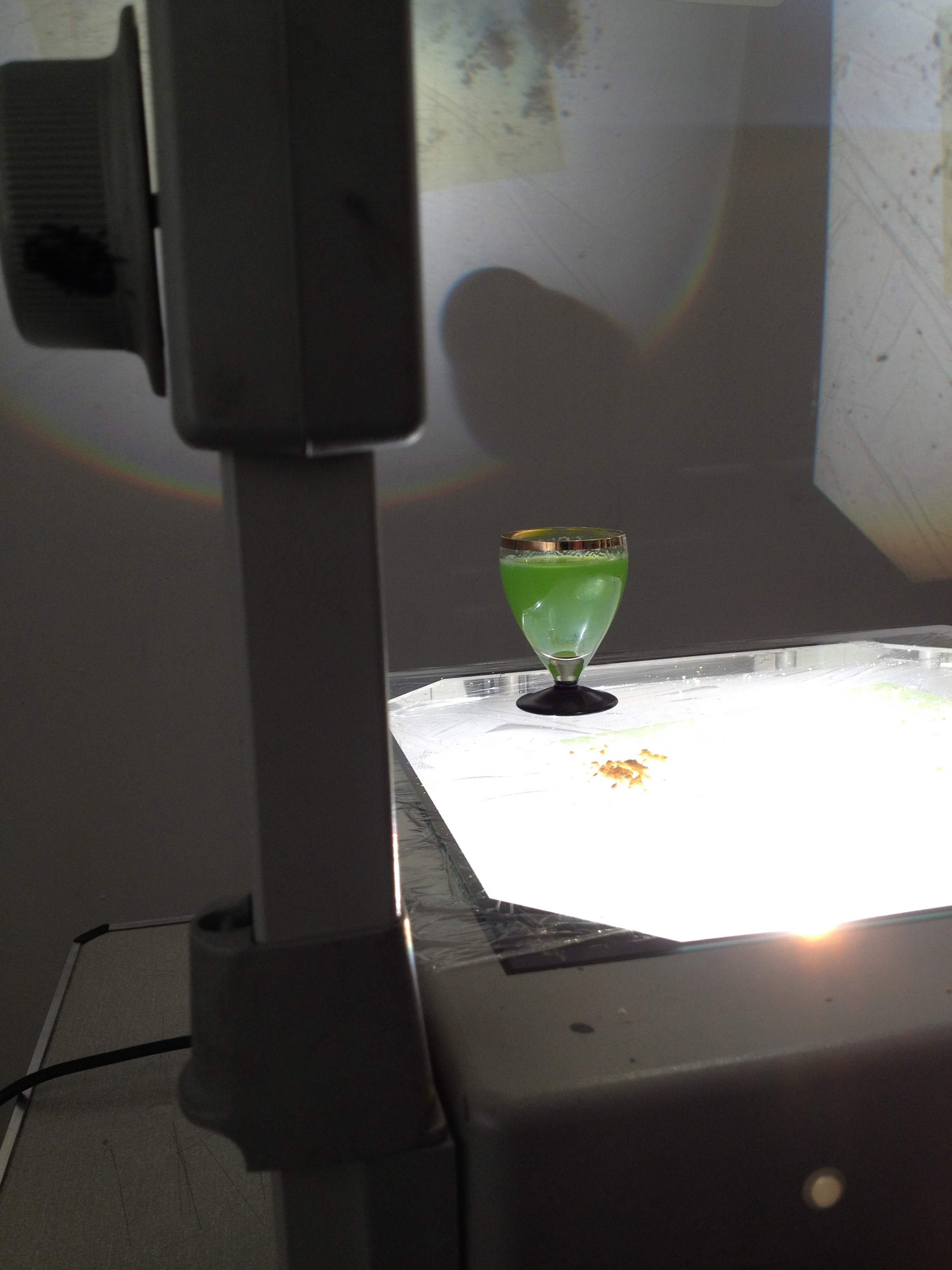 I believe it was simply kiwi juice but I could be wrong. I took it down in 3 quick sips before I died of dehydration! (there was no risk of death but it felt like it)
Red
Then came red. Everyone loved red but Jon and I loved it a little too much because of the hilarity of it.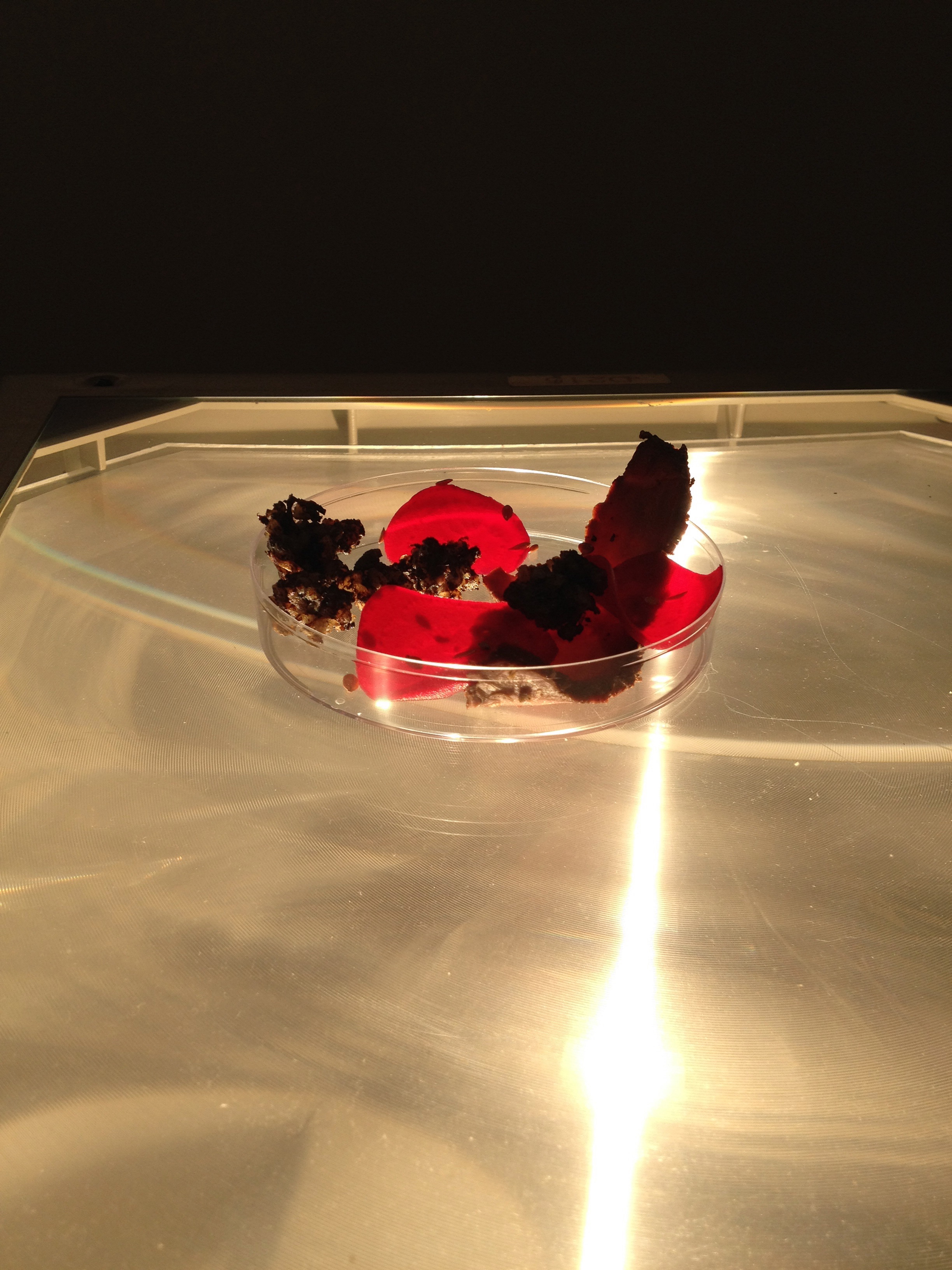 First we were told to devour it. Which we did immediately. We were however a little too quick with the devouring...whoops. This was a combination of meat, and other stuff that was delicious! How could we resist!?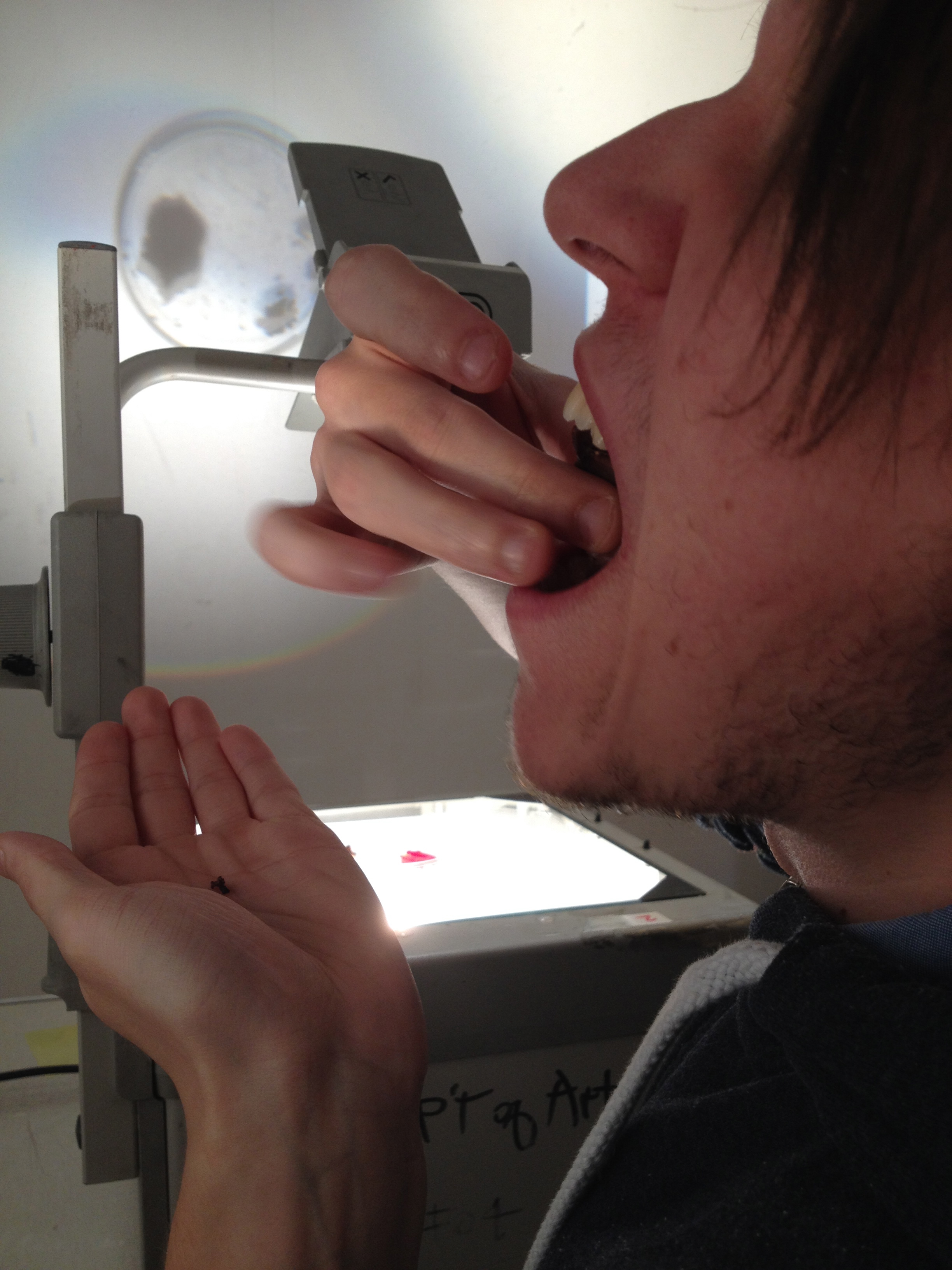 Then we had the joy of squirting into each others mouths. I should explain...there was a syringe. Wait...stop. That still doesn't sound right.
There was a syringe filled with red wine. We squirted into each others mouths.
Nailed it.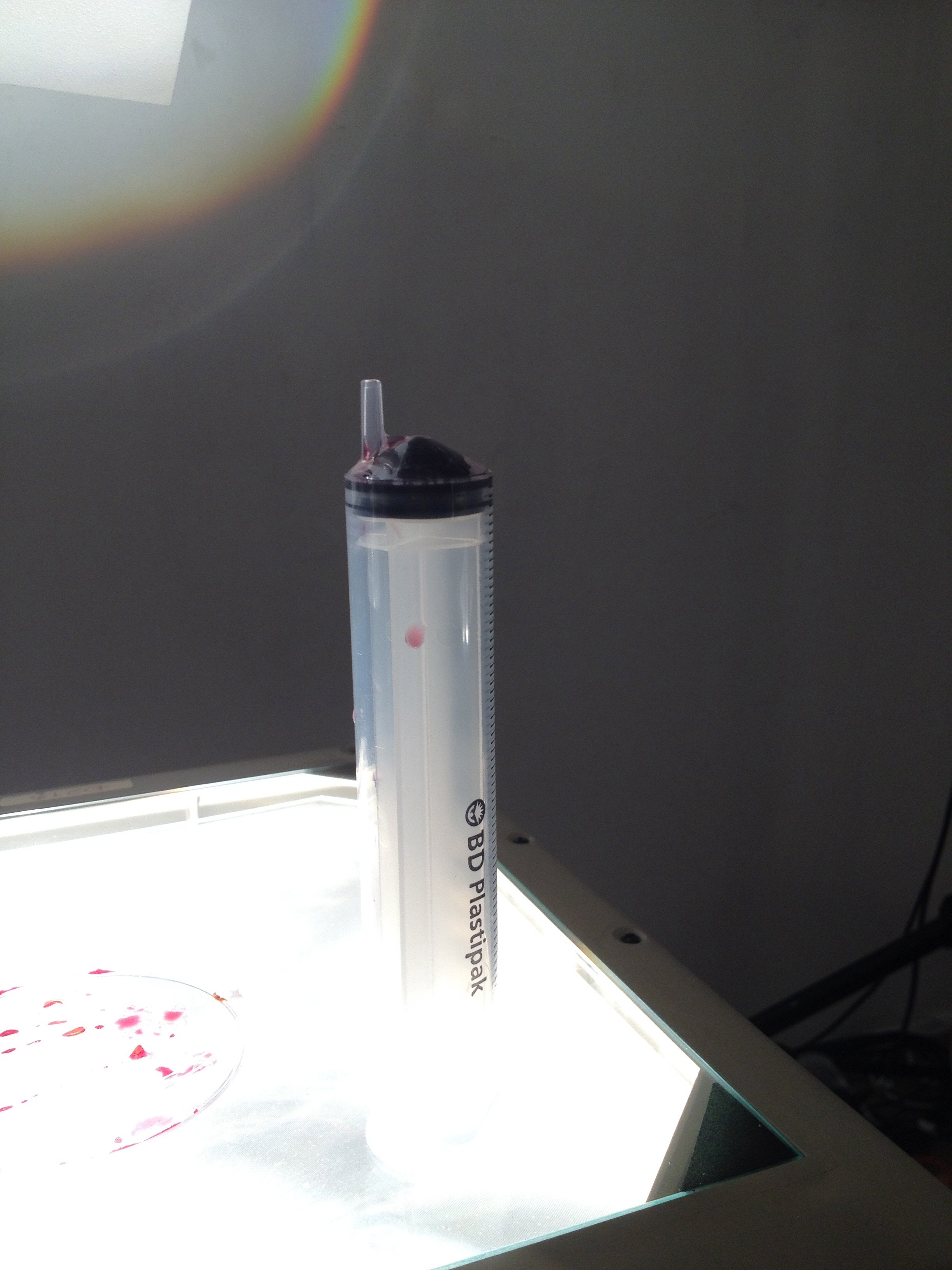 Blue
Then came blue which was cool, numbing, sweet and refreshing.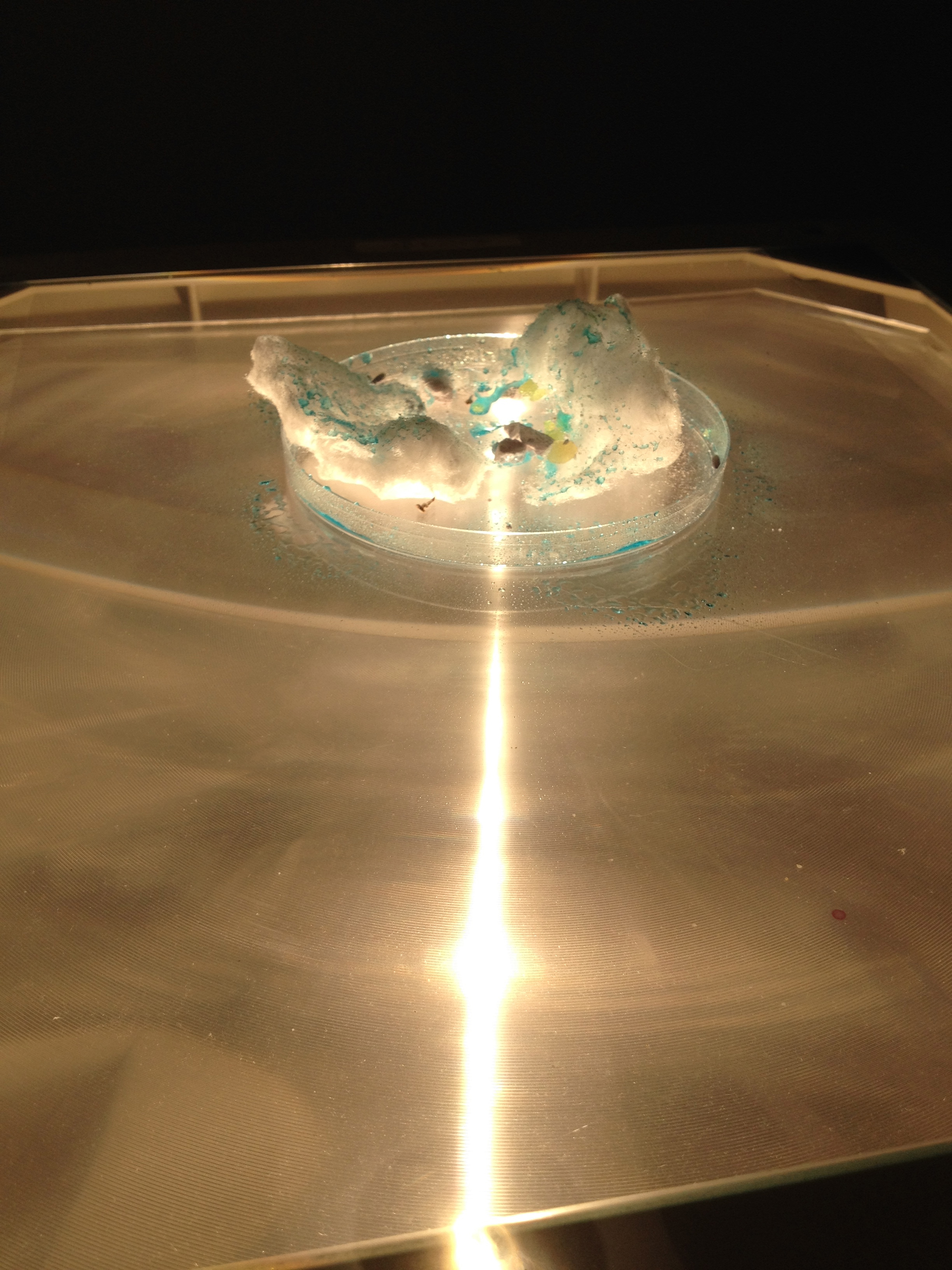 Brown/Black
This was the rich, sweet final course that we had to lick (yes I said lick) off of a plastic card. I don't know if I had more or my beard did. I like to think I had a good licking technique...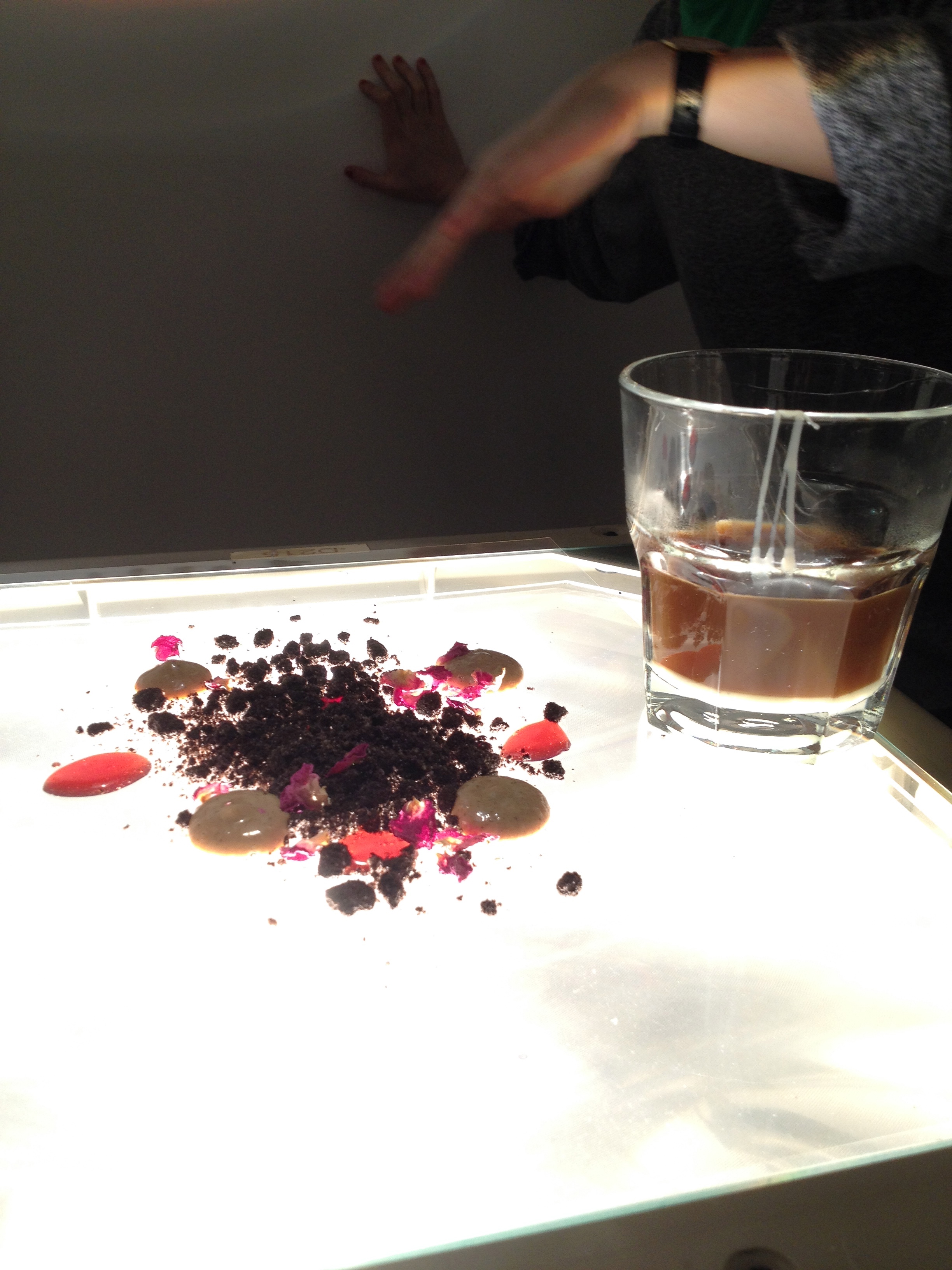 This was served with a bitter and warm brown drink with a hint of sweetness (may have imagined the sweetness).
---
Overall the supper was amazing to experience and I would say if you have an opportunity to take part in another event run by them you should. You won't regret it...unless you have allergies in which case I would ask what's being served before having anything. Great adventures shouldn't always risk death!
After that Jon and I were still hungry so we decided to visit an eatery that goes by the name Chilacas.
Chilacas
This is the equivalent of a Mexican Subway...but better. For one the food served at Chilacas is hot as in so spicy it can burn your tongue off. For another they serve alcohol and not just any alcohol...tequila. Need I say more?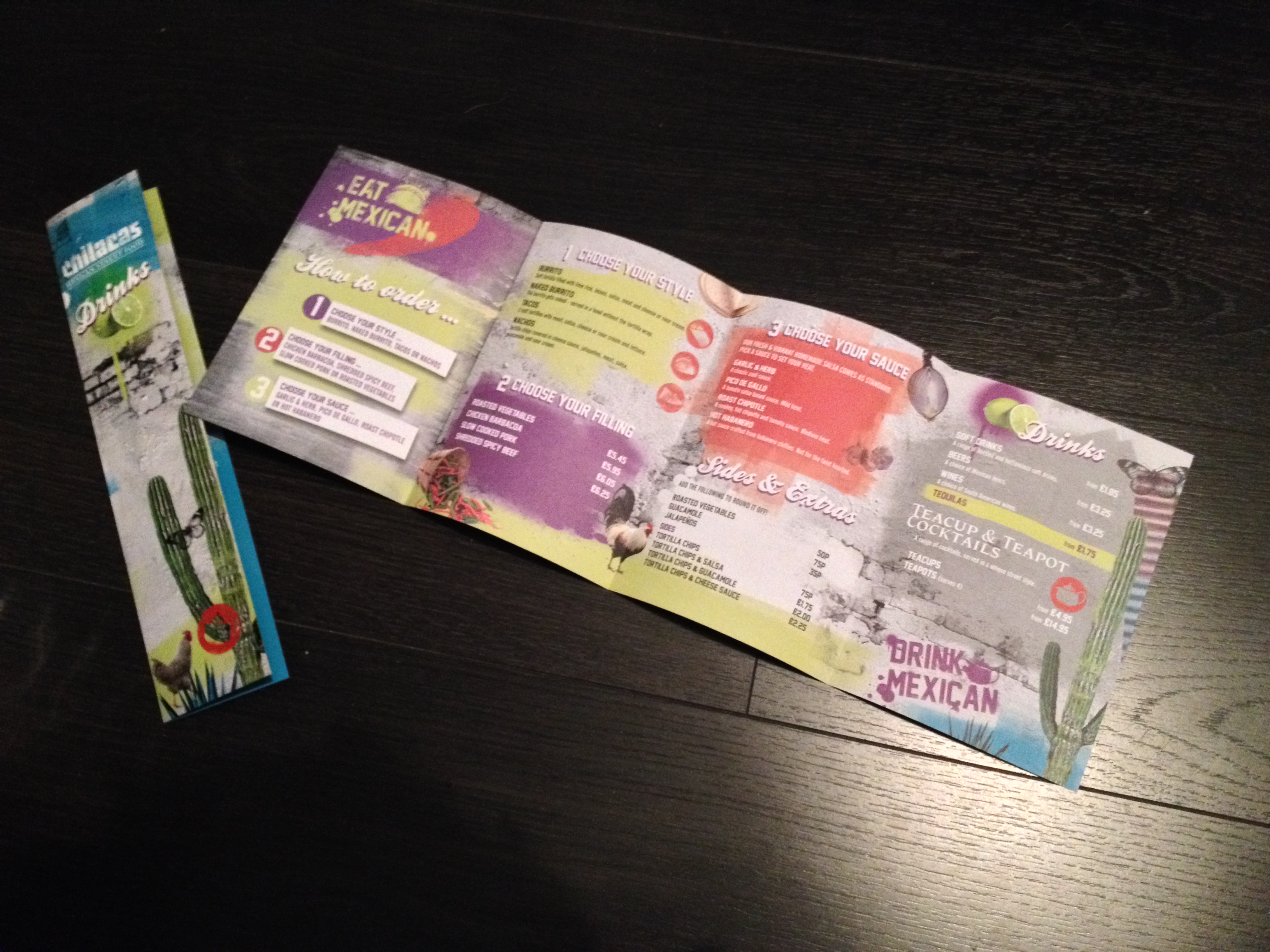 Like Subway they give you the option of what you want in the form of 4 styles, fillings, sauces and sides. They also have the option to get wines, beers, and cocktails in the form of teacups and teapots.
As Jon and I had some time to kill we got a teapot each. Rum based and tequila based. They served 4 drinks each...we had a good time.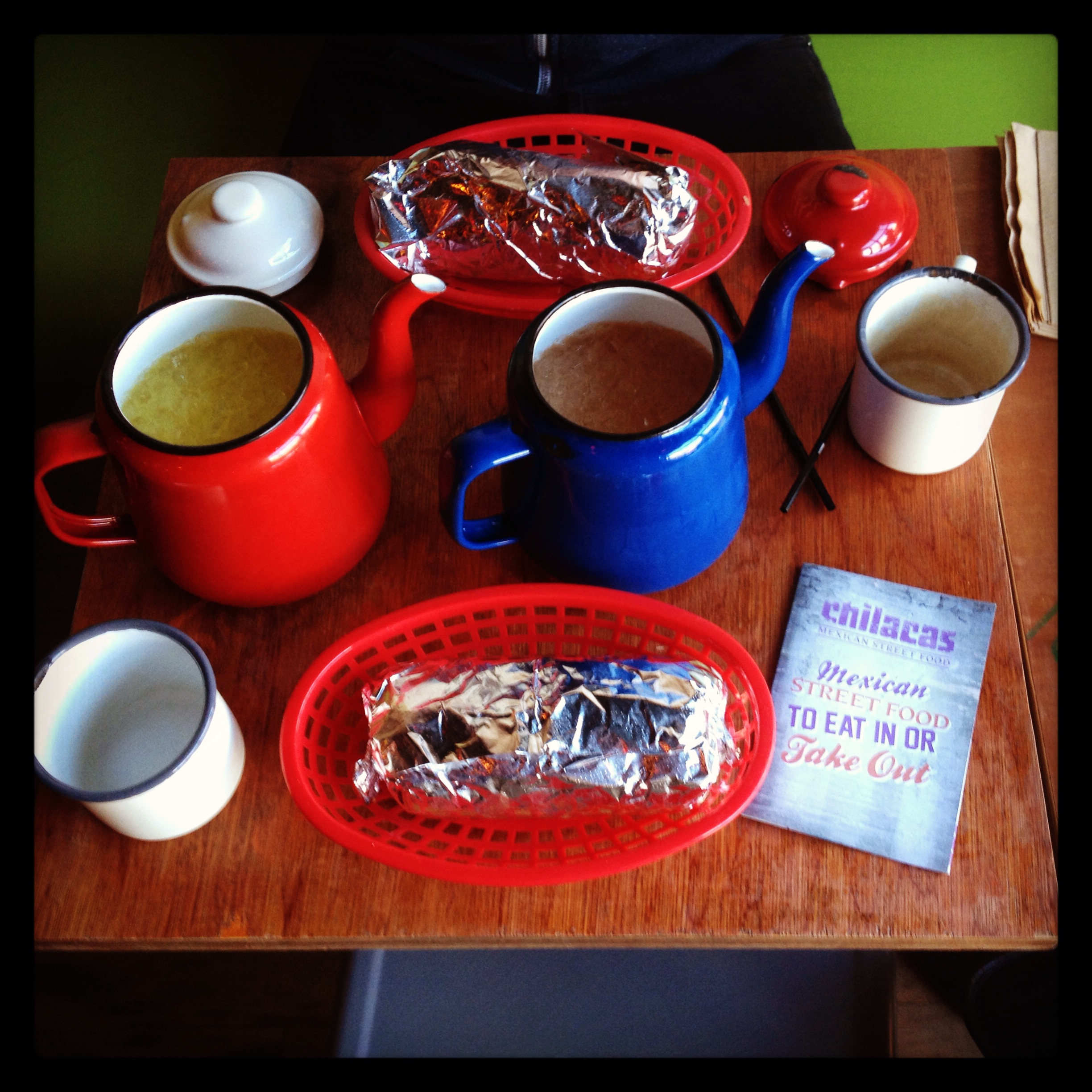 Drinking aside this place is cool as hell and located in Brindleyplace it is an easy to reach eatery for anyone in Birmingham's city centre. They also have one in Leicester but lets be honest this is the cooler of the two (I haven't been to the Leicester one so I cannot confirm this).

But seriously have a look at this place if you're ever in the area.
After our epic meal we went on to see some films which I will talk about later this week.
---
I hope you enjoyed this post about food and the multisensory experience that was the Scintillating Synaesthetic Supper.
Stay tuned for another Flatpack Film Festival posts later this week.
As always I will end with something that sums up the post.

An enlightening Update from Companis. Full menu can be found on my Facebook page. I could rewrite my post with the new information but I think it shows the difference between an audience perspective versus the artist's intentions.
Companis conceived the idea to create an immersive dining experience that examined colour. We commissioned SDS to do the menu and they developed it in conjunction with our premise and feedback. The whole experience was an interpretation of colour through sound and taste, going through colours white, yellow, red, blue and black. After working with musician Andy Gordon of Telescopic Media, white came to resemble the crunch of snow and muffling of sound, yellow: the intense heat and dryness of the desert sun, red: passion and patina/rust, blue: expansive sky but also ageing and black: death and going into the light.

We liked the idea of the senses getting confused and saw synaesthesia as a starting point from which to examine colour. We also took inspiration from Structural Film Approach where film was directly drawn onto - the idea being that using OHPs would allow the diners to see the marks they were making as they were eating the food while also responding to the sound and tastes of colour overwhelming them. We wanted people to really think about the sound and the taste and how it might affect their actions as well as their own understanding of colour. 

We had intended to have one more OHP for Fluxus-like instructions on how to consume the various dishes - via actions (for example for red: devour) however we ran out of OHPs that worked, so had to improvise. 

---
If you want to get in touch contact me
Also is you want to keep up with all my latest posts and musing there's a load of widgets at the top of the page for my Twitter, Facebook and other social channels!
Leave a comment below! I love feedback...unless it's bad.
P.S.
Don't forget to share this if you like it!