Over the weekend I made the very wise decision to visit Collectormania held over in Milton Keynes for the weekend. This was mainly to use my London Film and Comic Con ticket to take a photo with Giancarlo Esposito after he had to drop out of the event.
Although that did disappoint me it gave me the opportunity to go to this great event, which I probably wouldn't have gone to otherwise. So this post will just go through what I thought about the event and some of the things I saw.
I'll probably also upload a few of the best pictures onto my Facebook page at some point in the near future so keep an eye on it.
Costumes
One thing that these sorts of events are known for are the wonderful costumes that are worn by truly devoted fans or as it is more commonly known; cosplay.
When we (my brother and his friends also came as I don't drive) drove up the first thing that indicated we were in the right place was someone in a costume. Not a cheap store bought one but a well made replica of The Ghostbusters. We were in the right place for sure.
When we entered I immediately made a beeline to get a picture with the beastly form of a wookie.
He stroked my beard I got a picture, I'd say it was an even trade.
As we went around the convention there were some people who really put in a lot of effort for the day. This included a girl who walked about bare foot the entire day as she was dressed as a hobbit, 2 girls in skin tight Black Cat and Phoenix costumes, multiple Doctor Who's and even a male Hit Girl from Kickass (that one confused me). I unfortunately did not get pictures of these people I did get some of some other equally impressive costumes.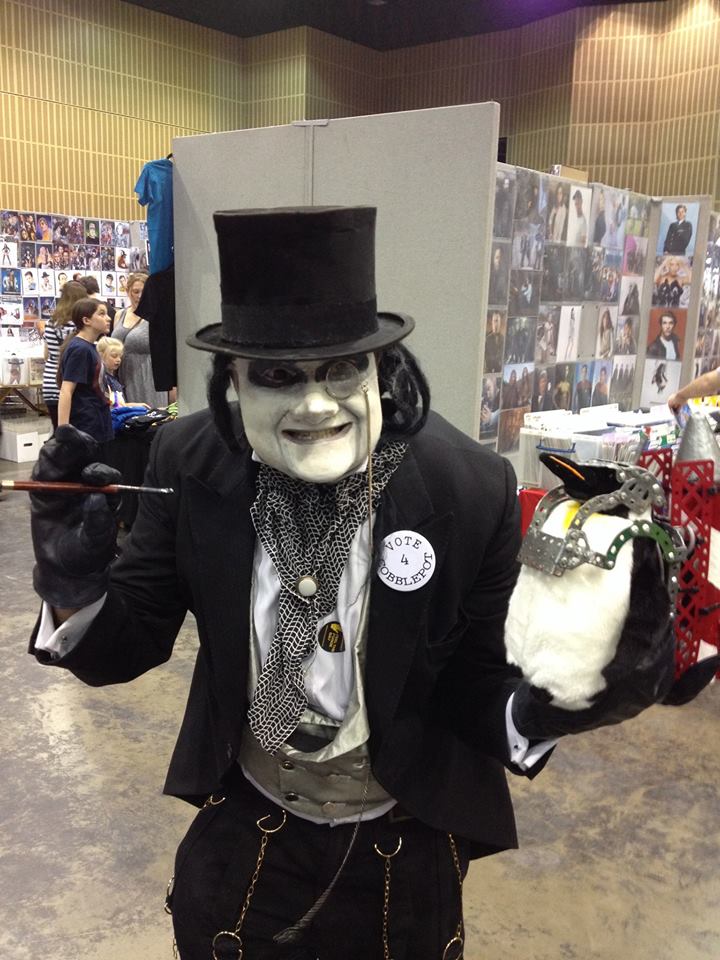 I got a high 3 from this guy.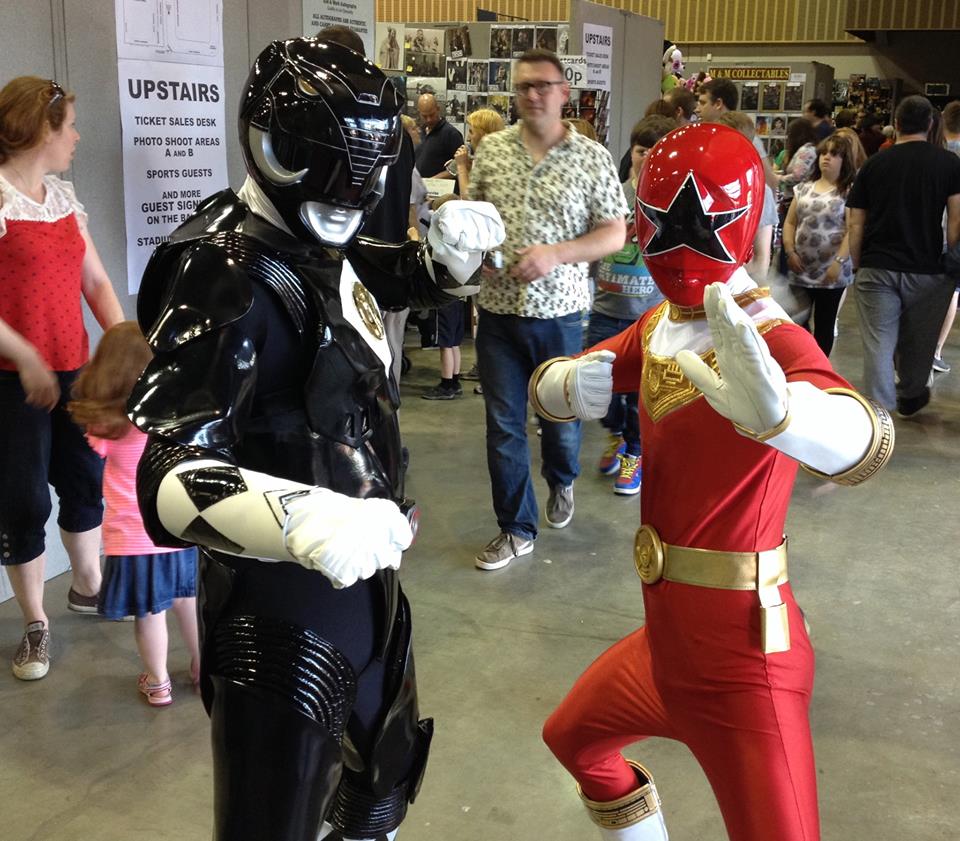 These are just 2 of the many power rangers that made an appearance.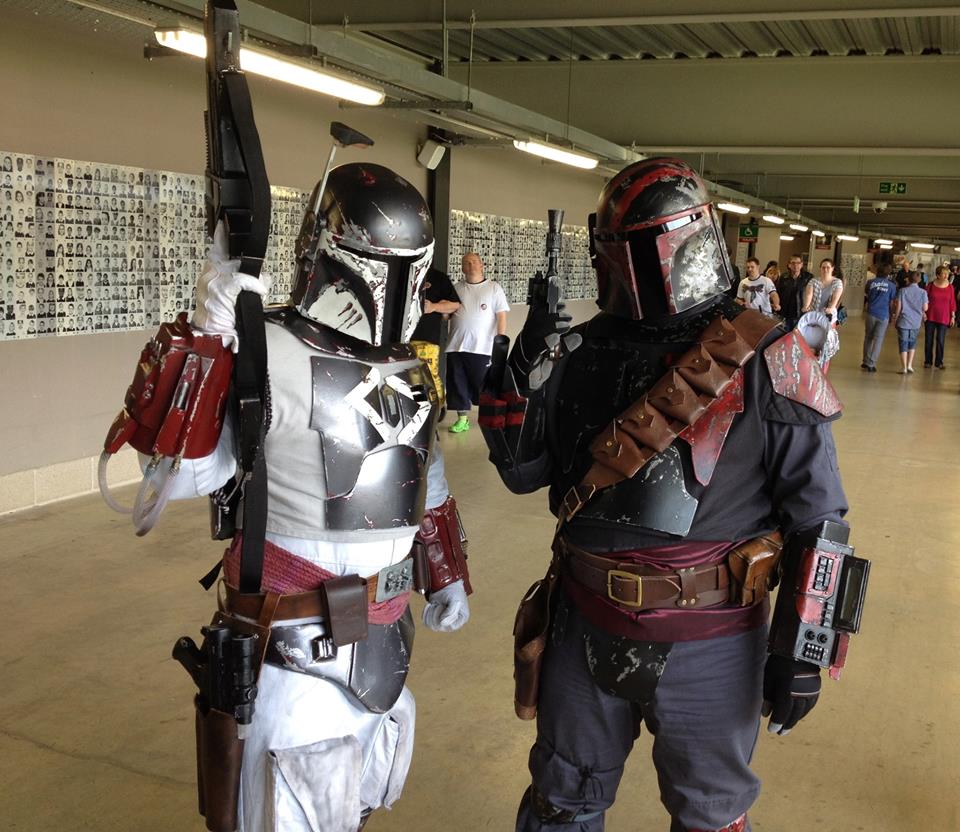 Finally two bounty hunters from Star Wars who were more than happy to pose for a shot.
Vendors
Costumes however were not the only draw to the event as this was an opportunity for those who like to collect memorabilia, artwork, toys and related items. You could literally spend hours at each stand exploring what they had to offer but unfortunately it was crowded and claustrophobia does set in a little bit.
As I am not a rich man and I'm currently funding the construction of not one but two costumes for London Film and Comic Con, I did not go there to buy a lot if anything. I did pick up a few bits for my brother as early birthday gifts including one print from a talented comic book artist (David Bircham) who was more than happy to chat with those who came by his stand.
While we were chatting he told us how this year he would be covering 12 conventions/events including this one, which is quite impressive in my opinion and shows how committed he is to getting his work in front of prospective customers. From what I saw at his stand he should have no problem with his distinctive artwork.
Check his artwork out yourself here: http://www.birchamsart.com
All of the vendors were really friendly and inviting with most more than happy to allow people to take pictures of their stands. I did make sure to ask first in most cases (especially with those displaying art). Below are some of my favourite bits from what I saw.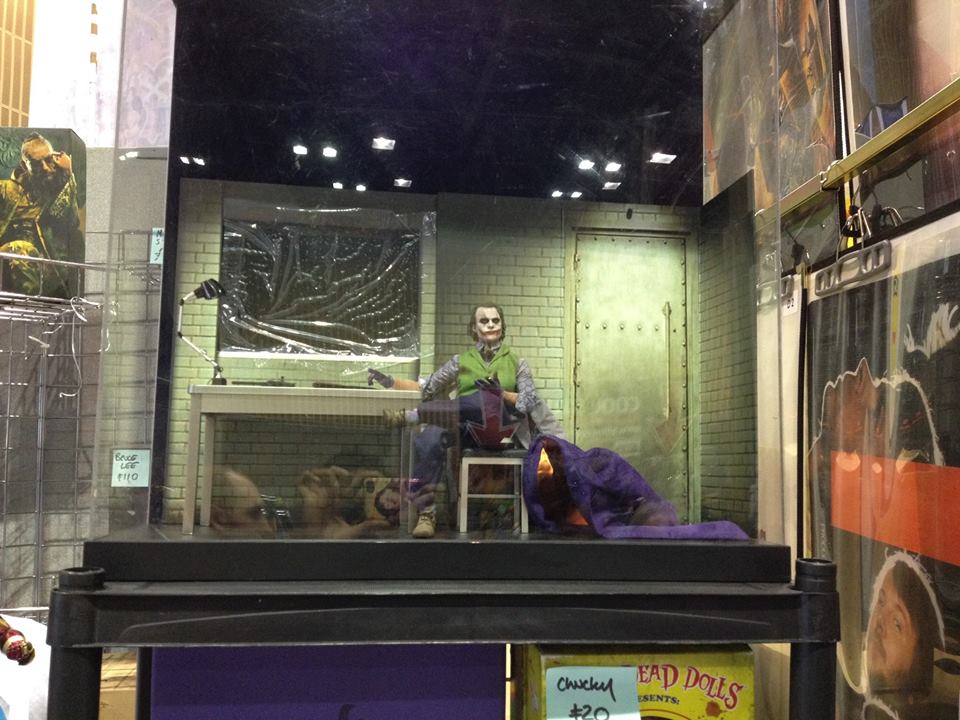 This is surprisingly not a poster but a doll/action figure staged with props to imitate a scene from The Dark Knight. Quite intricate and amazing to see up close.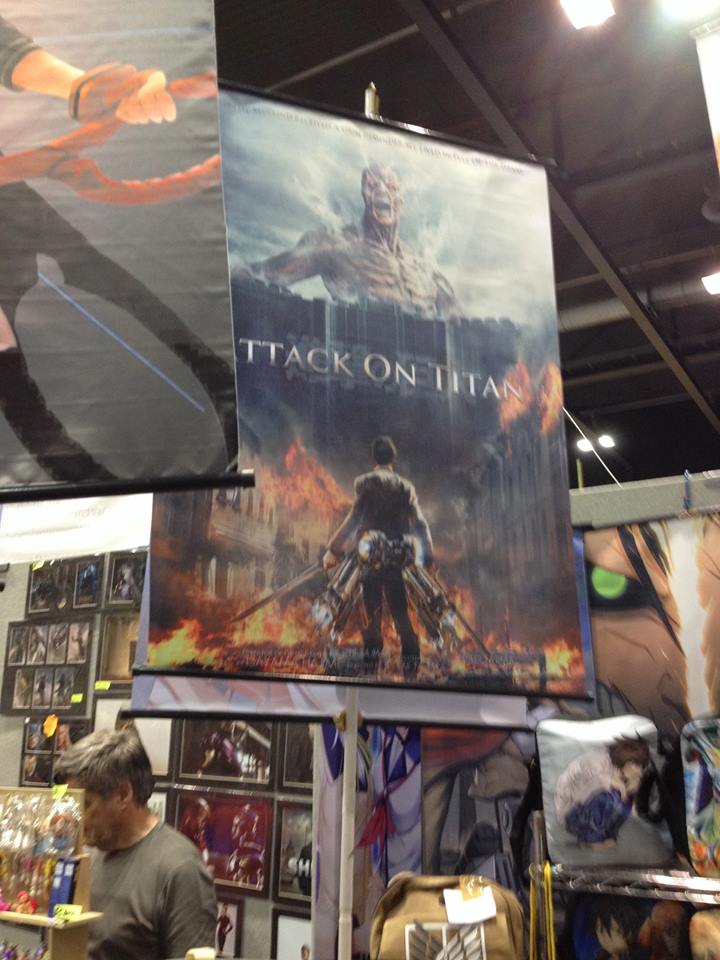 For those who haven't watched/read Attack on Titan you should. Great story that this poster does justice.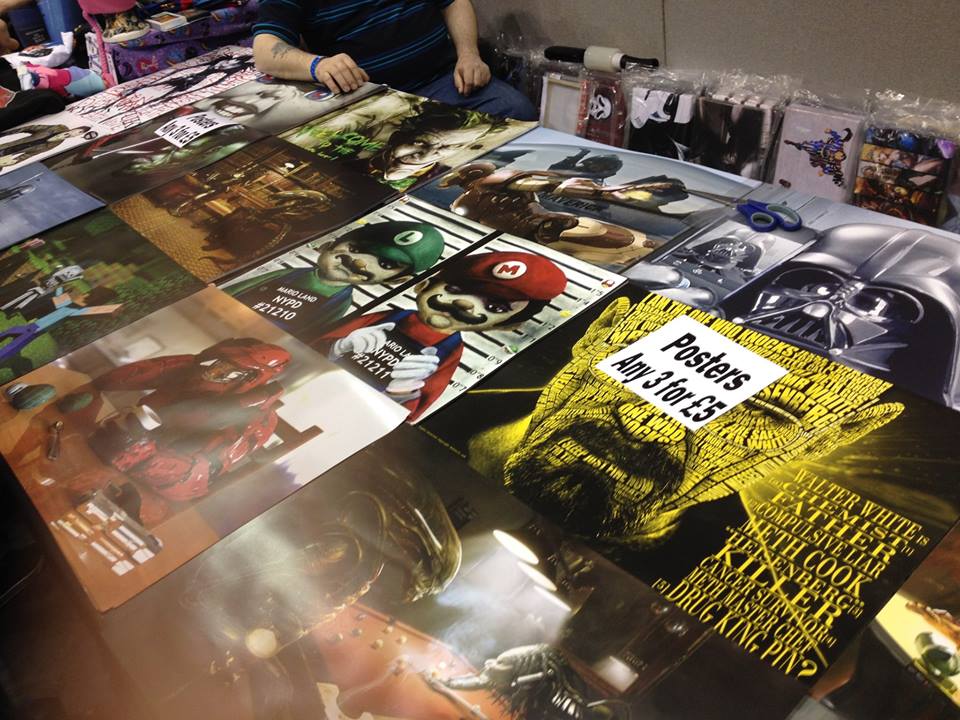 Finally this is just some of the many posters available to buy on the day. My favourite has to be the Mario one in the middle.
Signings and Photos
One of the biggest draws of this event was the fact that you got to meet actors to either get their signature or have your photo taken with them. This event had a mixture of guests from sports, film and TV. If I'm being honest the sports guests didn't really interest me (even the WWE guests) but from the lines that some of them drew I'm sure there were a lot of fans happy to see them.
Personally the photo sessions were the main reason I came. We didn't realise the photo session with Giancarlo would be the last of the day but this mistake on our part meant we got to enjoy everything else the event had to offer.
I managed to get into the pre queue for the queue in the first 30 people, which meant I got to witness a few things which will always live in my mind.
1. Giancarlo controlling the room
2. Gigi Edgely (Farscape) being a fan girl
3. Random props people brought for their photo including a fake knife and some meth
4. Most importanly meeting a legend and taking the best picture ever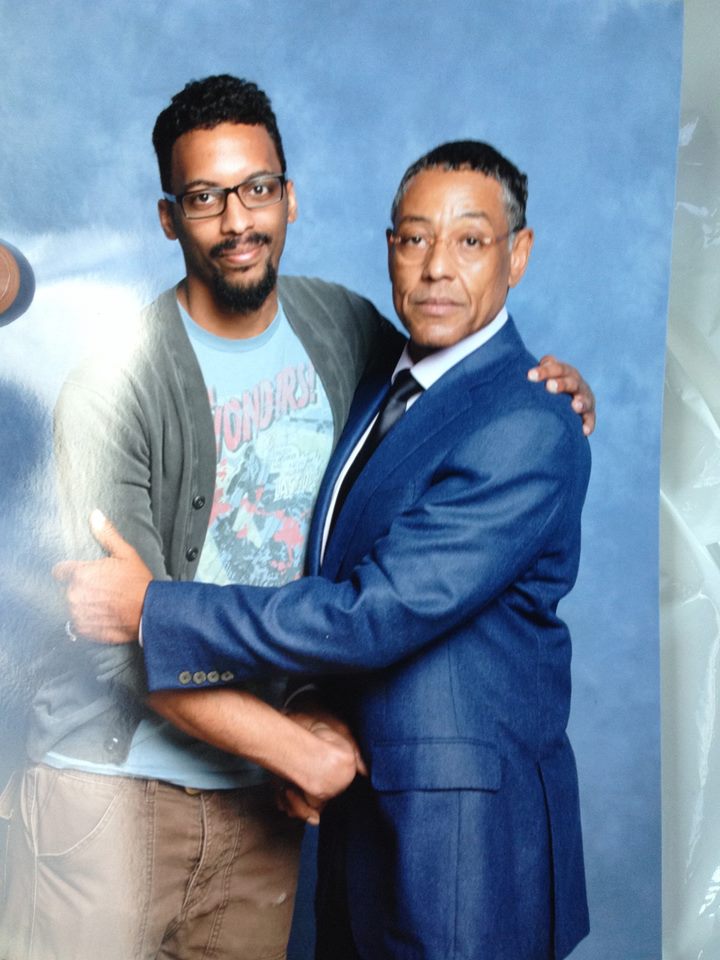 I won't lie, I had the biggest grin while I waited in the queue and was more than a little flustered when I met him. The word "hero" might have escaped my mouth...I'm not proud. Still...totally worth it.
---
That was my experience of Collectormania. It was a free event so I will probably end up going again next year with a load of money (I'm being optimistic about my financial situation) and buy some of the cool stuff sure to be on offer!
I'm sure London Film and Comic Con will be another level compared to this but this was still tons of fun.
As always I will end with something that sums it up.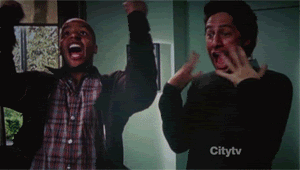 Pretty much how I wanted to act in line. (played it cool)
---
If you want to get in touch contact me
Also is you want to keep up with all my latest posts and musing there's a load of widgets at the top of the page for my Twitter, Facebook and other social channels!
Leave a comment below! I love feedback...unless it's bad.
P.S.
Don't forget to share this if you like it!