Edible Cinema: Romeo + Juliet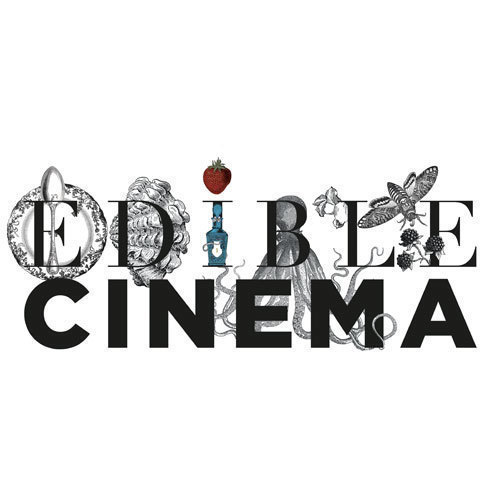 As you may know from my previous post I had quite a busy weekend of travel, an exhibition, shopping and best of all a ticket to Edible Cinema.
In this post I'll tell you all about my experience of it as well as the special venue that it was hosted at this time around.
What is Edible Cinema
So with a name like Edible Cinema I'm sure many of you are wondering what it is and how it works. In their own words:
Edible Cinema is a unique way to experience a film: through aroma, texture and taste. Each guest is supplied with a tray of numbered mystery boxes containing a bite-sized tasting menu tailored to specific moments in the film.

A collaborative event between Soho House and Teatime Production (who are specialists in unusual events) that came about during a discussion around potential events for the Houses.
Members of Soho House (Zoe Fletcher) and Teatime (Polly Betton) have worked together with food designers, experimental chefs and mixologists to create unique experiences for every event they have done. I was lucky enough to have the money and time to attend this one and I am so glad I did.
The ticket price is a little higher than what you would usually pay but the experience is well worth the extra cost. Plus with Bombay Sapphire championing it (you can even see them in the Edible Cinema logo!) and providing some of the ingredients for the devious cocktails, you'll soon forget the pretty penny you had to pay.
195 Piccadilly
As far as I know they have done 11 previous events for Edible Cinema but this was the first one to ever be done in the home of the Baftas, 195 Piccadilly.
When I got there with a few minutes to spare I was shocked to find I was not the only one who had arrived early and there was a que running out the door!
The long line did give me the chance to take a few pictures of the inside of the beautiful building. The walls were filled with quotes, and actors (current and from years gone by), while the seating area in the bar up stairs was amazingly cool (there's no better word for it) with wing back chairs and comfortable seating everywhere. Unfortunately the place was packed as everyone wanted to get their drinks (we got free drinks when we came in!) and stay close to the door to the screening room. Sitting was the last thing on most peoples minds as we all wanted to see the film and of course the menu that the organisers of Edible Cinema had created for us.
We were finally let into the screening room (a little later that planned) with everyone able to sit where they pleased. I was very conscious of the fact that I came alone so chose an end seat (yes I went to a romantic film without a date).
We found out during the presentation before the film started that it was the first time that food (we got our boxes on entry to the screening room) had been allowed to be taken into the screening rooms of this prestigious place which was a strangely daunting feeling to have been allowed to do something that countless celebrities had not been expressly permitted to (we know some of them must have sneaked some in over the years).
The Menu
Speaking of food however with the box we received upon entering we also got a menu of what everything was that we would be ingesting!
This menu included items such as "Phoenix Gas", "Kissing you" and "A Scratch! A Scratch!".
All of the items were numbered with a special one or two that were thrown in as extras and were instead symbols. Each time we were meant to eat or drink the number or symbol would appear on a screen just below the film.
Simple right? I thought so. However the problem of going alone arose when after the first number came up I glanced over at the person closest to me. Not realising her box was upside down I thought the last number had come up (which in my head didn't make sense) but I quickly tried to catch up. I soon realised when the next number came up that it was going sequentially as I originally thought and that the girl had her box upside down. Whoops. This did not ruin my experience however as I enjoyed the other items on the menu that much more.
My favourite has to be a tie between "Phoenix Gas" and "The Grace of Plants" which both represented and accentuated the feeling of the scenes beautifully.
My least favourite was "Farewell" because although accurate in it's interpretation of the emotions on screen, it almost killed me - and the entire audience - to drink it. In a word (as with the emotions on screen) it was strong and did bring a tear to my eye.
See the menu below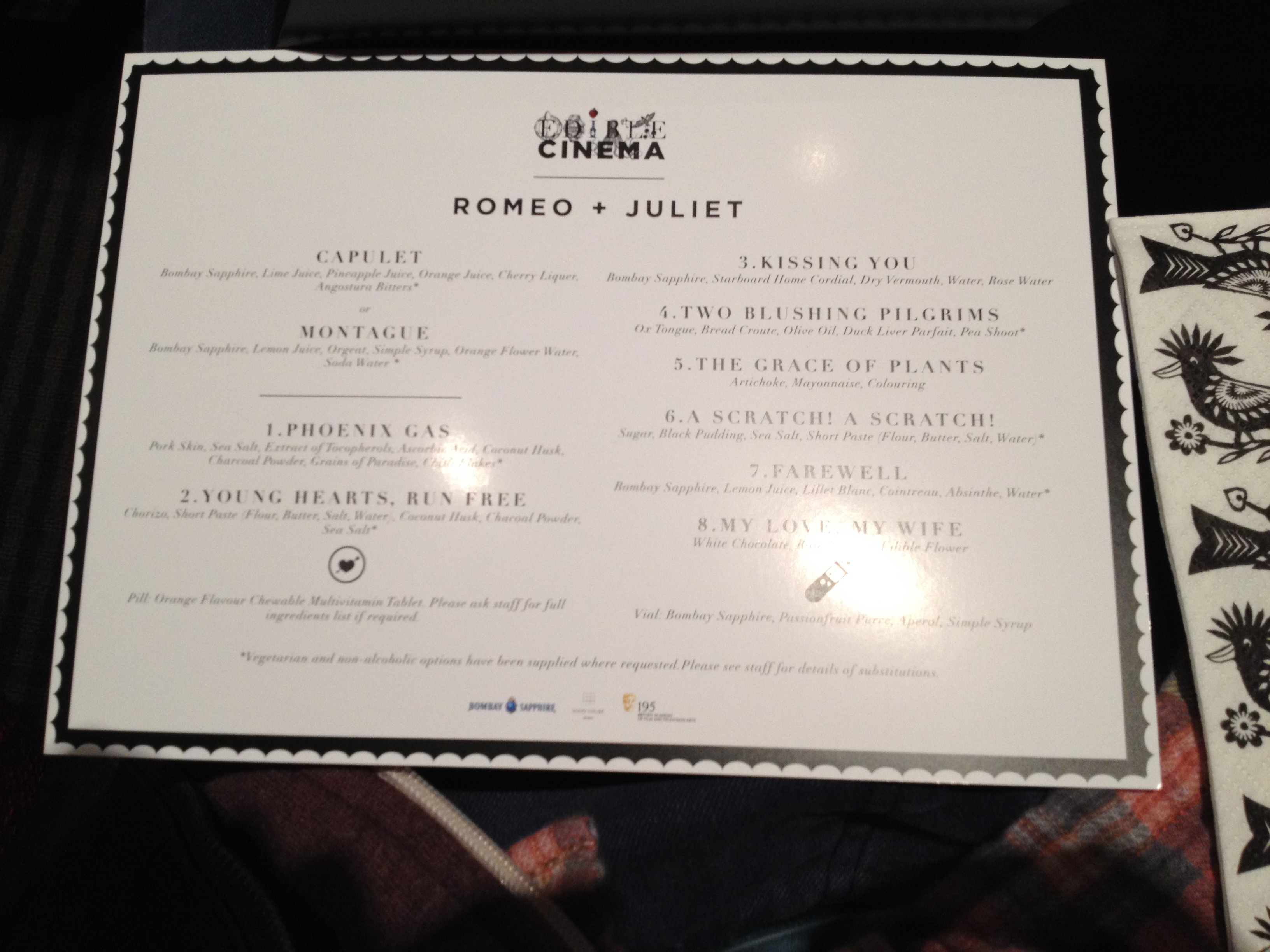 The Film
For those who have somehow never heard of Romeo + Juliet it is a film adaptation of a classic Shakespeare play. I won't rehash the story or review the film. I will however say somethings that I didn't notice when I watched the film all those decades ago and didn't realise going in that day.
Claire Danes the moody ass Carrie Mathison from Homeland was Juliet! (I had no idea)

Funny man Paul Rudd is in it and even back in 1996 he was funny.

Mercutio is Harold Perrineau and not Chris Rock (my bad they look really similar)

The news narrates the whole thing. Genuinely did not notice this when I was like 10. I'm so disappointed young me...

Leo used to look soooo young
Overall Experience
Overall my first experience of Edible Cinema although plagued with mishaps of my own making and because it was a matinee showing (started an hour late getting everything right), I found it very enjoyable and an interesting way to watch the film.
I'm disappointed that I didn't get to meet the organisers in the bar afterwards (we got free wine because it started late) but I had to dash.
I will definitely be keeping an eye out for future events they do but I think it will probably be at least a few weeks (if not months) before they come up with a new concept so until then my wallet can recover (doubtful as I have other stuff to buy...sigh).
If you want to find out more about Edible Cinema have a look at the links below and keep an eye on their twitter and facebook for future events. I know I will!
http://www.ediblecinema.co.uk
https://twitter.com/EdibleCinema
https://www.facebook.com/EdibleCinema
---
That's about all I have to say on Edible Cinema. You should all give it a go if you ever get a chance. Please share this out to your friends so they can find out all about it as it is a truly great and one of a kind experience.
As always I will end with something related that sums up this unique experience.

---
If you want to get in touch contact me
Also is you want to keep up with all my latest posts and musing there's a load of widgets at the top of the page for my Twitter, Facebook and other social channels!
Leave a comment below! I love feedback...unless it's bad.
P.S.
Don't forget to share this if you like it!