Free Comic Book Day and Comics Unmasked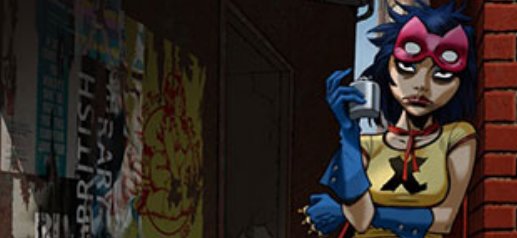 I wish I was able to hang out more at a comic shop on the day but I was a busy bee that day going from exhibits to special film showings to shopping for an epic birthday set of gifts. This post will mainly cover my thoughts on Comics Unmasked but I'll briefly go into Free Comic Book Day.
---
Free Comic Book Day
I should have really done a post about this before the day had passed us by but I was a little busy trying to watch everything prior to the busy weekend I had before me as well as trying to sort out my costume for London Film and Comic Con.
For those who didn't watch the video above; the Saturday that just passed by was Free Comic Book Day. This is where participating comic book stores give away a selection of free comics to fans. There are usually also events and cosplay going on throughout the day.
As I was planning to go to an exhibition in London (which I will tell you all about below) as well as a special treat in Edible Cinema I knew I probably wouldn't be able to get to a comic shop in London so I ordered my selection online.
On the day however I was able to visit the Coventry Forbidden Planet which I have never been to (it's pretty cool for a geek like me) as well as a comic store in London called Gosh which was also pretty cool.
On my way to London I was fortunate enough to be able to visit the Coventry Forbidden Planet and was in time for a free comic which was unfortunately one that I had already ordered. But all was not lost as I packed it away as an extra gift to someone.
I think I was a little to early to see any cosplayers as the store had just opened but if you were wondering why you saw some weirdo in costume on Saturday...it was probably down to Free Comic Book Day.
Comics Unmasked: Arts and Anarchy in UK
I've already done a small review of Comics Unmasked on London Life UK. This was also my first ever guest post on another site since starting doing my blog which for me is a big thing. My hope is that people do get interested in going to the exhibition as it is one of a kind that is on for quite a while in London.
For those who haven't read my post on London Life UK yet, and haven't heard of Comics Unmasked it's a fantastic exhibition currently running at the British Library.
It opened on Friday 2nd May with none other than Jonathan Ross making an appearance. It's running until 19th August that I would say anyone with an interest in history, literature, culture and/or art should check out if they have the time as they will love what they've done.
Comics are much more than the stuff of childhood and nostalgia. Their unique form - story telling in sequential pictures - and ephemeral nature have allowed for ceaseless invention and expression of unconventional ideas and personal views.
This is an excerpt of a piece of writing that is in the booklet you can get at the start of the exhibition but it also features at the start of the exhibition on a wall and it's words ring true throughout all the sections of the Comics Unmasked exhibition.
Curated by Adrian Edwards, Paul Gravett and John Harris Dunning the show is the UK's biggest comic exhibition of mainstream & underground comics and highlights the serious issues and entertainment that comics have brought throughout history. The challenge of changing the perception of comics being just for kids is taken on bravely with this exhibition and succeeds with what it's trying to do because it doesn't look just at what is regularly accepted as comics.
When visiting the exhibition 3rd May –coincidentally free comic book day - (I didn't plan it that way honest) the exhibition was packed! This made it slightly difficult to efficiently take in all that I wanted to be take in plus I had to factor in the time it would take me to get to Edible Cinema (travelling can be a bit of a nightmare at times...) but it showed just how interested people were and are in the subject matter.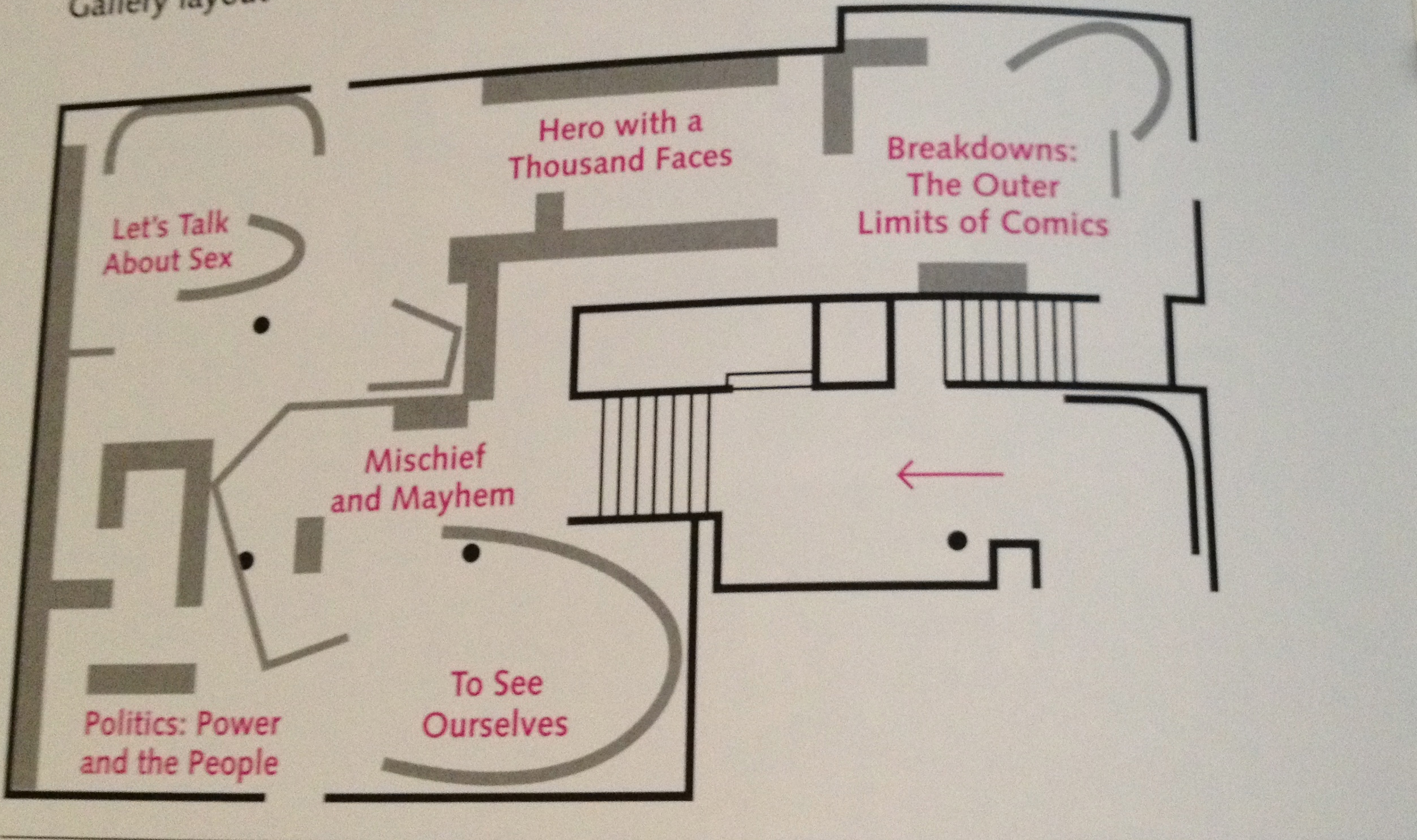 The exhibition is split into 6 distinct sections:
•	Mischief and Mayhem
•	To See Ourselves
•	Politics: Power and the People
•	Let's Talk About Sex
•	Hero with a Thousand Faces
•	Breakdowns: The Outer Limits of Comics

Throughout the exhibition you can sense the amount of effort that went into crafting theperfect experience for fans and non-fans alike while keeping it family friendly.
The entrance to the exhibition makes it feel like you are actually entering ito the world of comics with a very cool mirrored archway that looks like a frame from a comic book.
I loved the use of mannequin's that are seen throughout, as well as the use of to create contrast in certain areas of the exhibition. Props such as gas masks and needles are used in certain sections to give them the right feel and digital technology is also brought in to the exhibition with iPads. Projections and music are used effectively and sparingly to amplify the effect certain sections of exhibition are meant to have on you.
The comics on display and the subject matter in each section of the exhibition ranges from; comic strips by the Guardian's Steve Bell, to Mr Punch, to Judge Dredd. Covering a number of issues and times throughout history; the exhibition sheds light on facts even the most well read comic fan might not have been aware of.
Unsurprisingly the 'Let's Talk About Sex' is a section that has facts like this but is not child friendly. However the curators have organized the exhibition in such a way so that this section is next to an area where kids can be left to draw. Alternatively the section can be skipped entirely if it's not your cup of tea. However from my perspective it is handled quite tastefully considering what some might call perverse subject matter.
Overall the exhibition is an enlightening experience with a variety of sights and sounds. A visual treat it has to be said and one not to be missed.
My favourite parts of the exhibition which I unfortunately had to run through as I was out of time, were Hero with a 1000 Faces and Breakdowns: the outer limits of comics. Both had some amazing artwork and insights. I was very disappointed I couldn't spend more time in those sections.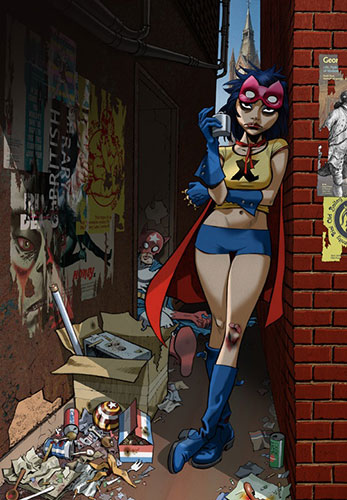 The exhibition is on until 19th August and you can advance book online or by phone +44 (0)1937 546546.
Tickets are quite cheap with the most expensive costing only £10.50 (with the option to give more in Gift Aid).
I could write a hell of a lot more on this but I want those who are interested to go to the exhibition and make their own judgements. Honestly there is something for everyone in the exhibition so check it out!
---
Hope you enjoyed my thoughts on As always I will end this with something that sums up my thoughts when I came out of the exhibition.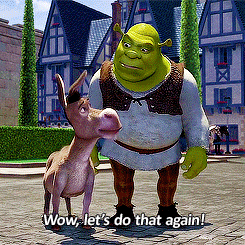 ---
If you want to get in touch contact me
Also is you want to keep up with all my latest posts and musing there's a load of widgets at the top of the page for my Twitter, Facebook and other social channels!
Leave a comment below! I love feedback...unless it's bad.
P.S.
Don't forget to share this if you like it!