Toy Con UK 2015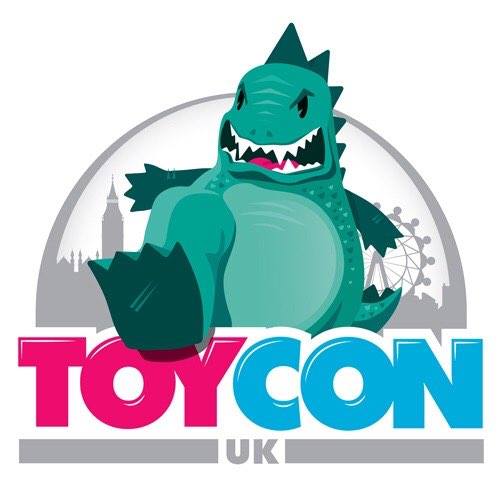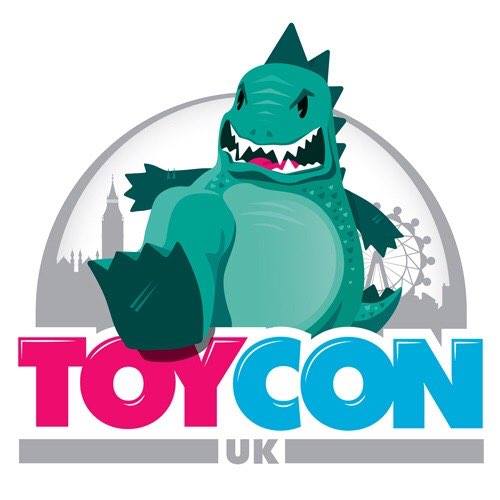 Some people stop playing with toys when they're kids. Other's are cooler and keep playing with them. Some are even cooler and make them.
The last of my event overload Toy Con UK 2015 came & went last week and it was well worth the wait.
What is it?
ToyCon UK is the UK's only dedicated designer toy convention. With exhibitors ranging from the UK's best customisers, retailers and toy producers, the event will create a unique opportunity to meet and interact with the stars in this growing scene. Along with the amazing exhibitors and their incredible ware, there will be talks, question sessions and custom workshops with the biggest and brightest in the UK toy scene and beyond. It is the brainchild of three toy fans who decided it was high time the UK had an event to celebrate the talent of UK Toy Artists, they are:
Barry Darnell, the owner/curator of The Hang Gang, an online boutique for everything designer toy and beyond. Barry is an avid toy collector and has also curated two major art shows in his native Leeds proving beyond a doubt that you don't need to be in London to experience the best of the UK toy art scene. When he's not selling toys he runs Analogue Creative, the design studio who have produced all the visual media for ToyCon UK.
Ben Hart has always been (and still is) a passionate collector of vinyl records, comics, and prints, amassing a large collection in each medium. 13 years ago he discovered Designer toys and quickly realised that in vinyl toys all his "collecting boxes were ticked". He now boasts a collection many would be envious of. His main aim for Toycon is that it can help to spread the "word of toys".
Jonjo Glynn is almost a newcomer to the toy art scene, you might know him as the business half of A Little Stranger. Introduced to the scene by Holly and a massive nerd at heart, he quickly took the combination of design and fun that lies at the heart of designer vinyl. His day job as an event manager and desire to push the UK scene forward led him to ToyCon UK.
ToyCon UK is proudly sponsored by A Little Stranger and The Hang Gang.
Source: Toy Con UK
Basically it's a gathering of awesomeness that I was lucky enough to experience this year and that I will definitely be back again next year to see.
Exhibitors
The main thing that made it so awesome was the wondrous array of exhibitors that the Toy Con UK organisers gathered for the convention. They gathered not only UK designers but some from literally the other side of the world.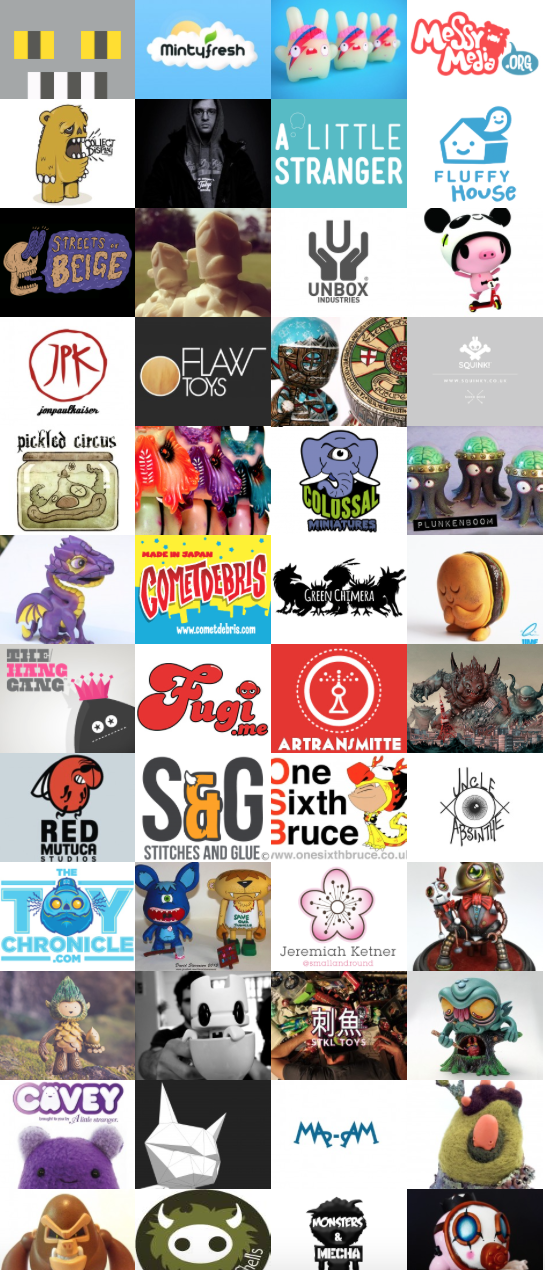 From retailers like Mintyfresh who sell some of the best limited edition designer toys, to bloggers like the Toy Chronicle the UK's number one designer toy blog, to kick ass designers like Jon Paul Kaiser, Toy Con UK had it all. Held in a leisure centre hall it was not the largest of venues but it was packed full of fans clambering at a chance to look at and buy what these awesome exhibitors had to offer.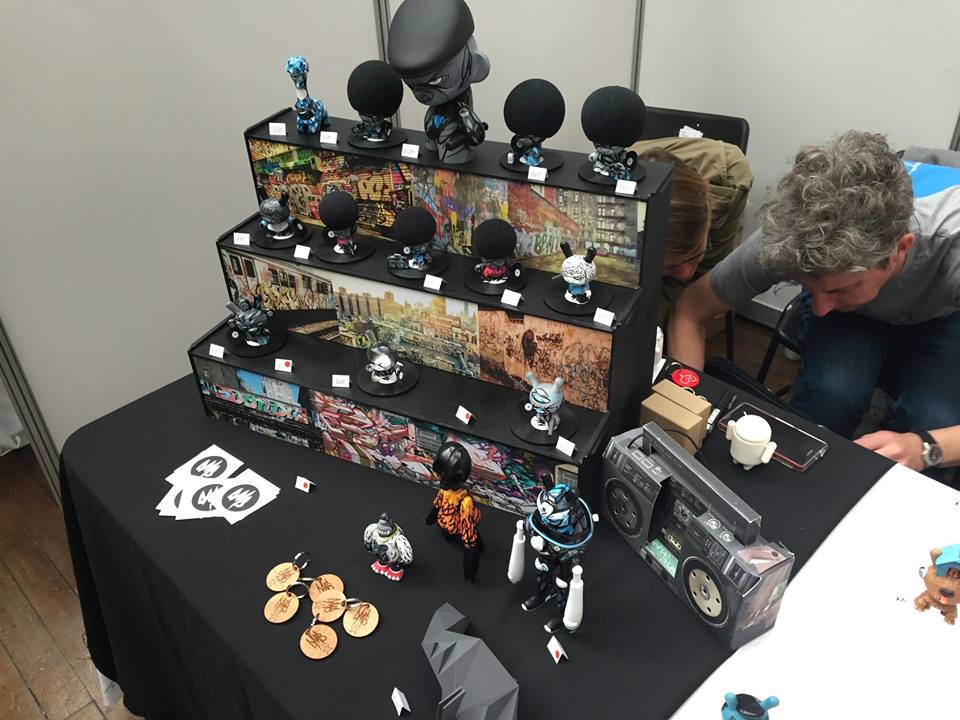 I myself took 3 or so hours to make my way around the hall visiting every stand before making a purchase. Others attendees were smarter than I was and were very focused on getting to particular stands first so they could get hold of pieces that had limited stock and were produced specifically for the convention.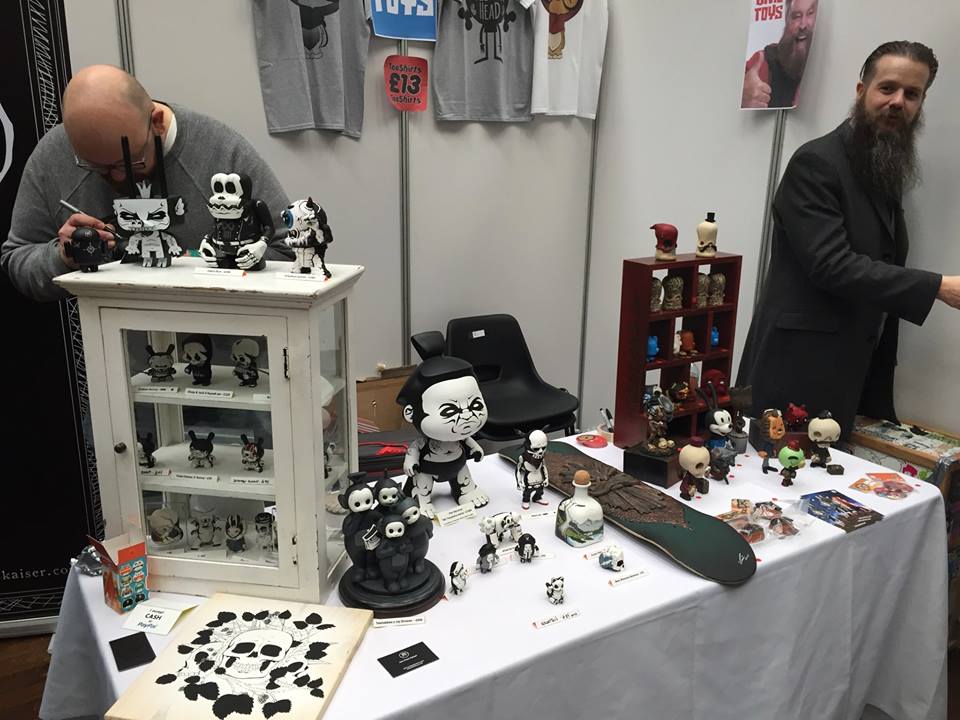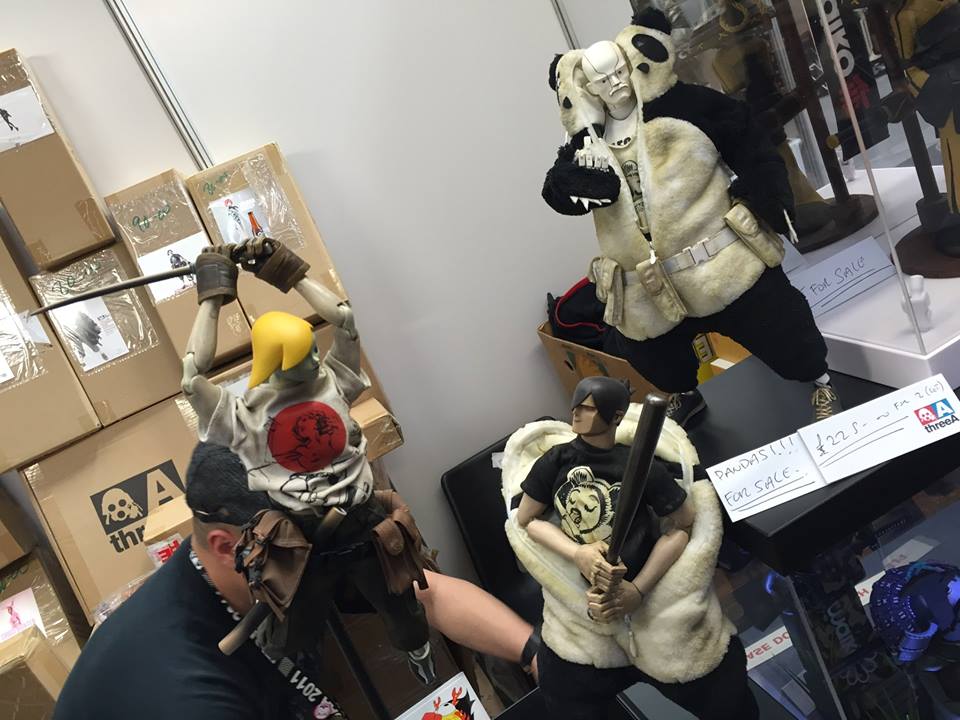 Having followed more than a few of the designers and retailers already I knew that the products that they would be exhibiting were not cheap, however those attending were not shy about investing in this expensive hobby with prices ranging from £10-£300 per piece (I kid you not) you would be shocked to have seen how quickly some pieces sold.
I myself set myself a limit of £100 which I quickly realised was too conservative but I stuck to it and gathered a fair amount of toys and customs for my ever growing collection.
Talks
During the convention I was lucky enough to attend all the talks that were given by some of the designers & retailers in attendance. Better yet...I recorded them!
See 3 out of 4 below. (The last talk I forgot to record)
Mintyfresh
A brief but honest look at the journey of a small business in the designer toy industry.
Hugh Rose
A talk on how Hugh went about making his latest toy and an interesting look at his process.
Jon Paul Kaiser
One of my favourite designers took us through how he designs his characters and the thought process that goes into it.
Favourite toys
There were a lot of great toys on display that I was lucky enough to see but as always there are some favourites that just stand out to you. The below aren't the only ones I loved but they are some of my favourites based on the shots I took.
BAGHUL & PIERSON by PJ Constable
Hand painted and sculpted custom 7" Resin Stranger Figure, now stand at around 12". Stick is removable.
Materials: Resin Figure, Polymer Clay, Acrylic Paints, Matt & Gloss varnish.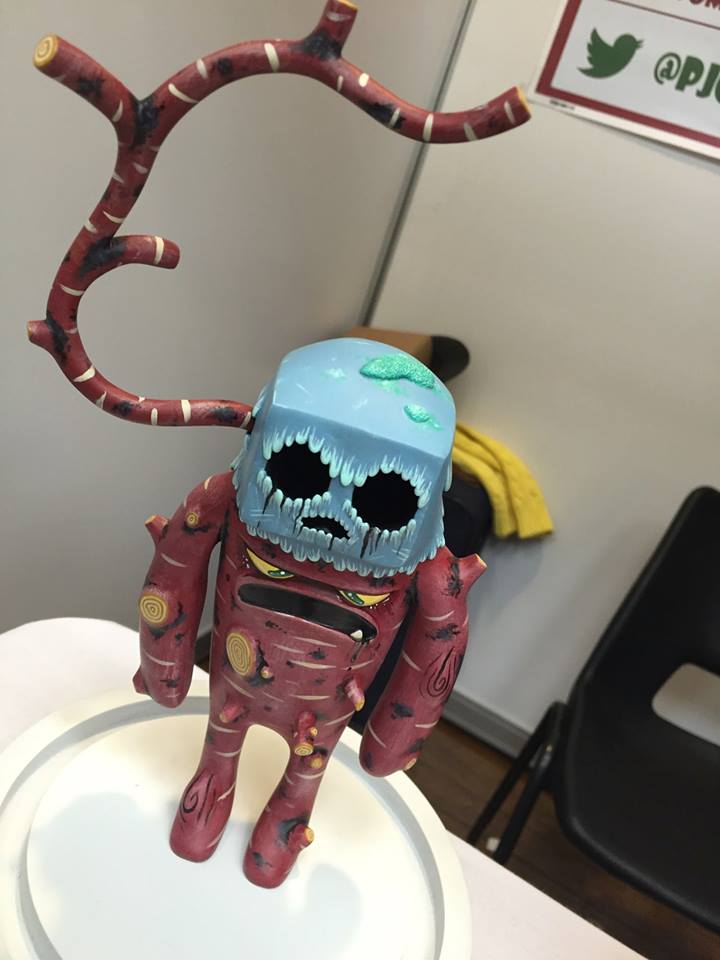 Ume Toys by Richard Page
I've been watching him on Instagram for a while but seeing them up close is totally different. Richard puts a ridiculous amount of detail into them.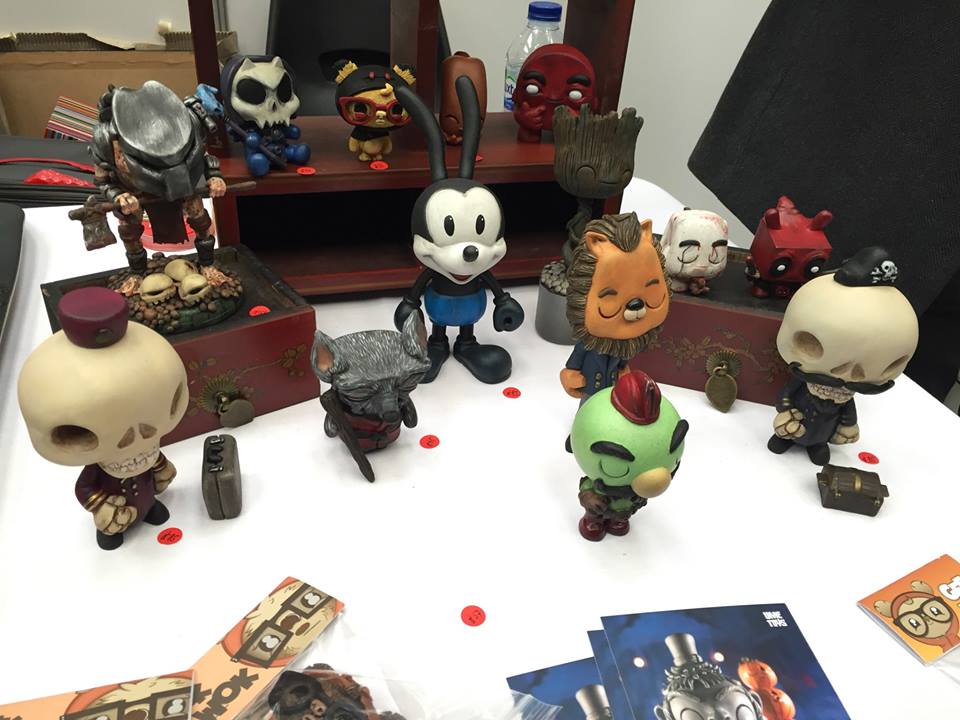 Jon Paul Kaiser
One of my favourite designers and this just showcases why. Simple but detailed works of art.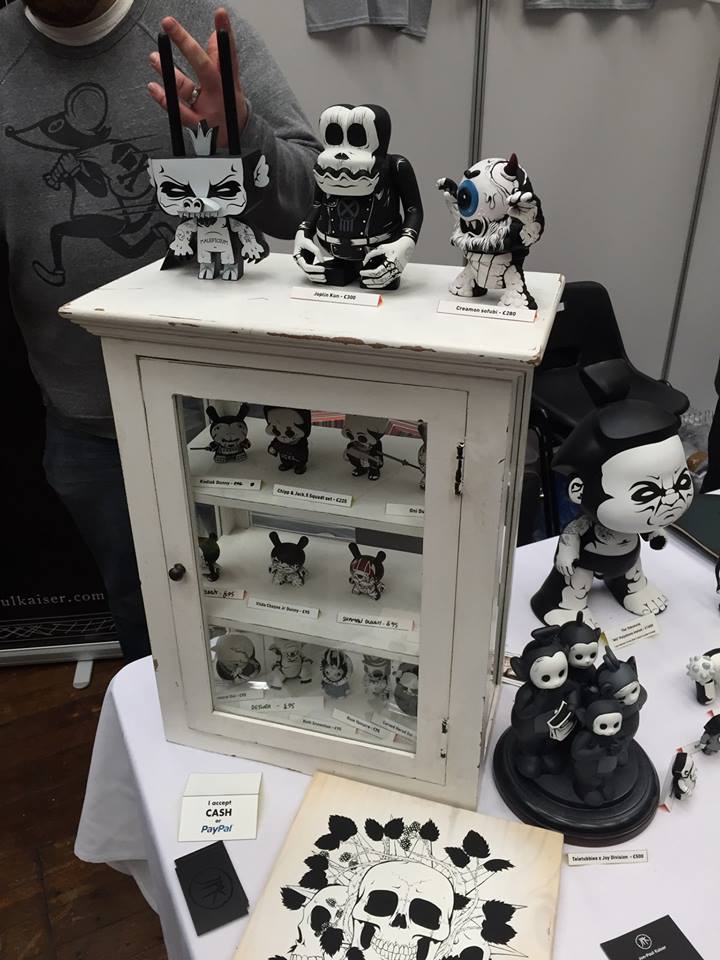 Popeye the Sailor by Headplay Toys
Finally Popeye. I never thought I'd get to see this guy up close and personal. Was a genuine surprise when I stumbled across it.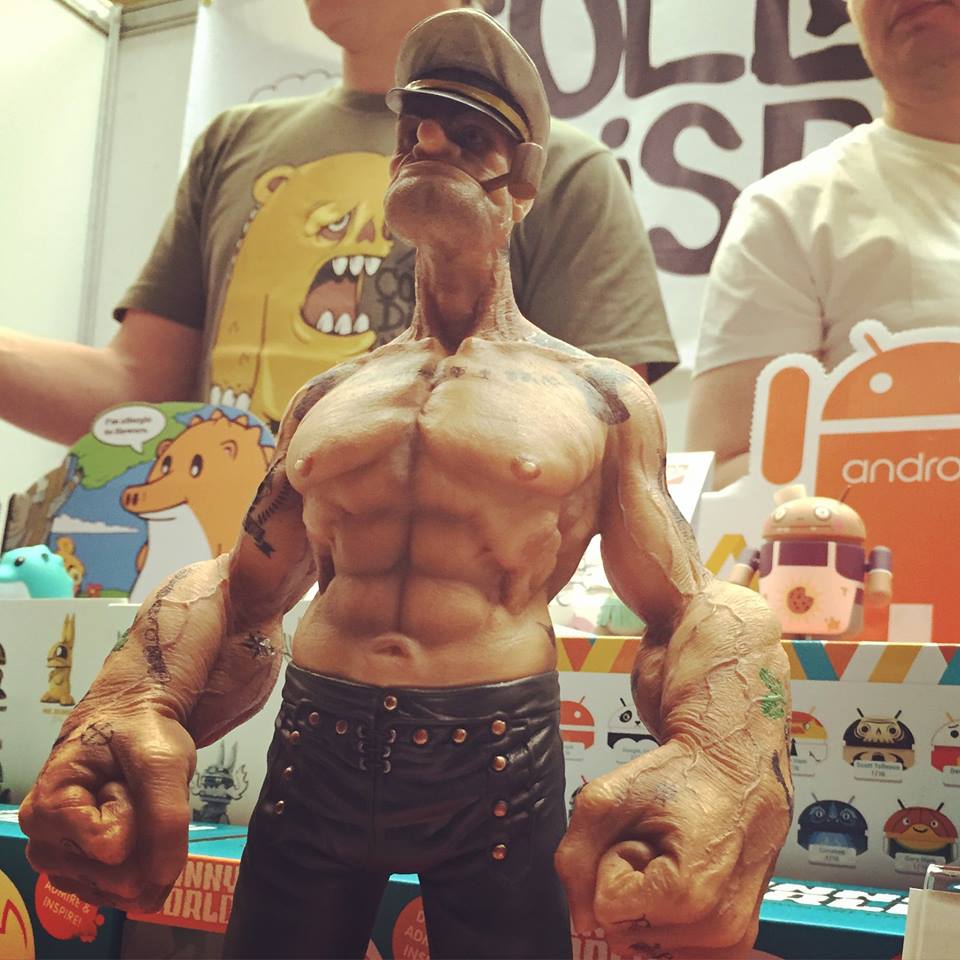 ---
Overall Toy Con UK was a great (but expensive) event. I'll definitely be going again next year with more money and hopefully having made a few more toys of my own.
---
If you want to get in touch contact me
Also is you want to keep up with all my latest posts and musing there's a load of widgets at the top of the page for my Twitter, Facebook and other social channels!
Leave a comment below! I love feedback...unless it's bad.
P.S.
Don't forget to share this if you like it!